Tourists pioneered popular beer promo
Asheville's 'Thirsty Thursday' concept now a Minors staple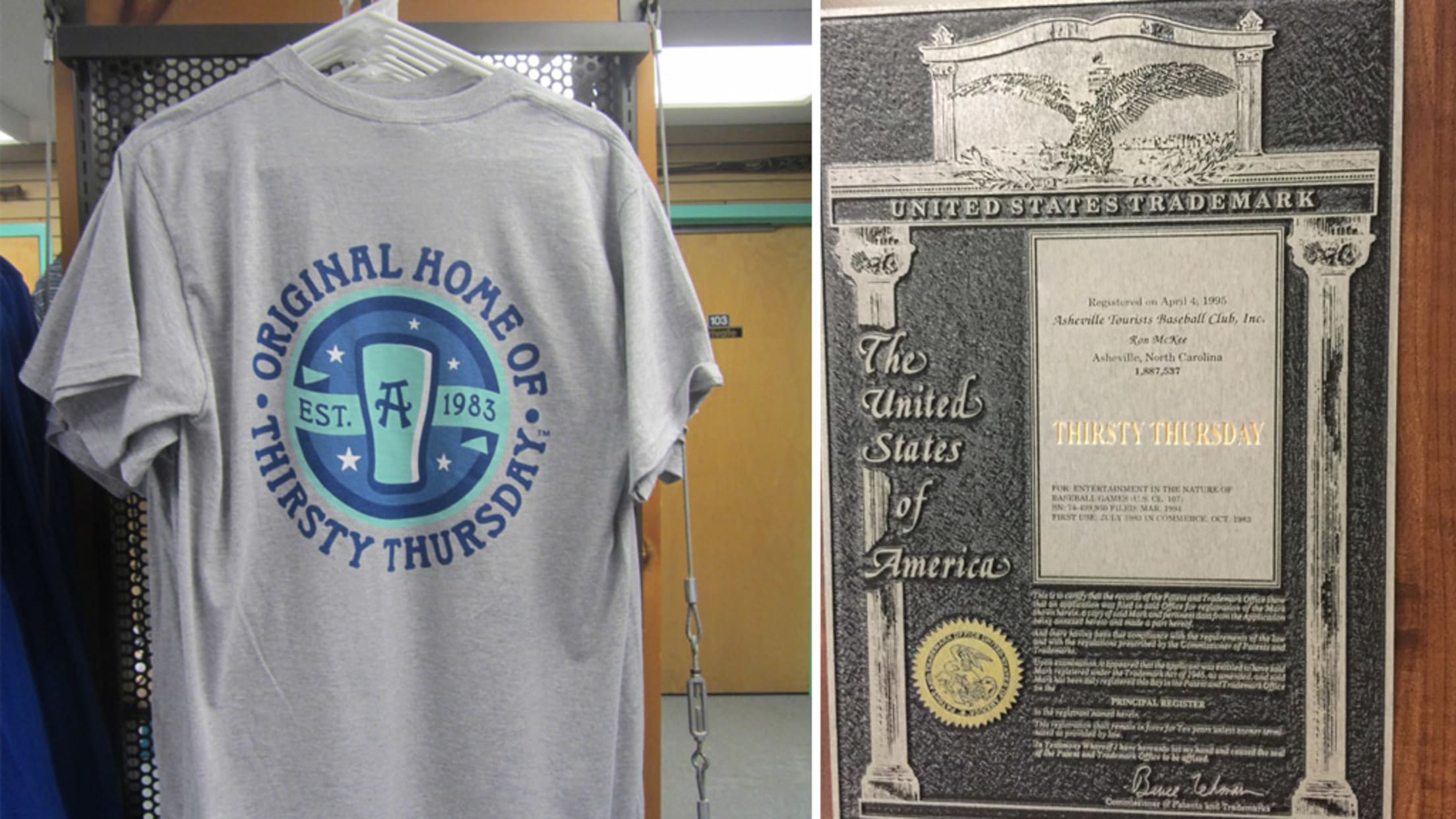 Asheville is the only Minor League club that sells Thirsty Thursday apparel.
When the Asheville Tourists were sold just prior to the 2010 season, the new ownership group got more than just a baseball club. It also received the rights to what just may be the two most recognizable words in all of Minor League Baseball.Thirsty Thursday.
When the Asheville Tourists were sold just prior to the 2010 season, the new ownership group got more than just a baseball club. It also received the rights to what just may be the two most recognizable words in all of Minor League Baseball.
Thirsty Thursday.
From coast to coast, rookie ball to Triple-A, "Thirsty Thursday" is a promotional staple at ballparks nationwide. Though the details may vary from location to location, the gist is always the same: cheap beer and plenty of it. "Thirsty Thursday" offers fans a chance to get a jumpstart on the weekend, and, for better or for worse, often results in a ballpark atmosphere in which boozy socializing trumps the attention being paid to the action on the field.
And, yes, it all started at Asheville's historic McCormick Field. Former owner Ron McKee came up with the phrase "Thirsty Thursday" in 1983, an early example of the alliterative tendencies that have overtaken nearly every team's weekly promotional calendar (Two for Tuesdays, Weenie Wednesdays and Fireworks Fridays being just a few prominent examples).
Thirsty Thursday immediately connected with Ashevillians, who are, to put it mildly, passionate about beer. The city and surrounding area are now home to dozens of craft breweries, and from 2009 through 2012, Asheville proudly held the title of "Beer City USA" (having ceded the honor to Grand Rapids earlier this week).
McKee trademarked the term "Thirsty Thursday" in 1995, and though the team has been sold twice since then, each time the trademark was included as part of the deal. Brian DeWine took over as Tourists president in 2010 -- in conjunction with his family's ownership group assuming control of the team -- and in his McCormick Stadium office hangs a plaque commemorating United States trademark 1,837,557. "For entertainment in the nature of baseball games," it reads, which is as good a summation as any regarding just what it is that Thirsty Thursday aims to provide.
"[The Tourists] have always allowed other Minor League teams to do Thirsty Thursday for free. All we ask is that they sign a paper saying that they're doing so with the permission of the Asheville Tourists," said DeWine. "But if they're looking to sell 'Thirsty Thursday' merchandise, then we do talk about royalty fees. ... It's a lot of paperwork, so it can be a headache sometimes."
Thirsty Thursday has long led to Friday morning headaches for those who may have overindulged the night before, and one of the Tourists' responsibilities as owners of the term is to ensure that it used properly.
"There have been [independent league] teams we've had to tell not to use it," said DeWine. "We don't want to go to your web page and see some guy doing a kegstand -- it has to be promoted responsibly."
Thirty years into its Asheville existence, Thirsty Thursday remains as popular as ever. The team currently offers a staggering 27 beers on tap every night of the week, and Thursdays feature $1 draft and $2 craft brews.
"It's our biggest night, no question, bigger than Friday fireworks, bigger than Saturdays," said DeWine. "The concourse is just packed with fans, and many of them won't see a single pitch. The joke around town is that no one knows we play another 60 games a season."
Special delivery
Thirsty Thursday isn't the only original aspect of the Tourists' operation. In 2011, DeWine established an initiative that will prove far harder to copy than discounted draft beer. That season, the team began staging what they describe as "the most unique game ball delivery in Minor League Baseball," and, really, it's hard to argue. About 15 minutes prior to the start of every Thursday, Friday and Saturday home game, a fan enters McCormick Field, game ball in hand, via a zipline stationed on a hill overlooking left field.
This endeavor is sponsored by Asheville Zipline and Canopy Adventures, one of the region's many providers of outdoor entertainment. The company's employees are on hand to set up and take down the zipline (DeWine boasts that it can be done in six minutes flat), and also accompany the chosen fan on the 300-foot journey homeward.
"The first year we did [the zipline] 70 times, but found that it got a little repetitive, so now we save it for the bigger games," said DeWine. "On Boy Scout night, the kids will do it until midnight, when we finally have to curfew them."
For the record
This past March I wrote a story for MiLB.com detailing my Top 10 favorite Minor League stadiums, and, well, add 89-year-old McCormick Field to the list. Its mountainous surroundings, old-time atmosphere, quality concessions and architectural quirks combine for a truly memorable ballpark experience that will be appreciated by casual and hardcore fans alike. Look for more on McCormick in an upcoming Ben's Biz Blog post.