Toyota Road Report: June 28-July 3
South Bend looks to continue perfect start to second half in Beloit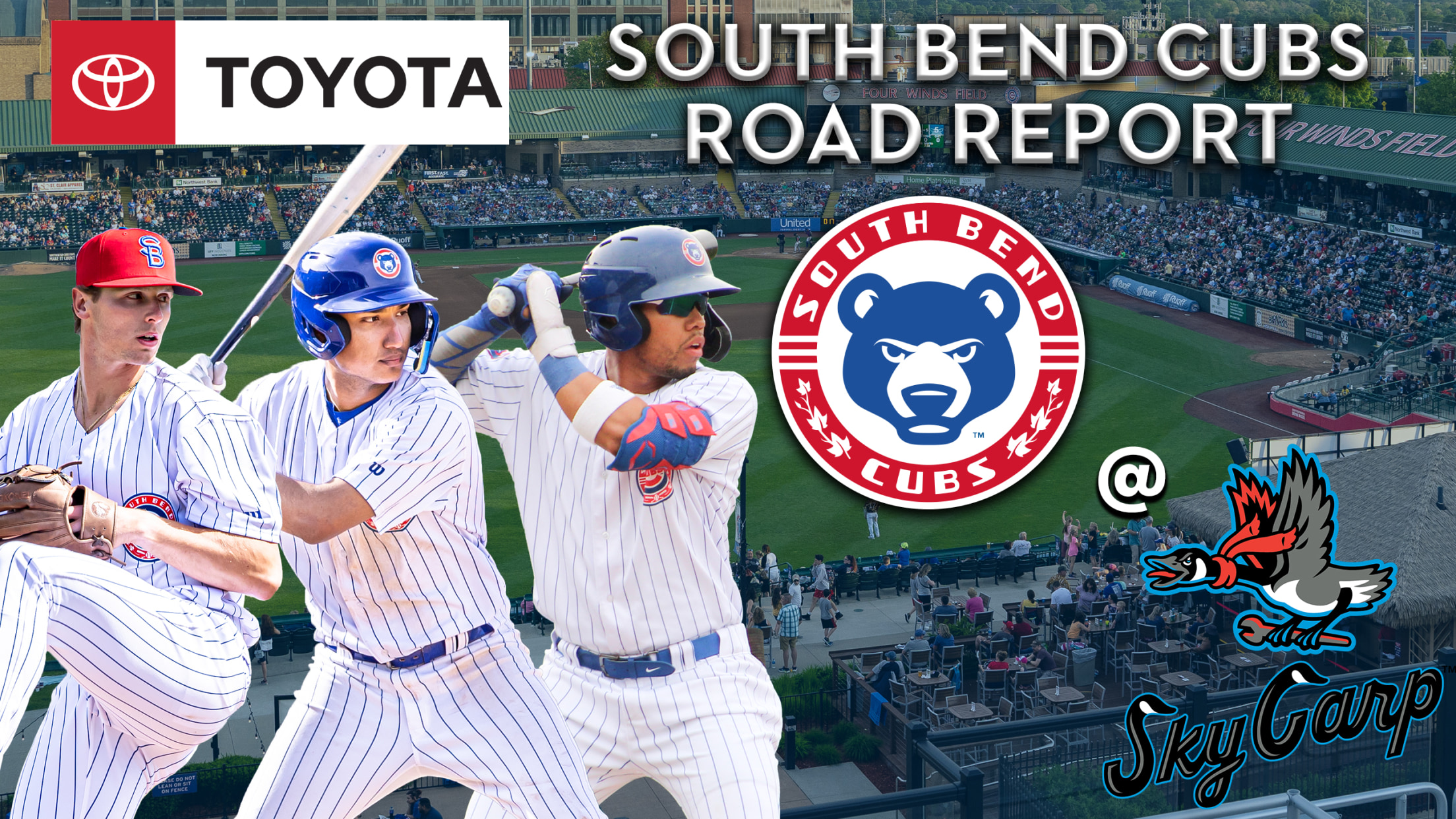 The second half of the Midwest League season is officially off and running and the South Bend Cubs will take their first road trip of half number two starting on Tuesday. South Bend continued their ferocious domination of the Peoria Chiefs, Midwest League affiliate of the St. Louis Cardinals, at
The second half of the Midwest League season is officially off and running and the South Bend Cubs will take their first road trip of half number two starting on Tuesday. South Bend continued their ferocious domination of the Peoria Chiefs, Midwest League affiliate of the St. Louis Cardinals, at Four Winds Field this past week. A pair of 1-0 victories, two walk-offs, and five wins in six games propelled the Cubs over the Chiefs.
In 12 games against Peoria this year, South Bend has 11 wins. With some confidence and steam in the second half now, the Cubs are set to take on the Beloit Sky Carp in Wisconsin. South Bend last saw Beloit very early in the season at home. It was an April homestand where the weather had not warmed up yet, and the Cubs took four of six games away from the Miami Marlins affiliate.
Beloit certainly struggled to begin the year, as they started the first half with a record of 0-7. Still, they did not panic, and they rebounded brilliantly. To close half number one, the Sky Carp finished right at .500 with a record of 34-34. Not bad for losing for a week straight to begin the campaign.
The Sky Carp's roster has also remained pretty well in tact through their initial 68 games. And now to start the final half of the season, Beloit is tied for first along with both South Bend and the Wisconsin Timber Rattlers. All three of those clubs went 3-0 to end this past week, meaning there's already a logjam at the top of the Midwest League's West Division.
Cedar Rapids easily cruised their way to a playoff spot in the first half, winning the division by 4.5 games. The second half may not be as easy for whoever wants the next playoff spot. If the Cubs do well this week, they can set themselves on a path to play consistent and solid baseball over the next couple of months.
Don't forget, when South Bend won the 2019 Midwest League Championship, they snuck into the playoffs for the second half as the wild card team. The rest was history.
Players to watch on Beloit…
Ynmanol Marinez, INF: If it wasn't for Robert Hassell III still playing with the Fort Wayne TinCaps, Marinez would currently be the Midwest League's batting leader. The 21-year-old out of the Dominican Republic heads into this series batting .307, which is just off the pace of Hassell's .311. Marinez played part of the season last year with Beloit at High-A and struggled, only hitting .234. But back again this season, Marinez has put it together, at least at this level, and is pounding Midwest League pitching as of late. We saw him at Four Winds Field back in April, but with the inconsistent temperatures early on in the Midwest League calendar, it is difficult to get a solid read on any player. Still, Marinez hit a big home run and drove in two on April 22 against the Cubs. If he has a strong series, by next Sunday we may be saying that he is leading the pace among all Midwest League hitters in terms of batting average. The Sky Carp could actually have two players at the top of the Midwest League for hitting, but although Davis Bradshaw is batting .319, he does not have enough at-bats to qualify for the league leaders.
Pat Monteverde, LHP: We are slated for an All-Big 12 battle on Thursday night in Beloit when the former Texas Tech man Monteverde takes on Kohl Franklin, the one time Oklahoma commit, on the mound. The Cubs have seen Monteverde once before back in April, but that ended up being the start where he struggled most all season. Monteverde, a big and well built lefty, is not an easy man to face. Still, South Bend poured four runs on him in four innings on April 20. Alexander Canario took him deep. Since that point, Monteverde has not allowed more than four runs in a start. His best appearance came on May 11 at West Michigan where he tossed seven shutout innings, he followed that up and began June with back-to-back starts of scoreless baseball for a combined 12 innings against Wisconsin and Lake County. In total, the former Red Raider has started 10 games and has a 2.36 ERA.
Cody Morissette, INF: As the former second round pick of the Marlins, Morissette has been a popular follow in the Midwest League this season. Even with the hype, the Sky Carp are still waiting for him to truly take off. Morissette comes into this series hitting .227, but is 6th in the Midwest League in home runs with 12. He played nearly the entire series in South Bend against the Cubs during April, and went 5/21 at the plate. South Bend's pitching staff did a nice job on him to begin the campaign. Although it was a slow first half for him, Morissette has shown some real magic, especially as of late. He made headlines through the Marlins system and all of Minor League Baseball when he powered himself to a three-home run game at Lake County on June 17. It is noted that the ball really travels a long way in Eastlake, Ohio, but still, three homers is something to say. Morissette when 4/6 against the Captains that day with the three bombs, as well as six RBI. If the wind is breezing out this week in Beloit, heads up for this second baseman who can really crush the baseball.
Players to watch on South Bend…
Fabian Pertuz, SS: The month of June has been quite kind to multiple South Bend Cubs players, however maybe none more than Pertuz. Since he has gotten an opportunity to play shortstop nearly everyday since the injury to Ed Howard, Pertuz has taken the reigns of the middle infield and ran with them. He provided the spark this past week that led the Cubs to a walk-off win over Peoria on Saturday night. Pertuz's RBI single brought home Owen Caissie (who is on a 7-game hitting streak by the way) to win the ballgame by a final of 1-0. In total this month, Pertuz is hitting .321, with 14 RBI. On this roster, Pertuz is one of the most free swingers that the team has. Pertuz does lead the team in K's, but he is aggressive in his approach as to when he barrels a ball, it's either going a long way, or it's finding a gap. He seems to be comfortable no matter where he hits in the lineup too. He was consistently batting lead-off when Pete Crow-Armstrong was dealing with his short time with injury, then went down to the 7-hole, then back up to the 2-spot. It gives Lance Rymel plenty of wiggle room to pick and choose his lineups every morning. Let's see how he can play in this Beloit series and if he can start July as hot as he is ending June.
Luis Verdugo, 3B: Like Pertuz, Verdugo has been with the South Bend Cubs all season long. From Opening Day until Saturday, Verdugo did not have a home run on the season. That all changed on Sunday against the Chiefs when he just missed one for a double off the left-center field wall, and then got one over the fence later in the game. Verdugo just missed the cycle on Sunday as well, just needing a triple to complete the rare feat. He could have become the first Cub to hit for the cycle since Cole Roederer did it in 2019 against the Fort Wayne TinCaps in the 260. With or without the triple, Verdugo had himself a heck of a game and in the month of June he has also turned on the turbo jets just like Pertuz. This month, Verdugo is slashing .292/.333/.417. At third base nearly everyday as well, Verdugo will make that play that will leave Cubs fans cheering and the opposing club scratching their heads. He plays well beyond his years defensively, often times taking home the Laven Insurance Defensive Play of the Game at home. If this pace keeps up, the Cubs infield could be the defining factor of whether or not this team gets to the playoffs.
Joe Nahas, RHP: 'Old Reliable' is quickly becoming the moniker for Nahas as we enter the second half of the season. No matter where the Cubs have needed the 22-year-old right-hander, he has come in and provided strong work. In the rotation, Nahas shut down the number one team in the West during the first half, Cedar Rapids, to lead the Cubs to a win on Marquee Sports Network on June 9. He fired six scoreless innings that night. Although he has not started a game since that point, Nahas has worked both short and long relief for the rest of June. The last time we saw him on June 24, he pitched five innings of one run baseball with six strikeouts to earn the victory against Peoria. That was in relief after Franklin went the first three innings, and following Yovanny Cruz's team debut. Nahas also found a way to work around four walks that night. Command usually is not a problem for the strong righty, but when facing adversity, he has provided a calming feeling on the bump. The rotation for South Bend is jam packed with top talent in the Cubs system, but if there is ever a situation were someone is scratched or even called up in the future, Nahas should be the first guy who gets the chance to fill the gap.
Schedule…
Tuesday, June 28 - 7:35 PM ET: RHP Daniel Palencia vs. RHP Chris Mokma
Wednesday, June 29 - 7:35 PM ET: LHP Jordan Wicks vs. RHP M.D. Johnson
Thursday, June 30 - 7:35 PM ET: RHP Kohl Franklin vs. LHP Pat Monteverde
Friday, July 1 - 7:35 PM ET: LHP DJ Herz vs. LHP Dax Fulton
Saturday, July 2 - 7:35 PM ET: RHP Manuel Espinoza vs. RHP Evan Fitterer
Sunday, July 3 - 7:25 PM ET: RHP Daniel Palencia vs LHP Zach King
Catch the entire six-game series in Beloit on Sports Radio 960 AM WSBT, online at wsbtradio.com, or on MiLB.com with Brendan King on the call.