Travs Bludgeon Naturals, 18-3
Offense has biggest night of season to back Emerson Hancock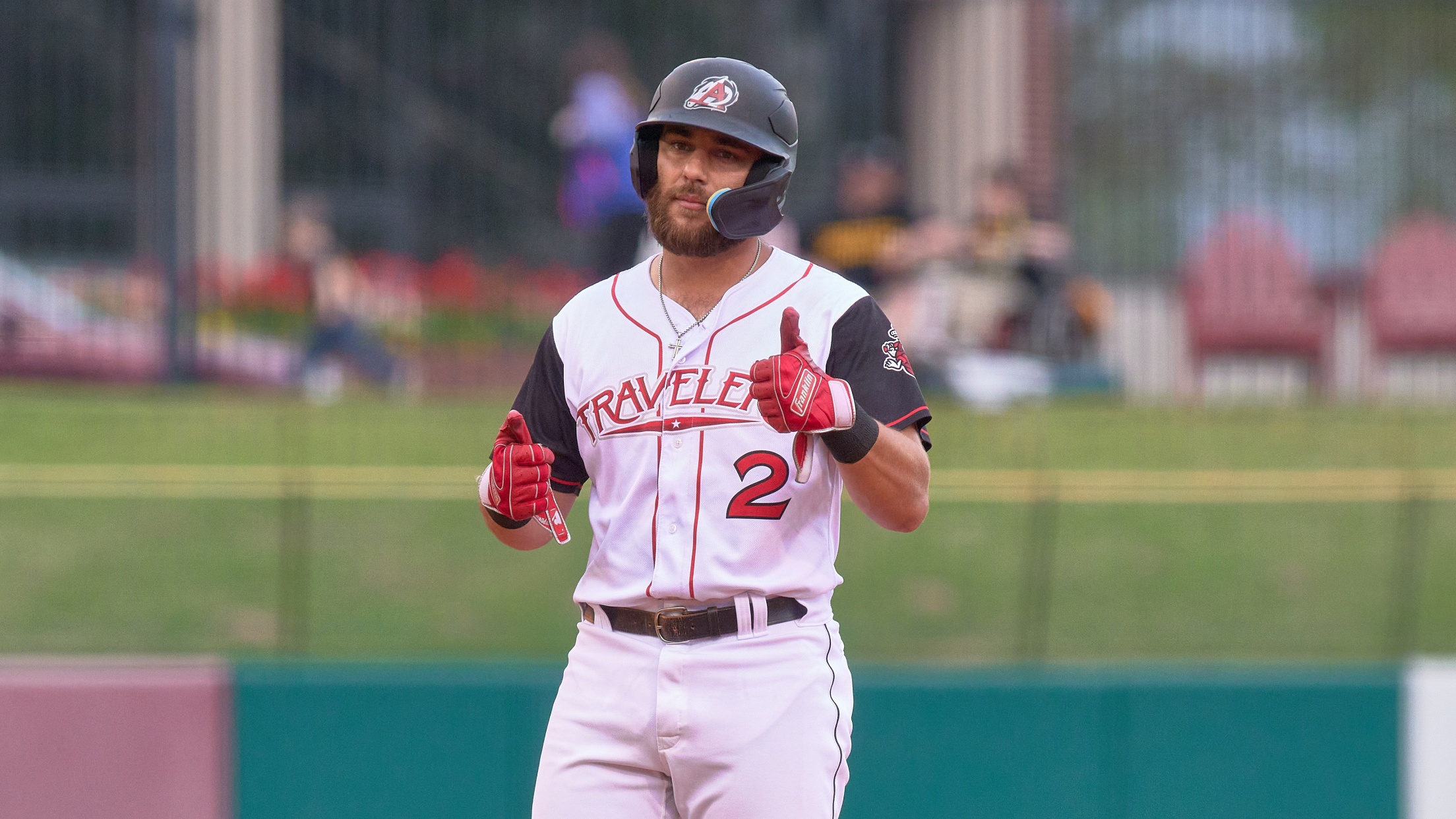 Jake Scheiner set a career high with three doubles and matched his career high with 6 RBI (Mark Wagner)
Springdale, AR—The Arkansas Travelers blew the game open early and romped to an 18-3 win over the Northwest Arkansas Naturals on Thursday night. The 18 runs and 15 run margin of victory were season highs for the Travelers. After scoring twice in the opening inning, the Travs added four in
Springdale, AR—The Arkansas Travelers blew the game open early and romped to an 18-3 win over the Northwest Arkansas Naturals on Thursday night. The 18 runs and 15 run margin of victory were season highs for the Travelers. After scoring twice in the opening inning, the Travs added four in the second and seven more in the third. They posted five multi-run innings and scored their 18 runs on only 13 hits thanks in part to 11 walks, three hit by pitch and five errors by the Naturals defense. Emerson Hancock picked up his first victory of the season by allowing just one run on three hits over five innings of work.
Moments That Mattered
* Jack Larsen laced a bases loaded triple that put the Travs up five in the second inning and knocked out the Naturals starting pitcher.
* An inning later it was Jake Scheiner who cleared the bases with a three-run double.
Notable Travs Performances
* RF Jack Larsen: 3-5, BB, 3 runs, 3B, 5 RBI
* 3B Jake Scheiner: 3-4, BB, SF, 3 2B, 6 RBI
News and Notes
* Scheiner set a new career high with three doubles and matched his best pro output with six runs driven in.
* The 18 runs were the most for the Travs since July 28, 2021 at Springfield while the 15 run victory margin was the largest since a 16-run win at Midland on April 20, 2015.
Up Next
Arkansas goes for three straight wins on Friday night with right-hander Taylor Dollard (4-2, 0.86) on the mound against righty Alec Marsh (1-4, 7.04). First pitch is set for 7:05 and the game will be broadcast on 93.3 The Fish, the First Pitch App and milb.tv.