Travs Down Cards To Take Series
Arkansas improves to 32-16 with the victory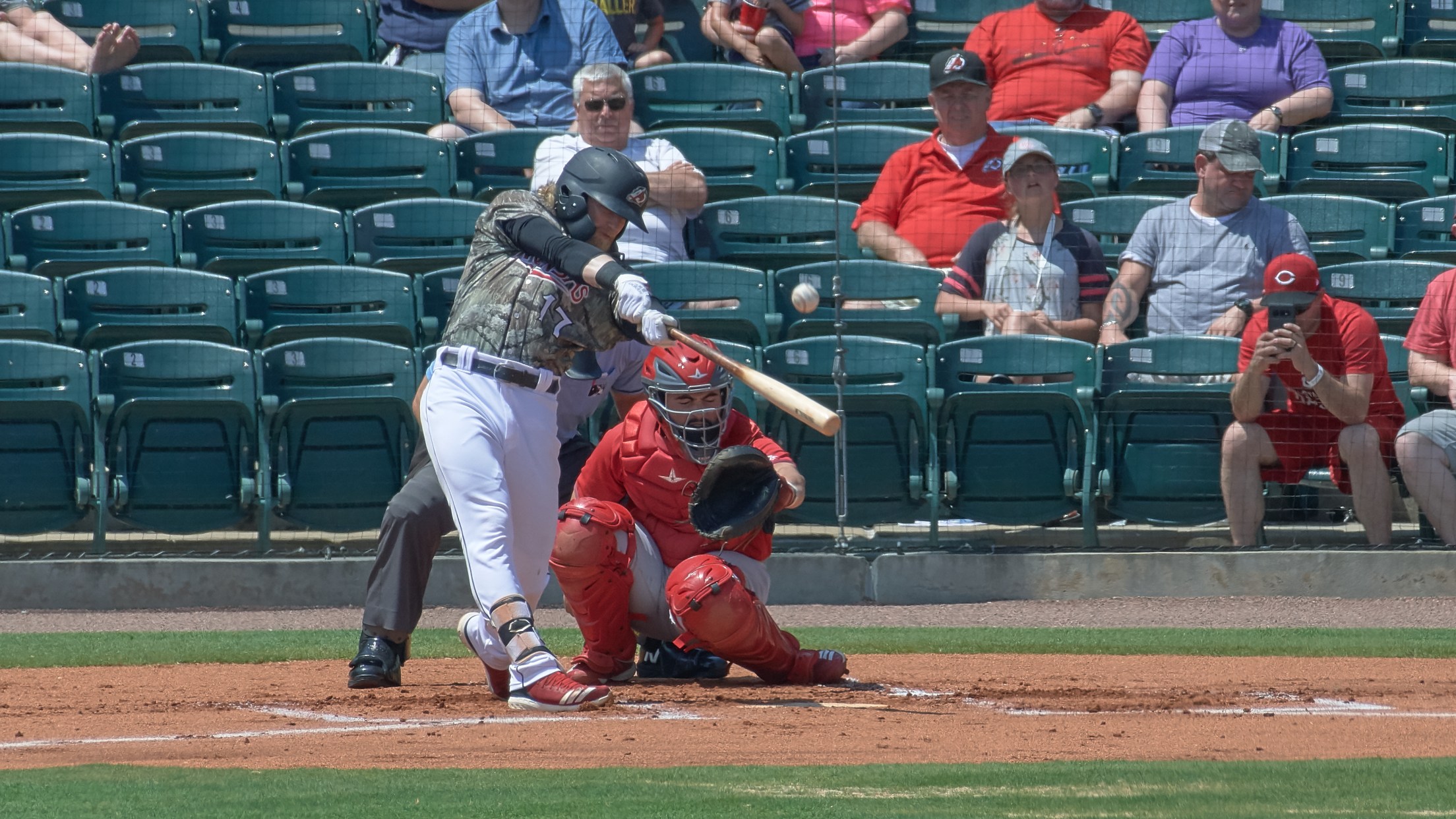 Jake Fraley hit his 6th homer of the season on Sunday. (Mark Wagner)
North Little Rock, AR-The Arkansas Travelers bounced back into the win column with a 6-3 triumph over the Springfield Cardinals on Sunday afternoon at Dickey-Stephens Park. Trailing by three runs, the Travs scored three times in the fifth inning to retake the lead and held it from there. Justin Dunn
North Little Rock, AR-The Arkansas Travelers bounced back into the win column with a 6-3 triumph over the Springfield Cardinals on Sunday afternoon at Dickey-Stephens Park. Trailing by three runs, the Travs scored three times in the fifth inning to retake the lead and held it from there. Justin Dunn delivered a quality start of six innings giving up three runs on six hits and two walks with four strikeouts. Jack Anderson, Wyatt Mills and Darin Gillies each worked a scoreless inning to close out the game. The win gives the Travs the series victory over the Cardinals they finish the homestand with a 6-1 record.
Moments That Mattered
* Jake Fraley homered in the bottom of the first inning to put the Travs out to an early lead.
* Joe DeCarlo doubled over third base driving in a run and getting the rally started in the fifth inning. An infield single by Fraley knocked in the tying run and then Kyle Lewis' groundball hit through a drawn in infield plated the go-ahead run.
* Joseph Odom knocked home insurance runs with hits in the sixth and eighth innings.
Notable Travs Performances
* CF Jake Fraley: 2-4, run, HR, 2 RBI
* C Joseph Odom: 2-4, 2 RBI
* 1B Joe DeCarlo: 2-3, run, 2B, RBI
News and Notes
* At 32-16, the Travs maintain the best record in all of Double-A
* It marks the 16th come from behind win of the season
* The Travs have played 14 series on the season and won 11 of them.
Up Next
After a day off on Monday, the Travs return to action on Tuesday night at NW Arkansas. Left-hander Ricardo Sánchez (4-3, 4.04) makes the start against righty Gerson Garabito (2-3, 4.22). First pitch is set for 7:05 and the game will be broadcast on the Sports Animal 920, the First Pitch App, TuneIn radio and milb.tv.