Travs Fall to NWA in Wild One; Tiebreaking Game Needed
The Travs and Naturals tied for the first half title so Tuesday's game will decide the championship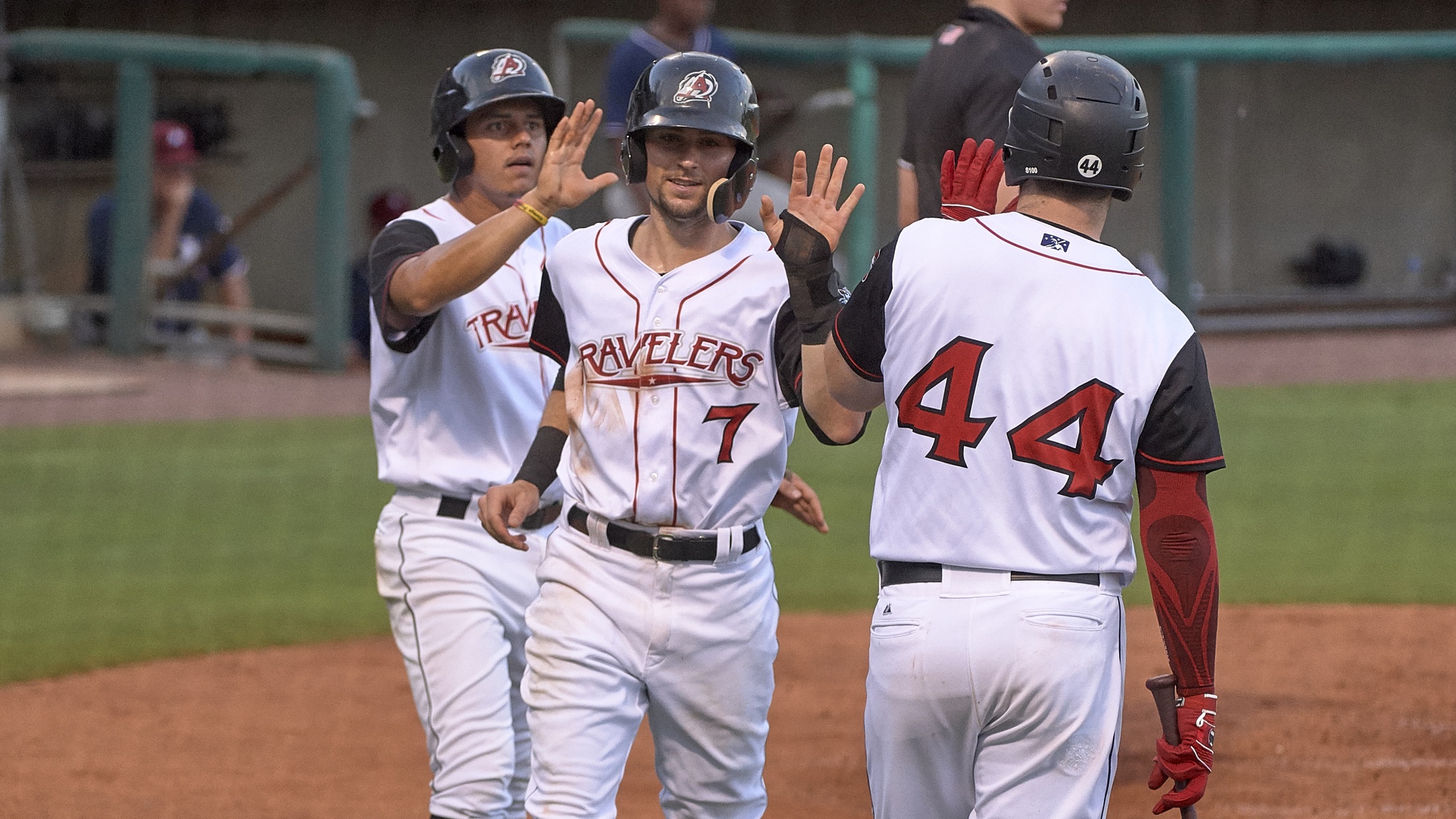 (Mark Wagner)
Springdale, AR-After building a five-run lead, the Arkansas Travelers surrendered 11 consecutive runs before scoring the final five of the contest but fell to the Northwest Arkansas Naturals by a final score of 11-10 on Monday night. The loss creates a tie between the Travs and Naturals to end the
Springdale, AR-After building a five-run lead, the Arkansas Travelers surrendered 11 consecutive runs before scoring the final five of the contest but fell to the Northwest Arkansas Naturals by a final score of 11-10 on Monday night. The loss creates a tie between the Travs and Naturals to end the first half standings with Texas League rules dictating that Tuesday night's contest be the tiebreaker for the first half championship. Braden Bishop had three hits for the Travs who scored multiple runs in four different innings. The Travs used six pitchers in the contest including Mariners reliever Nick Vincent who began a rehab assignment and pitched a scoreless bottom of the first inning. The Naturals ended up using five different pitchers in the contest. Despite the 21 combined runs in the game the teams were only 8-29 with runners in scoring position.
Moments That Mattered
* Joey Curletta doubled home a run in the first inning to open the scoring then crossed the plate on a wild pitch.
* Chuck Taylor ripped a two-run single with the bases loaded in the second to double the lead.
* Northwest Arkansas hit a pair of 2-run homers in the last of the fourth to get back into the game. Jecksson Flores hit the first and Alex Liddi hit the second. Both came with two outs.
* Donnie Dewees tied the score in the fifth inning with a solo blast, his second of the year.
* The Naturals took control with a five-run sixth inning. Nate Esposito's ground ball single plated the go-ahead run, it was his first RBI of the season in 40 at-bats. Erick Mejia later added a bases clearing triple.
* Arkansas battled back with Joe DeCarlo's three-run homer pulling the Travs within one with two out in the ninth.
Notable Travs Performances
* CF Braden Bishop: 3-5, run, 2B, RBI
* LF Chuck Taylor: 2-3, BB, HBP, 2 runs, 2 RBI
* C Joe DeCarlo: 2-5, 2 runs, HR, 3 RBI
Up Next
Tuesday night's game is the opener of the second half of the season but also serves as the tiebreaker for the first half championship. RH Johendí Jiminian (3-3, 3.59) gets the start for the Travs against LH Emilio Ogando (4-3, 5.79) for the Naturals. First pitch is set for 7:05 and the game will be broadcast on the Sports Animal 920, the First Pitch App, TuneIn radio and milb.tv.