Travs Sweep In Frisco
Arkansas collects their third sweep of the year; first on road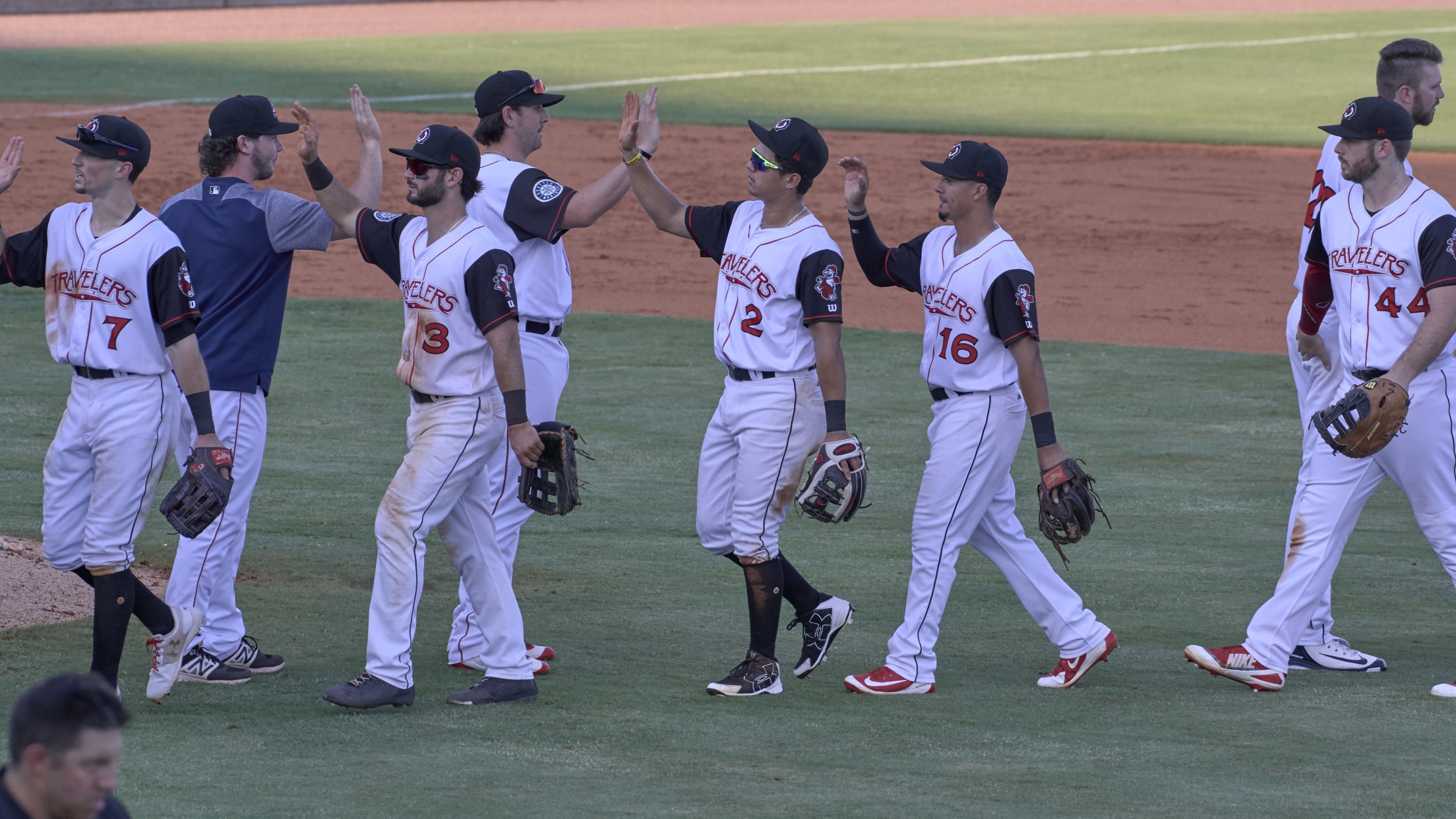 (Mark Wagner)
Frisco, TX-The Arkansas Travelers wrapped up a road sweep of the Frisco RoughRiders on Thursday night with a 7-5 victory. It marked the third sweep of the year for the Travs overall and first away from home. Down two early, the Travs battled back to tie in the sixth inning
Frisco, TX-The Arkansas Travelers wrapped up a road sweep of the Frisco RoughRiders on Thursday night with a 7-5 victory. It marked the third sweep of the year for the Travs overall and first away from home. Down two early, the Travs battled back to tie in the sixth inning before taking the lead and control of the game in the eighth. Frisco would make it a dramatic finish as they scored three times in the bottom of the ninth and got the winning run to the plate with two out. Anthony Misiewicz delivered a quality start of six innings and two runs allowed while striking out a season-best eight with no walks.
Moments That Mattered
* Dario Pizzano got the game tied with a two-out infield single in the sixth inning scoring Chuck Taylor who had doubled earlier in the frame.
* Tied in the eighth, Kyle Lewis hit a bases-clearing double into right-center field to give the Travs their first lead of the night. Ryan Scott added a two-run double later in the inning.
* Frisco scored three times in the ninth and had the winning run at the plate with two out but Matt Festa induced a pop-up from Juremi Profar to end the game.
Notable Travs Performances
* LF Dario Pizzano: 3-4, run, RBI
* 2B Donnie Walton: 3-4, 2 runs, 2B
* C Ryan Scott: 2-4, 2B, 2 RBI
* Anthony Misiewicz: 6 IP, 6 H, 2 R, 8 K
* David McKay: Win, 2 IP, 3 K
Up Next
The roadtrip continues with the first of three in Midland on Friday night. First pitch is set for 7:00 with right-hander Nathan Bannister (7-9, 6.19) going against righty Ben Bracewell (3-7, 3.33). The game will be broadcast on the Sports Animal 920, the First Pitch App, TuneIn radio and milb.tv.