Travs Top Poodles, 4-2 on Sunday
Arkansas scores four runs on just six hits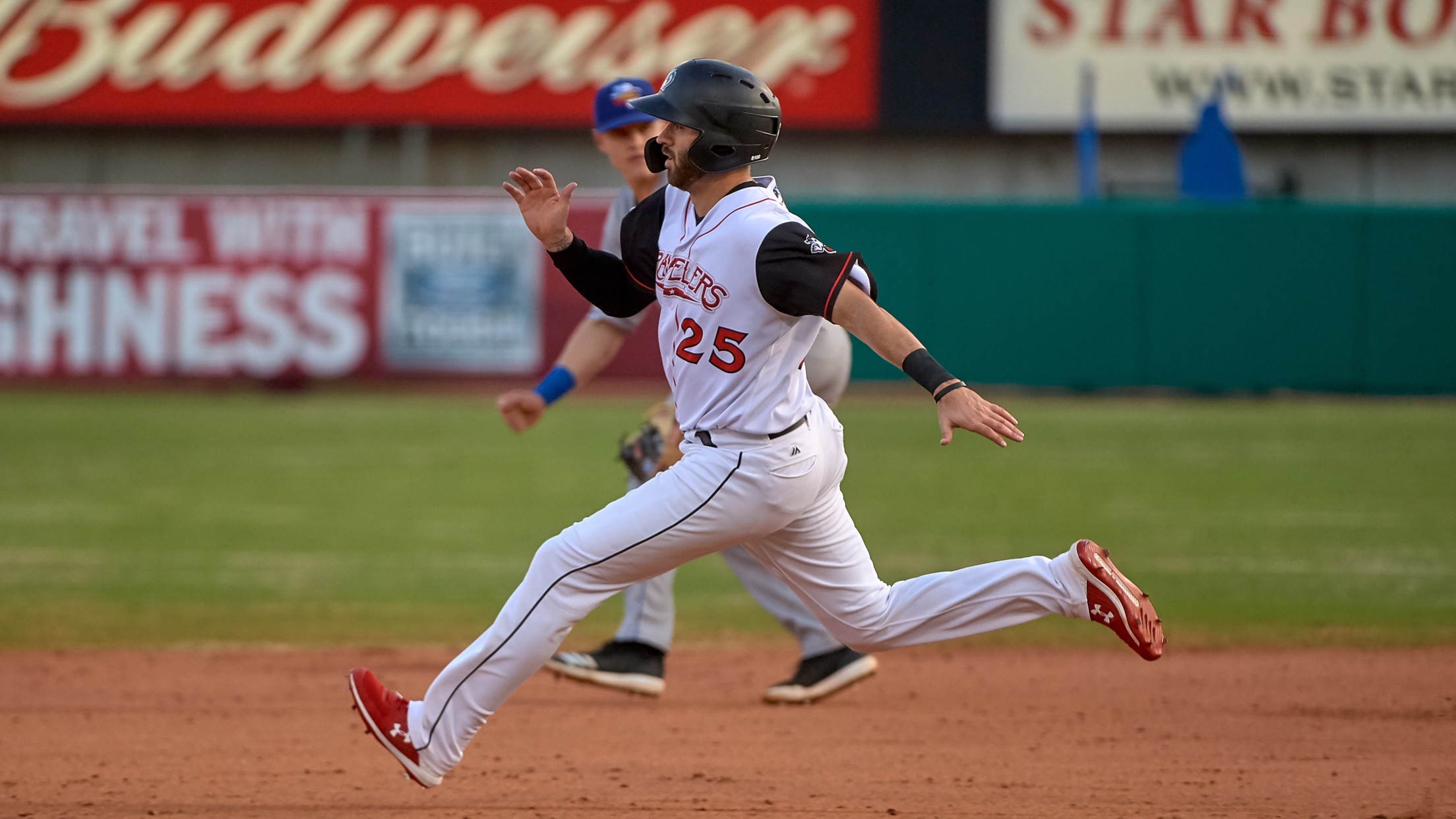 Nick Zammarelli scored the go-ahead run on a wild pitch in the sixth inning. (Mark Wagner)
North Little Rock, AR-The Arkansas Travelers made it consecutive victories with a 4-2 win over the Amarillo Sod Poodles on Sunday afternoon at Dickey-Stephens Park in front of a crowd of 5,012. Four Trav pitchers, none working more than three innings combined to keep the Poodle offense down. Arkansas took
North Little Rock, AR-The Arkansas Travelers made it consecutive victories with a 4-2 win over the Amarillo Sod Poodles on Sunday afternoon at Dickey-Stephens Park in front of a crowd of 5,012. Four Trav pitchers, none working more than three innings combined to keep the Poodle offense down. Arkansas took the lead in the fourth with a pair of RBI hits from Nick Zammarelli and Donnie Walton. Amarillo tied it with two in the sixth but the Travs responded immediately with a run in the bottom of the inning, scoring on a wild pitch. They added an insurance run with two out in the eighth on an RBI double from Joseph Odom. Zac Grotz struck out six over three scoreless in the start while Wyatt Mills was the winner out of the bullpen with Darin Gillies firing a perfect ninth for his first save of the season.
Moments That Mattered
* Wyatt Mills entered in the sixth with a one-run lead and runners at first and third. He induced a double play ball that did allow the tying run to score but cooled off the Poodles threat. Mills finished that inning and would go on to pitch two more scoreless frames.
* In the bottom of the sixth, Zammarelli walked with one out before Donnie Walton followed with a single. A pair of wild pitches by Emmanuel Ramirez eventually got Zammarelli home with the go-ahead run.
Notable Travs Performances
* CF Jake Fraley: 2-3, run, BB, 2B
* SS Donnie Walton: 2-4, run, RBI, SB
* RHP Zac Grotz: 3 IP, 2 H, 6 K
* RHP Wyatt Mills: BS, Win, 3 IP, 3 H, K
News and Notes
* Gillies became the fifth different Trav with a save in the first month of the season.
* Fraley collected his team-best 8th multi-hit game.
* RHP Matthew Willrodt joined the Travs from Extended Spring Training and pitched two-plus innings in the game. It was his second appearance this season with Arkansas. Earlier in the day, LHP Anthony Misiewicz was moved to Triple-A Tacoma.
Up Next
Arkansas looks for a series win on Monday night with a 7:10 start against Amarillo. Right-hander Darren McCaughan (1-1, 2.63) makes the start against righty Lake Bachar (0-0, 3.00). It is a Moix Monday pup-day and general admission tickets are just $3 with your dog. The game will also be broadcast on the Sports Animal 920, the First Pitch App, TuneIn radio and milb.tv.