Travs Topple Tulsa and Avoid Sweep
Arkansas breaks tie in the sixth and then puts up huge seventh inning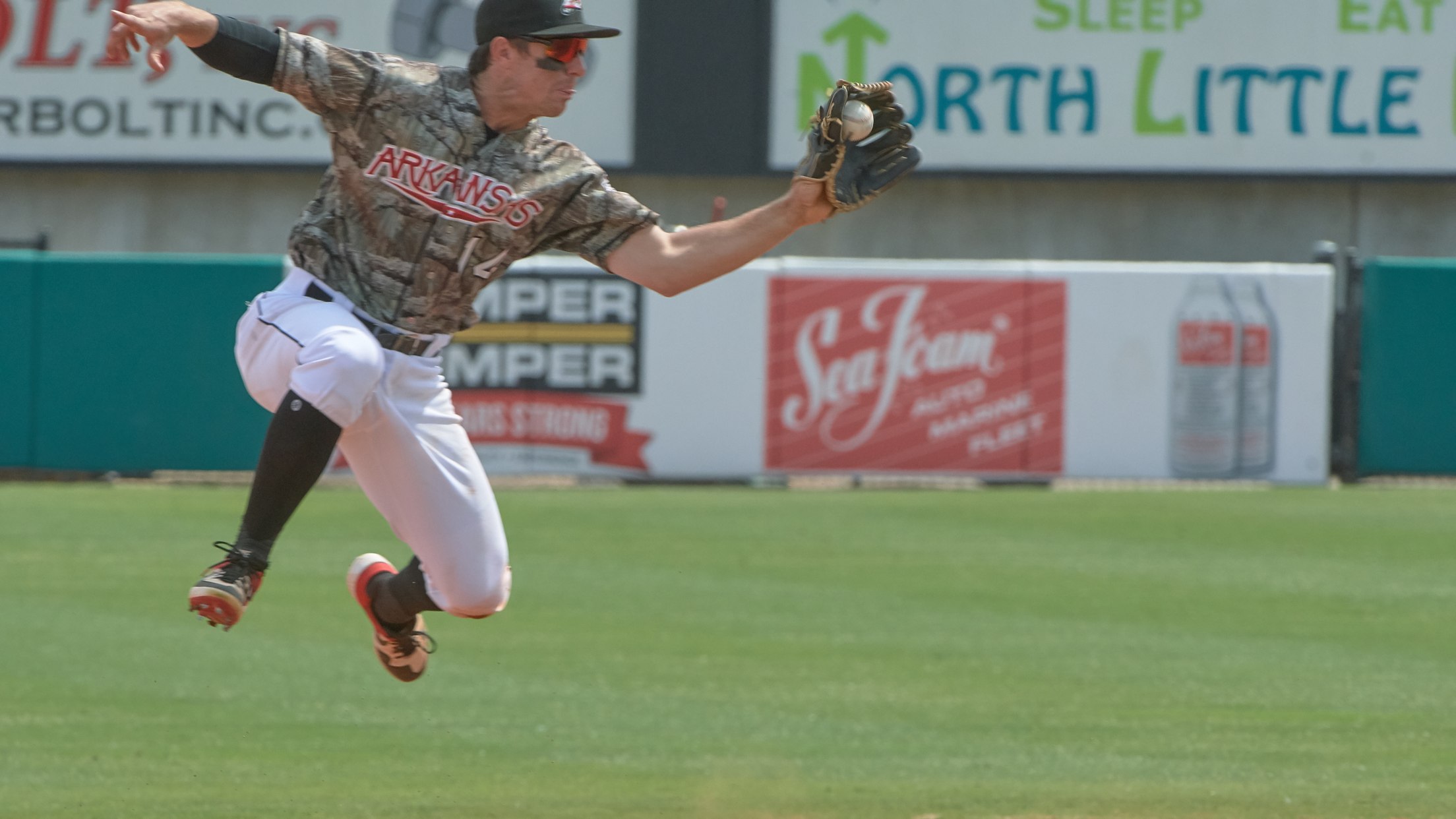 (Mark Wagner)
North Little Rock, AR-The Arkansas Travelers avoided a sweep at the hands of the Tulsa Drillers with a 10-3 win on Sunday afternoon at Dickey-Stephens Park. With the win, the Travs now lead the first half division race by 6.5 games with just 14 left to play. Both teams were
North Little Rock, AR-The Arkansas Travelers avoided a sweep at the hands of the Tulsa Drillers with a 10-3 win on Sunday afternoon at Dickey-Stephens Park. With the win, the Travs now lead the first half division race by 6.5 games with just 14 left to play. Both teams were sloppy on the defensive side early with five of the game's first six runs going as unearned tallies. Arkansas eventually broke a three-all tie scoring in the last of the sixth inning before pulling away with six runs in the bottom of the seventh inning. Zac Grotz pitched two scoreless out of the bullpen including getting three consecutive strikeouts with the tying run on base in the seventh. He picked up the victory with Tulsa starter J.D. Martin getting the loss.
Moments That Mattered
* Evan White hit a J.D. Martin knuckleball 413 feet to centerfield for a homer in the first.
* Jake Fraley tied the game with a two out single to center scoring Nick Zammarelli and Donnie Walton.
* Mike Ahmed singled through a drawn in infield to put the Travs on top in the sixth.
* After Grotz stranded the tying run at second in the top of the seventh, the Travs posted their six run inning behind four singles, two walks, a hit batter, two wild pitches and an error.
Notable Travs Performances
* DH Jake Fraley: 3-5, 2 runs, 2B, 3 RBI
* LF Kyle Lewis: 2-4, run, 2 RBI
* RHP Justin Dunn: 5 IP, 3 H, 3 UER, 2 BB, 7 K
* RHP Zac Grotz: Win, 2 IP, H, 4 K
News and Notes
* Fraley extended his hitting streak to nine and now has 21 RBIs in his last 16 games.
* The Travs have yet to lose more than two games in a row at any point.
Up Next
The Travelers hit the road for a seven game trip beginning with a three game series at NW Arkansas. First pitch on Monday night in Springdale is set for 7:05 with left-hander Ricardo Sánchez (4-3, 3.90) starting against righty Gerson Garabito (2-3, 4.17). The game will be broadcast on the Sports Animal 920, the First Pitch App, TuneIn radio and milb.tv.