Trout Triples, Takes Three Walks in Sixers 12-2 Win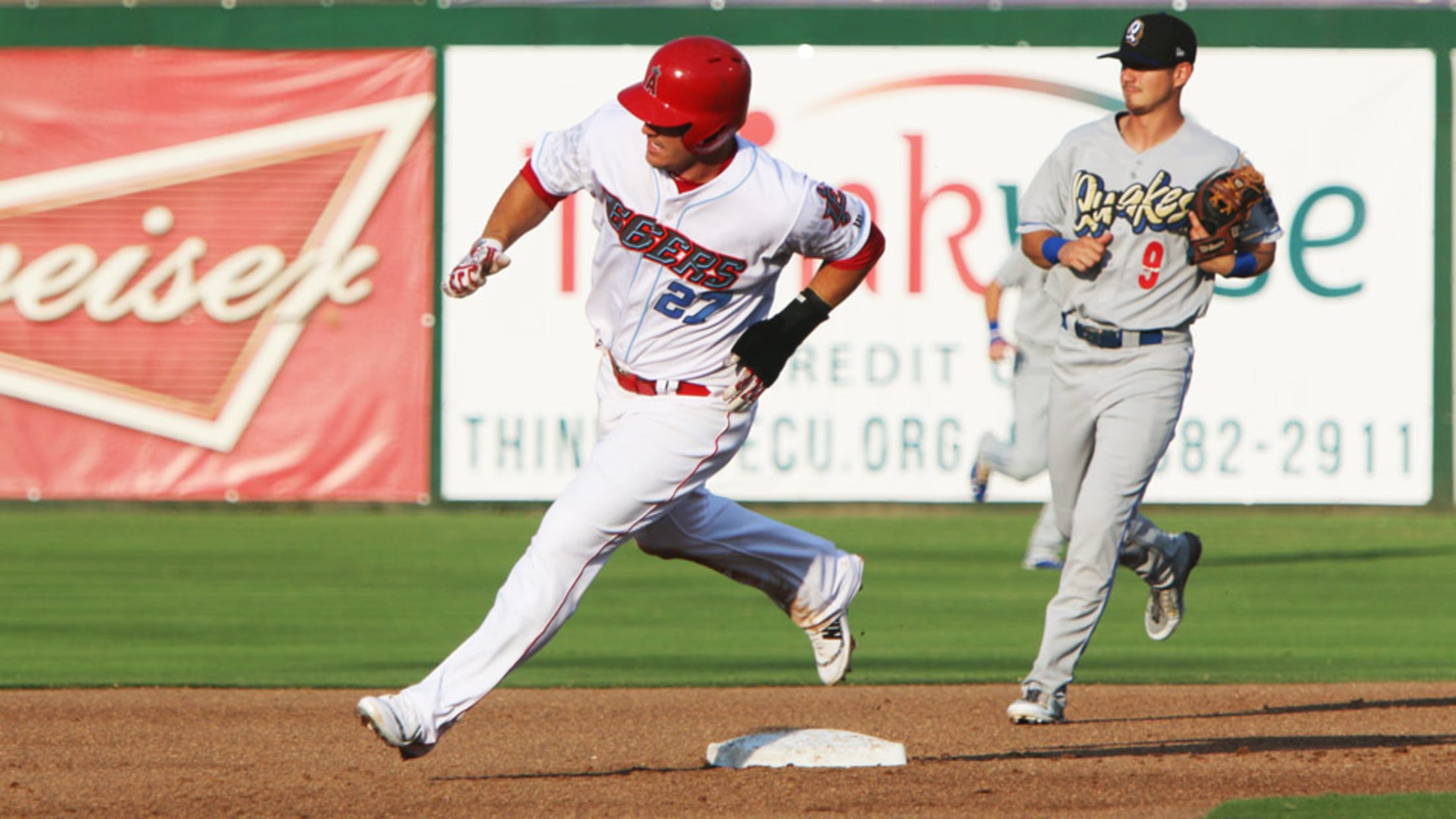 San Bernardino, CA- The Inland Empire 66ers of San Bernardino got a triple and three walks from Angels' CF Mike Trout on an injury rehab assignment as part of a 12-2 drubbing of the Rancho Cucamonga Quakes on Sunday. Jose Rojas extended his hit streak to 19-games with a homer
San Bernardino, CA- The Inland Empire 66ers of San Bernardino got a triple and three walks from Angels' CF Mike Trout on an injury rehab assignment as part of a 12-2 drubbing of the Rancho Cucamonga Quakes on Sunday. Jose Rojas extended his hit streak to 19-games with a homer for the Sixers on a night where every batter in the lineup tallied at least one hit.
The Sixers fell behind in the top the first when Luke Raley drilled a solo shot against Inland Empire starter Jesus Castillo, his tenth of the year. Castillo (5-2) allowed no more runs in his six innings of work finishing with five Ks and no walks. In the bottom of the first the Sixers got a lead-off walk from Trout, his first two in the inning as Inland Empire (40-48, 10-8) sent 11 batters to the plate in the frame. Troy Montgomery singled in Trout to tie the game extending Montgomery's hit-streak to 13-games. Inland Empire finished the first scoring six times against Devin Smeltzer (2-3) as the 66ers were the beneficiaries of a fielder's choice without an out recorded and a botched double-play ball. Trout tripled to open the fourth and scored on a groundout for a 7-1 lead. Inland Empire piled on with five more in the sixth as Cody Ramer and Trout walked ahead of a Brennon Lund RBI singled and Montgomery's two-run triple. Rojas then launched his homer for a 12-1 lead. It was Rojas' seventh dinger of the year. DJ Peters and Omar Estevez each doubled in the ninth for Rancho Cucamonga (46-42, 10-8) making it 12-2. Peters finished with a pair of doubles on a three-hit night.
Mike Trout, originally expected to be with Inland Empire on Monday, has been cleared to finish his rehab assignment a day earlier than anticipated. The Sixers host the Quakes at 7:05 pm on Monday. The contest can be seen and heard live at 66ers.com.