Tulsa trio slugs back-to-back-to-back jacks
Round-trippers by Dodgers' Beaty, Garlick, Gailen lead way in rout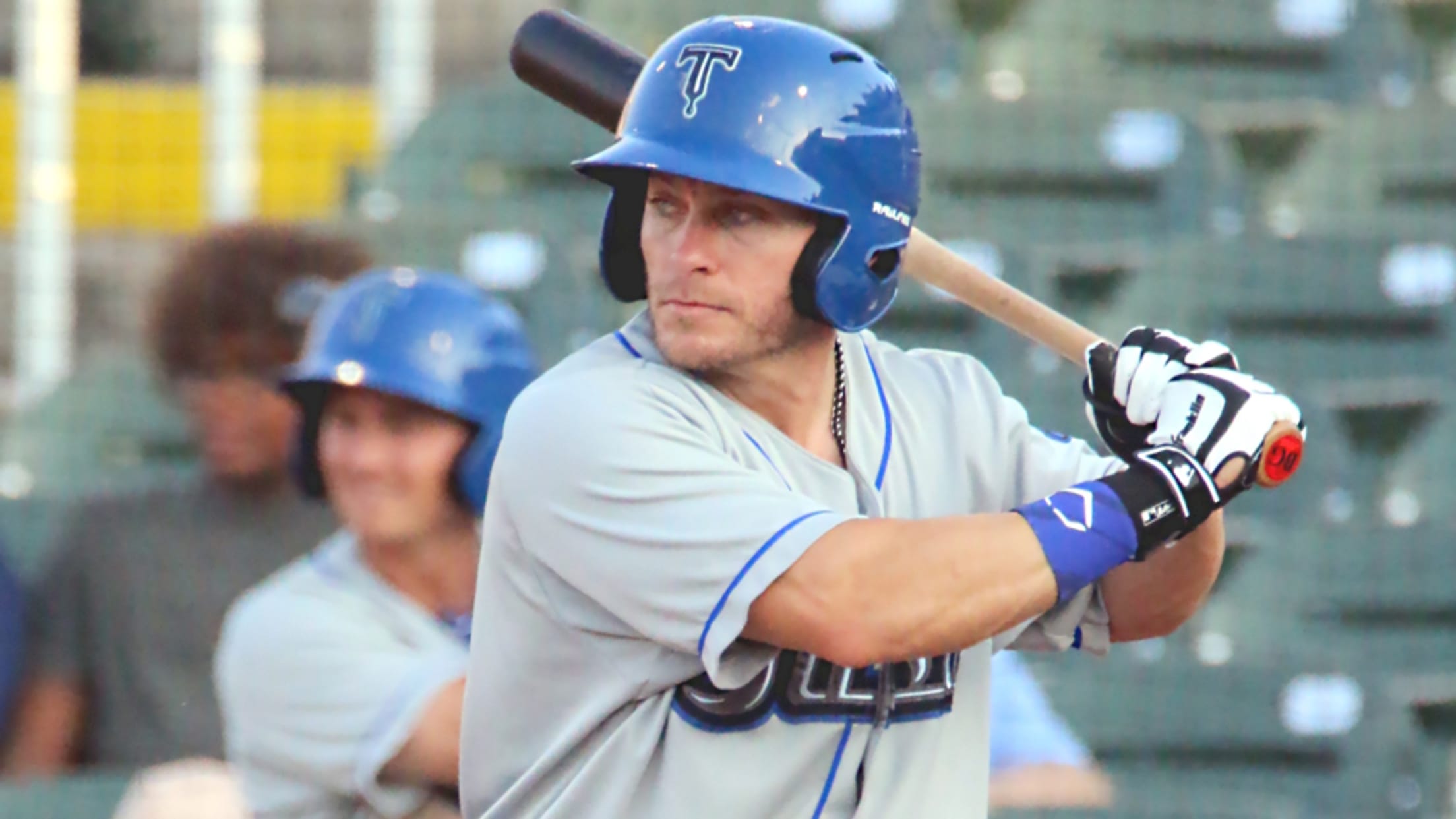 Blake Gailen is batting .296/.352/.506 with four homers, five doubles and 17 RBIs over 23 Drillers games. (Joshua Tjiong/MiLB.com)
Ordinarily if three players hit three consecutive home runs, it'd be difficult to find anybody in the ballpark with bigger smiles than those three players. On Monday night, though, when Matt Beaty, Kyle Garlick and Blake Gailen went yard in succession for Double-A Tulsa, one lucky fan won $10,000."I had
Ordinarily if three players hit three consecutive home runs, it'd be difficult to find anybody in the ballpark with bigger smiles than those three players. On Monday night, though, when Matt Beaty, Kyle Garlick and Blake Gailen went yard in succession for Double-A Tulsa, one lucky fan won $10,000.
"I had no idea, honestly, because when I'm playing I don't pay attention to the promotions," Gailen said. "I had no idea until after, when somebody said something to me. It was [Josh Sborz], actually. He said, 'That won somebody 10 grand!'"
The trio of Dodgers Minor Leaguers put on their homer parade in the fifth inning of the Drillers' 12-1 win over the Springfield Cardinals at ONEOK Field, where Tulsa holds a promotion called Mega Money Monday sponsored by a local radio station. Fans fill out a form to enter and one is selected via drawing.
Gameday box score
"The prizes [either $1,000 or $10,000] are based on events happening in certain innings," explained Brian Carroll, the club's vice president of media relations and publicity. "It just so happens that [the fifth] inning was the home run inning."
The rarity of back-to-back-back dingers dictated the larger prize and a special night for the three Drillers players.
"I've been grinding to find that swing again and being able to do it in that situation is just so cool. We talked about it in the dugout, the three of us that hit [them], and we'd all never been a part of that before," Gailen said. "That was awesome, just a cool moment between the three of us.
"In 11 years of pro baseball, I've never been a part of that, so that's something really cool. I don't know if I've ever seen that other than a highlight. ... I've played thousands and thousands of games, and this is the first time I've seen that in a game. I've been a part of more no-hitters than I have back-to-back-to-back [homers]."
The 32-year-old outfielder was in the hole when Beaty led off the inning with a long ball to center field on the fifth pitch he got from right-hander Trey Nielsen. Garlick went yard to left on the reliever's very next pitch.
"I'm not going to lie to you and say a home run isn't in the back of my mind," Gailen said. "Of course it is. Every single time somebody hits one in front of you, you have the thought, 'It'd be sweet if we went back-to-back.'"
The left-handed hitting native of the Los Angeles area pulled an 0-1 pitch out of the park.
"I'd never seen the guy throwing, so I was trying to get a read on the ball coming out of his hand a little bit," Gailen said. "The first pitch was down and away a little bit, then he hung a changeup and I got a good swing on it. Especially at our park, it's pretty short to right down the line where I hit it, so I knew I got enough of it. That was the first one I've hit at home this season. I've been working on trying to get my swing going a little bit and I felt like something clicked for me."
He finished 2-for-5 with two RBIs. Beaty also doubled to go 2-for-4 with three RBIs, two runs scored and a walk, and Garlick went 3-for-5.
Sborz (5-7) gave up an unearned run, holding Springfield to three hits and two walks while striking out four over eight innings.
"He was unbelievable," Gailen said. "He looked like he had control of three pitches and there wasn't much solid contact. One [of the hits] was a ball I lost in the twilight that the center fielder [Tim Locastro] almost caught anyway, so it should have been eight innings of [two]-hit work. His effort was as good as they come."
• Get tickets to a Drillers game »
It was the fifth straight win for the Drillers, who pulled into a tie with the Cardinals atop the second-half standings in the Texas League North to open a three-game series.
"I don't think [the three straight homers] sends a message, but I think Springfield knows we're hot after a game like today," Gailen said. "If we can keep the ball rolling like now, I think we're really good shape. When we get hot, we get really hot."
Andrew Knizner, St. Louis' No. 30 prospect, went 2-for-3 with a double.
Josh Jackson is a contributor to MiLB.com. Follow and interact with him on Twitter, @JoshJacksonMiLB.