Drillers walk off again in Game 2
Jackson scores on wild pitch for commanding Texas Finals lead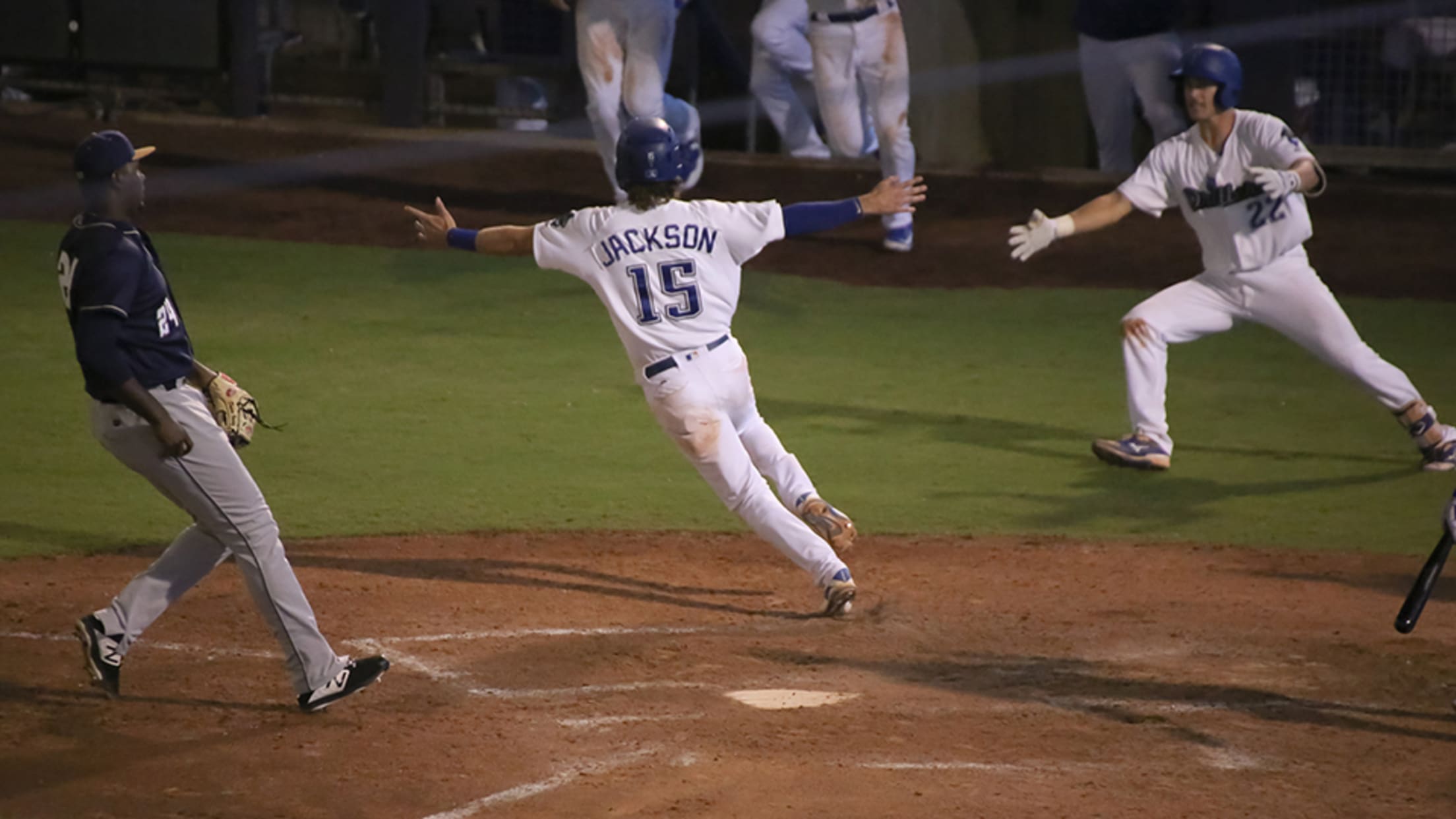 Drew Jackson begins his celebration after scoring the winning run in Game 2 of the Texas League Finals. (Evan Brown/Tulsa Drillers)
Gavin Lux and Drew Jackson had big plans in the ninth inning of Game 2 of the Texas League Finals, but small ball got the job done.Lux scored the tying run on a single by Dodgers No. 2 prospectKeibert Ruiz and Jackson raced home on a wild pitch as Tulsa
Gavin Lux and Drew Jackson had big plans in the ninth inning of Game 2 of the Texas League Finals, but small ball got the job done.
Lux scored the tying run on a single by Dodgers No. 2 prospectKeibert Ruiz and Jackson raced home on a wild pitch as Tulsa came from behind for the second straight night to sink San Antonio, 6-5, and take a commanding 2-0 lead in the best-of-5 series.
About 24 hours after eking out a win in Game 1, the Drillers trailed by a run heading to the bottom of the ninth before piecing together another rally.
"I think the most important thing is not letting any at-bats get away, just having quality at-bats," said Jackson, the Dodgers' 19th-ranked prospect who came to the plate after Lux drew a leadoff walk. "I faced [reliever Andres Munoz] a couple times earlier in the year, and it's fuzz. It's a real 100 [mph], 102. I was looking for something right down the middle, be quick, short to the ball because you can't get big on something coming that hard. I just stuck with my approach like I've been doing all playoffs and worked out a walk.
Gameday box score
The free passes weren't the plan prior to the ninth, but Jackson wasn't complaining.
"We looked at each other before that inning and we said we were both going to go deep and we both ended up walking," he said. "We just had all the confidence in the world, and [Ruiz] is unconscious right now and came through with another huge hit. As long as each guy is trying to do his part for the next guy, anything can happen."
With Lux and Jackson aboard, Ruiz -- MLB.com's No. 37 overall prospect -- came through with an RBI single to left to pull Tulsa even.
"I thought this one was going to slip away, but we stuck with it," Jackson said. "If we all play our game, we blend well together. We can all hit for power, but ultimately, if we get on base, we do a good job of keeping the contagious hitting going. Lux gets on, that gives me more confidence. When Ruiz has guys in scoring position, it's almost game over."
• Complete postseason coverage »
Standing at second after Ruiz's second hit of the night, Jackson got an idea.
"I picked up on some tendencies with [Munoz]," he said. "I looked over at [Tulsa manager Scott Hennessey] at third base. We kind of gave each other a head nod, and he gave me the signal, green light. First pitch of that at-bat, I went. I timed him up well and it worked out. That's my job out there, trying to be a spark plug for these guys. I'm glad it worked out."
Jackson stole third to put himself 90 feet from scoring. After Munoz (0-1) walked Zach Reks to load the bases with two outs, San Antonio again went to the bullpen.
"They brought in the new pitcher, another flamethrower [Dauris Valdez]," Jackson said. "The first pitch was a fastball down, almost in the dirt. I was like, 'All right, this guy seems like he could be wild.' I swear in my head, I was like, 'Throw it away, throw it away, throw it away.' I was hoping it would go to the backstop and he yanked a fastball, probably 97. I was able to run and I didn't have to slide. It was awesome."
San Antonio grabbed the lead in the third and held it until the ninth. Padres No. 30 prospect Owen Miller and 15th-ranked Josh Naylor each had three hits, with Naylor doubling twice and driving in two runs.
Three Drillers relievers combined on five scoreless innings, with Karch Kowalczyk (1-0) pitching the ninth for the win.
The Missions have been in this position before, having dropped the first two games of their semifinal series to Corpus Christi before rallying for three straight wins to advance. On the flip side, Jackson and his team know the task ahead won't be easy.
"Last year, we were here and went up 2-0 against Midland and they took three from us at home," he said. "We've just got to stay with our approach, not get too excited now and just lock it in and keep it going, win every at-bat. I know our pitchers are going to keep shoving because they always have. Quality at-bats, and I think it'll work out."
The series shifts to San Antonio for Game 3 on Friday night.
Tyler Maun is a contributor to MiLB.com. Follow him on Twitter @TylerMaun.