TULSA SYMPHONY ORCHESTRA TO PRESENT "WALT DISNEY ANIMATION STUDIOS: A DECADE IN CONCERT"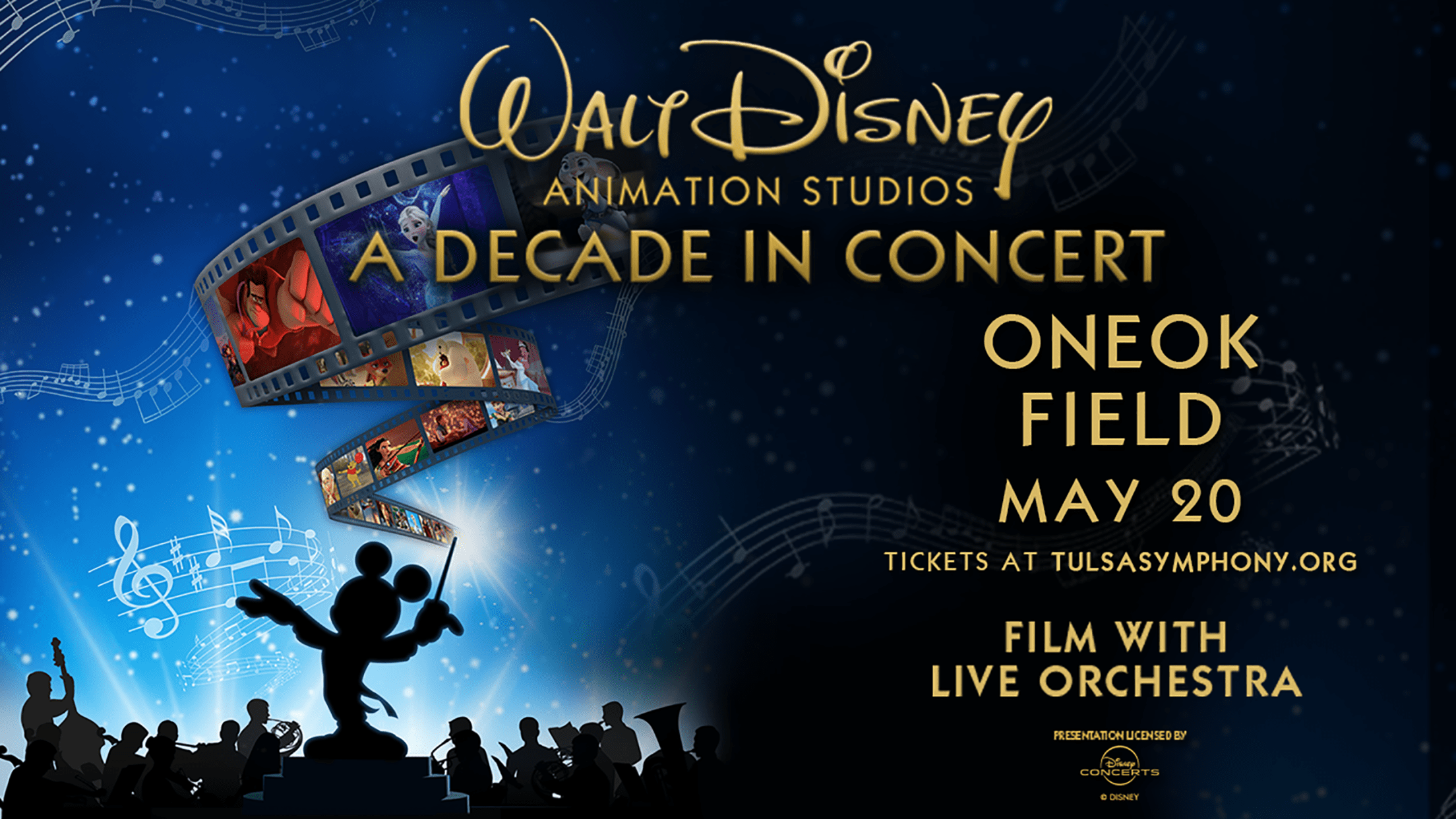 Concert will Feature Iconic Musical Moments Performed Live by a Symphony Tulsa Symphony Orchestra presents Walt Disney Animation Studios' "A Decade in Concert" on May 20, 2022 at ONEOK Field. Celebrating iconic musical moments from favorite films released over the last decade, this melodic journey explores Disney Animation's latest stories
Concert will Feature Iconic Musical Moments Performed Live by a Symphony
Tulsa Symphony Orchestra presents Walt Disney Animation Studios' "A Decade in Concert" on May 20, 2022 at ONEOK Field. Celebrating iconic musical moments from favorite films released over the last decade, this melodic journey explores Disney Animation's latest stories through unforgettable film clips and scores performed live by a symphony orchestra. Tickets are now available at TulsaSymphony.org.
This thrilling performance includes music from "Moana" (2016), Academy Award®-winning "Zootopia" (2016), Academy Award-winning "Big Hero 6" (2014), Academy Award-winning "Frozen" (2013), "Wreck-It Ralph "(2012), "Winnie the Pooh" (2011), "Tangled" (2010), "Princess and the Frog" (2009), and "Bolt" (2008).
Once again filling Tulsa's ONEOK Field with the magic of live music, this performance will feature the Tulsa Symphony Orchestra playing the music from Disney's past decade while film clips play on the ballpark's large video board. Children of all ages can experience entertaining family-oriented activities before the concert and enjoy special seating on the field. The evening will close with a brilliant fireworks display against the Tulsa skyline. Luxury boxes will also be available for purchase for an even more magical experience.
Keith C. Elder, Executive Director of the Tulsa Symphony Orchestra, said, "We are thrilled to bring live music back to the ballpark with this spectacular performance. We are honored to serve this wonderful community, and to bring this city together through the power of live music."
ABOUT DISNEY CONCERTS
Disney Concerts is the concert production and licensing division of Disney Music Group, the music arm of The Walt Disney Company. Disney Concerts produces concerts and tours, and licenses Disney music and visual content to symphony orchestras and presenters on a worldwide basis. Disney Concerts' concert packages include a variety of formats, such as "live to picture" film concerts and themed instrumental and vocal compilation concerts and range from instrumental-only symphonic performances to multimedia productions featuring live vocalists and choir. Numerous new concert packages and touring productions from Disney's portfolio of studios, including Disney's feature animation and live action studios, Pixar, Lucasfilm and Marvel, are currently in development. Current titles include the Star Wars Film Concert Series (Episodes IV-VIII), Toy Story, Aladdin, The Muppet Christmas Carol, Disney Princess - The Concert, Coco, The Lion King, Up and The Nightmare Before Christmas, which in 2019 accounted for over 900 performances in many of the world's top concert venues.
About the Tulsa Symphony_
The Tulsa Symphony Orchestra is proud to celebrate 15 years as a vital community service organization that entertains, advocates, heals and inspires through musical excellence, innovation, and collaboration. Serving as the cornerstone of the arts in Tulsa, the TSO partners and collaborates with Tulsa Ballet, Tulsa Chorale, Philbrook Museum, Gilcrease Museum and Oklahoma Aquarium. A leader in classical music and music education, TSO presents over 30 major performances per season, which touch over 55,000 people in the Northeast Oklahoma region. At the forefront of the Orchestra is artistic integrity, collaborating with renowned artists such as Wynton Marsalis, Joshua Bell, Amy Grant, Eric Whitacre, Yefim Bronfman, and Hanson. For additional information about TSO, please visit our website at_ www.TulsaSymphony.org.