Twins' Slegers unhittable in Triple-A debut
Rochester righty holds Buffalo to three walks, strikes out seven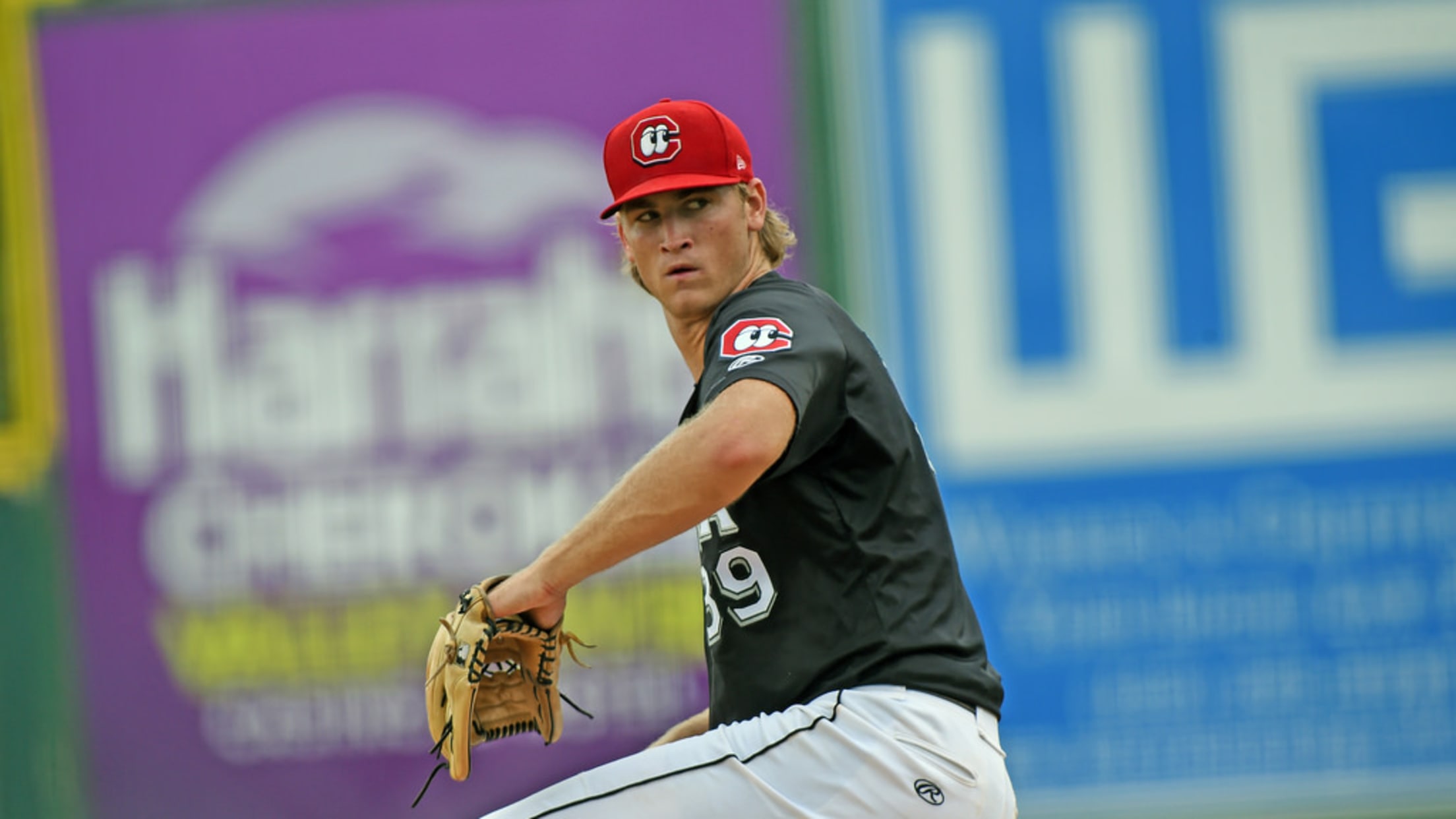 Aaron Slegers went 10-7 with a 3.41 ERA in 25 starts last season in the Southern League. (Brian McLeod/MiLB.com)
Aaron Slegers was on an unfamiliar mound Tuesday, but he didn't have to look far to feel at home.The 24-year-old Twins prospect dominated his Triple-A debut, throwing six hitless innings to lead Rochester past Buffalo, 5-0, at Coca-Cola Field. Slegers said he was able to overcome some early jitters thanks to
Aaron Slegers was on an unfamiliar mound Tuesday, but he didn't have to look far to feel at home.
The 24-year-old Twins prospect dominated his Triple-A debut, throwing six hitless innings to lead Rochester past Buffalo, 5-0, at Coca-Cola Field. Slegers said he was able to overcome some early jitters thanks to his catcher, Mitch Garver, who he's thrown to since getting drafted out of Indiana in 2013.
"It was a lot of fun today," Slegers said. "Me and Mitch worked really well. We've been working well together since Rookie ball, we've gone up the system together, so he knows what I do and I know what he does. It felt like we were clicking today."
Slegers (1-0) struck out seven and held the Bisons to three walks, throwing 48 of his 81 pitches for strikes in his first start of the year. The 6-foot-10 right-hander teamed with relievers Trevor Hildenberger and Alan Busenitz for a two-hitter after Rochester broke a scoreless tie in the sixth.
Having Garver calling pitches helped "tremendously," Slegers said.
"When there's that familiar face behind the plate and he's got the same look, it feels like a lot of the same from years past," he said.
First baseman Kennys Vargas homered in the sixth, his first of the year, and second baseman Tommy Field added his first in the ninth to cap the win. Niko Goodrum went 3-for-4 with a pair of doubles and two RBIs for the Red Wings, who improved to 4-1.
Slegers, who finished 2016 as the Twins' No. 26 prospect but is currently unranked, said he found success Tuesday using a new slider grip he refined in Spring Training.
"I threw it early in the counts for strikes," Slegers said. "And I worked in a high fastball, locating that up, and that combination seem to worked well today."
Buffalo, which suffered its first loss of the season, threatened in the first with a leadoff walk and a throwing error with two outs. Slegers worked out of trouble and pitched a 1-2-3 second before ending the third with a double-play grounder from 2009 National League Rookie of the Year Chris Coghlan.
"I was a little shaky to start, walked the first batter of the game, my fastball command wasn't where I'd like it," Slegers said. "Some hitters, I just kind of got behind the count and never got back into it. I walked some guys -- I really pride myself on throwing strikes and not walking too many guys, so that's something I'm going to take away to work on for the next time."
Buffalo managed one more baserunner in the fourth when Jake Elmore drew a leadoff walk, but Slegers retired the final six batters he faced to keep the no-hitter intact. Hildenberger kept it going into the eighth before Jason Leblebijian poked a one-out single to left.
"That was fun, but not necessarily was I thinking [the no-hitter is] the be-all, end-all. But it was fun to watch, and our lineup put up a few more," he said. "We gave the bullpen some breathing room. Our lineup is so good, it's fun to watch those guys click."
Gameday box score
Brett Oberholtzer started for Buffalo and allowed three hits and a pair of walks over four innings. John Stilson (0-1) took the loss after working 1 2/3 innings.
The win was arguably Slegers' most dominant start since July 12, 2014, when he struck out seven and held Clinton to a pair of hits over seven innings for Class A Cedar Rapids.
Slegers saw action in three Major League Spring Training games last month, allowing two runs on two hits in 2 2/3 innings for Minnesota after going 10-7 with a 3.41 ERA in 25 Minor League starts last year with Double-A Chattanooga. He struck out 104 and walked 46 in 145 1/3 innings before earning a promotion to Triple-A this year.
He said he was aware of the no-hitter when manager Mike Quade made the call to the bullpen.
"Yeah, it's hard not to know," he said. "You look and the score was 1-0, but at the same time, I understand. It's the first start of the year and because of the weather, maybe that came into it. I haven't pitched off a mound against hitters since Spring Training, but it's fun to have success in the first game. I'm glad I got my feet wet and it feels like the full swing of the season."
Slegers was Minnesota's fifth-round pick in the 2013 Draft and received a $380,000 signing bonus. He actually pitched against the Twins this spring when Minnesota played Team USA in an exhibition before the World Baseball Classic -- the American squad needed a few extra arms to rest its staff before the WBC, and Slegers switched sides for an inning.
As for this season, Slegers is looking to sharpen his command and position himself for the next level.
"Going forward, short term, just a lot of things to work on -- fastball command, limiting walks, really work on attacking the zone early with the fastball," he said. "Going forward, I'm just glad I got the first one out of the way. It's a small sample size, first start of the year, but it's exciting to know I can pitch in this league."