Twins Prospect Primer: Arms on the way
Gonsalves, Stewart, Jay continue their march up Minnesota's ranks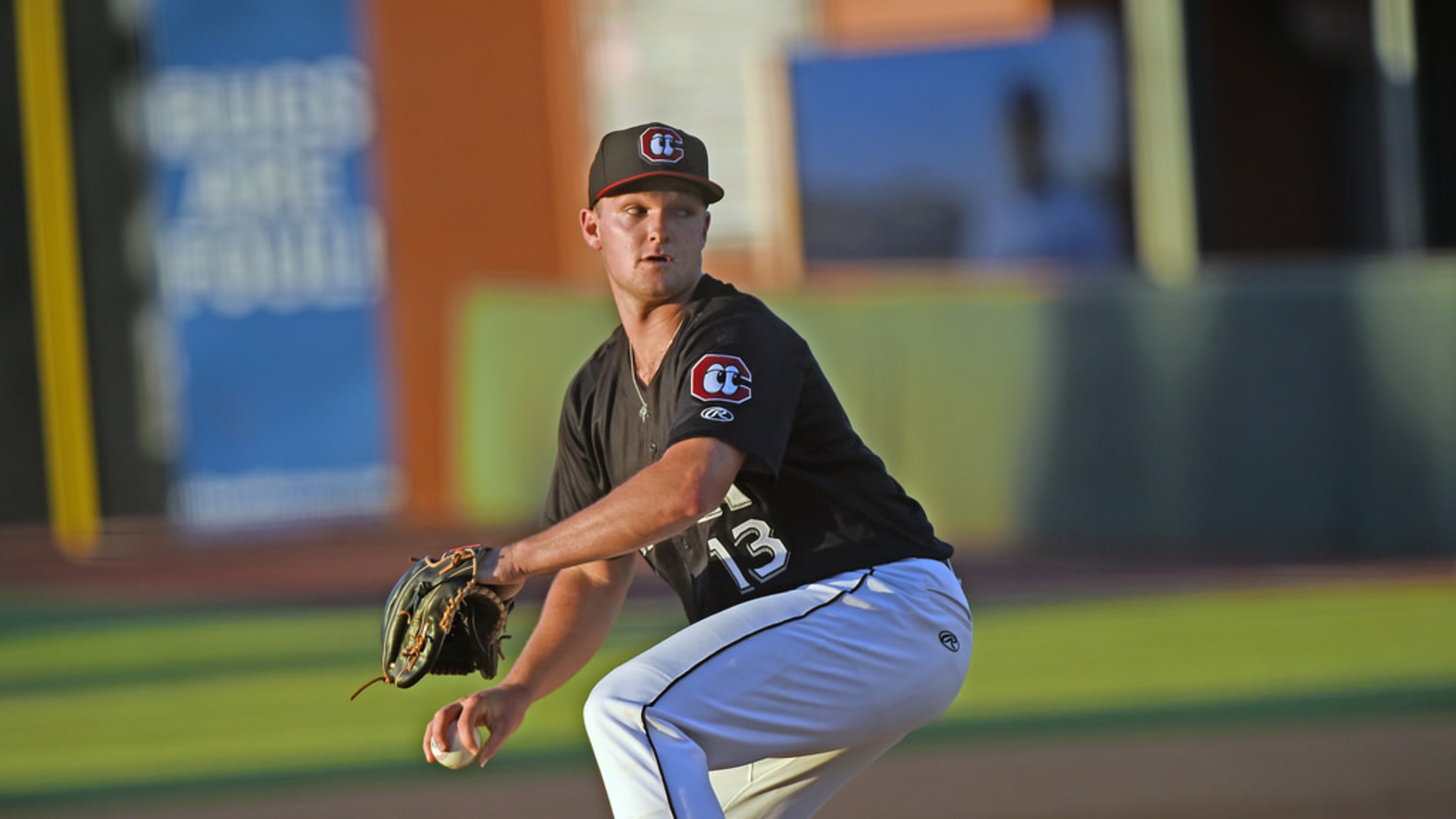 Kohl Stewart held batters to a .244 average last season and reached Double-A in his fourth year. (Brian McLeod/MiLB.com)
Some players are on the verge of stardom, others are entering a crucial phase of their development and still others are getting their first tastes of full-season ball. With the 2017 season approaching, MiLB.com takes a look at the most intriguing prospects from each MLB organization.Shining star: Stephen Gonsalves, LHPThe
Some players are on the verge of stardom, others are entering a crucial phase of their development and still others are getting their first tastes of full-season ball. With the 2017 season approaching, MiLB.com takes a look at the most intriguing prospects from each MLB organization.
Shining star: Stephen Gonsalves, LHP
The Twins' top-ranked pitching prospect went 13-5 with a 2.06 ERA in 24 starts across two levels last season, helping him move up the Minnesota system to No. 2 overall and win the award as the Twins' Minor League Pitcher of the Year. The 22-year-old saw his numbers improve after a promotion to Double-A Chattanooga, where he was 8-1 with a 1.82 ERA in 13 games. A fourth-round pick in 2013, Gonsalves enters his fourth Minor League season with eyes on Triple-A and refining his control. He features a low-90s fastball, a sinking changeup, a curveball and a slider -- a combo that helped him finish with the 15th-lowest ERA in the Minors last year.
"He's not going to light up on the gun, but his ball gets on people," Twins manager Paul Molitor told MLB.com earlier this month. "I don't know if he hides it, I don't know if his release point is closer. I think there are a lot of metrics that support his style of pitching. He locks people up with that fastball that's 90 mph, [and] his changeup is really good."
Gonsalves has been praised for the "spin rate" of his fastball, which he said makes the ball appear to travel faster than it is.
"With all the Statcast stuff, they say it's got a high spin rate," Gonsalves told MLB.com. "I've heard my fastball at 90 feels like it's coming at 95."
Major League-ready: Kohl Stewart, RHP
Stewart, a Houston native, looked very good after a promotion to Double-A last season. Though calling him "Major League-ready" may be a bit of a stretch, if the right-hander can continue that progress at Rochester this spring, a call-up to Minnesota late in the year seems within reason. The Twins' first-round pick in 2013 (No. 4 overall), Stewart went 12-8 with a solid 2.61 ERA in 25 starts across two levels last season, fanning 91 in 143 2/3 innings. His strikeout numbers aren't dazzling, but the 22-year-old does feature two quality fastballs with an above-average slider and allowed just six home runs last year.
"The more I pitch, the more I learn my stuff and how to use it," Stewart told MiLB.com last season. "A lot of it is keeping my mind in the right place during an outing and not trying to do too much. Trusting my stuff and learning to read hitters is all part of it. I'm better about making adjustments in a game now."
Breakout prospect: Ben Rortvedt, C
Rortvedt, a 19-year-old catcher, has already shown his value to the Twins -- he was among four Minor Leaguers who raced to the aid of Triple-A Rochester manager Mike Quade and his wife after the veteran coach's SUV was involved in a multi-car accident in Florida last month.
"The kids did one hell of a job," Quade said. "They handled themselves so well, kept their heads, were so helpful. They could not have been better. We're as lucky as you can be."
Roadside rescues aside, Rortvedt is coming off his first taste of professional baseball, when he hit .222 with 10 RBIs in 33 games for a pair of Rookie-level Twins affiliates after he was drafted in the second round last year. Minnesota's No. 12 prospect -- considered one of the top catchers in his Draft class -- is obviously better than what his numbers from last season show, so we'd expect a solid first full year, especially since the lefty-swinging backstop is noted for his work ethic and strength. He saw time in the outfield in high school and as a senior batted .406 with five doubles, three triples and 10 RBIs.
"He's not the biggest guy, but he's really strong," Twins scouting director Deron Johnson told MLB.com. "He's got tremendous leadership qualities."
At the crossroads: Tyler Jay, LHP
The Twins' first-round pick in 2015 is being converted back into a reliever after spending most of his first two seasons in the Minors as a starter. The 22-year-old worked in relief primarily while in college at Illinois, and Minnesota thinks he's best suited in that role, at least for 2017. Last year at Class A Advanced Fort Myers and Double-A Chattanooga, the lefty went 5-5 with a 3.33 ERA in 18 games, 15 of which were starts. He struck out 77 and walked 26 in 83 2/3 innings. The move could partially come as a result of his struggles at Double-A, where he owned a 5.79 ERA in 14 innings.
"Nothing is permanent in the prospect development process, but this is a collaborative decision to put Tyler in the best situation for success," Twins vice president of player personnel Mike Radcliff told MLB.com. "Each organization is striving to maximize the strengths and abilities of each of our players and this decision reflects that objective."
Jay was named Big Ten Pitcher of the Year in 2015 and has spoken about his fondness for coming out of the bullpen.
Full-season debutant: Jose Miranda, SS/3B
Miranda, the No. 73 overall pick in 2016, hit .227 with a homer, 20 RBIs and a .308 OBP in 55 games with the Twins' Rookie-level Gulf Coast League club. The 18-year-old Puerto Rican infielder enters 2017 as the Twins' No. 24-ranked prospect and as someone likely destined for Class A Cedar Rapids on Opening Day. A shortstop in high school, Miranda is expected to shift primarily to third base in the Minors, a move that might be beneficial considering the organization's No. 1 prospect, Nick Gordon, is ranked No. 9 by MLB.com among all shortstop prospects.
"He has a really good swing," Johnson told MLB.com. "He's aggressive. We're going to send him out as a shortstop, but realistically, he's probably a third baseman. But he's a really good player and really skilled. We have him compared to a Mike Lowell-type. He's a really good defender with a good swing. He's a good-sized kid. He has a chance to have power for sure."


Others to keep an eye on:Alex Kirilloff, the Twins' No. 3-ranked prospect, will miss the 2017 season after undergoing Tommy John surgery earlier this month. The Pittsburgh native was Minnesota's No. 1 pick in last year's Draft and hit .305 in 55 games with Rookie-level Elizabethton. The 19-year-old is an outfielder, so his recovery time may not be as long as what pitchers endure. ... Nick Gordon enters the season ranked No. 50 among all prospects after hitting .291 with three homers, 52 RBIs and 19 steals in 116 games at Fort Myers last season. He'll be challenged at Double-A in 2017. ... Twins No. 4 prospect Fernando Romero already went through Tommy John surgery and returned last year, where he finished 9-3 with a 1.89 ERA in 16 starts across two levels. He'll likely join Gordon at Chattanooga this spring. ... Griffin Jax begins the season as the Twins' No. 30 prospect, but he won't be around for Opening Day -- the 22-year-old right-hander attends the Air Force Academy and is set to graduate in May. He was Minnesota's third-round pick last season and appeared in four games with Elizabethton before heading back to Colorado Springs. If his military service requirements get deferred, he'll be back in uniform -- a Twins uniform -- sometime this summer.