Two-Out Hitting Sends Surge to Win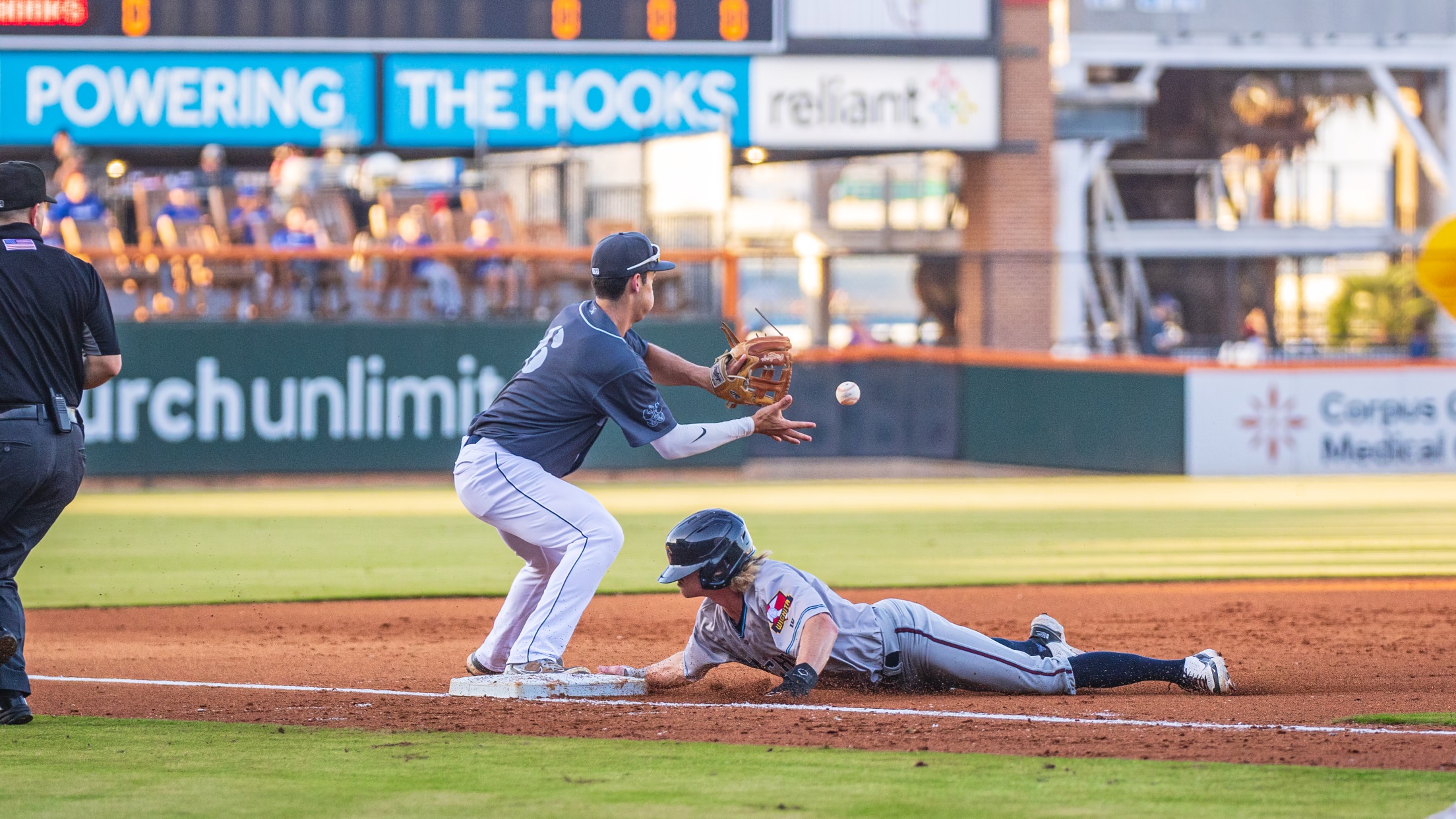 CORPUS CHRISTI - The Wind Surge plated six two-out runs, edging Corpus Christi, 8-6, before 4,130 fans Friday night at Whataburger Field. Wichita posted a pair of markers in both the first and second against Jaime Melendez, sending seven men to bat in each rally. Matt Wallner, who has eight
CORPUS CHRISTI - The Wind Surge plated six two-out runs, edging Corpus Christi, 8-6, before 4,130 fans Friday night at Whataburger Field.
Wichita posted a pair of markers in both the first and second against Jaime Melendez, sending seven men to bat in each rally. Matt Wallner, who has eight RBIs in the series, provided the big blow in the second with a two-run double into the right-field corner.
Derek West retired the first four he faced in relief of Melendez but was forced to exit in the fifth after Wichita loaded the bases. Leobaldo Cabrera greeted Matt Ruppenthal with a two-run knock into center for a 6-1 lead.
All of the Wind Surge production came with two outs.
Following another two spot in the top of the sixth, CC staged a rally in the bottom half. Bryan Arias and Shay Whitcomb worked walks, with Grae Kessinger and Jose Alvarez following with infield singles. Wilyer Abreu then worked a bases-loaded walk from Zach Featherstone to complete the two-run uprising.
The Hooks, playing as the Blue Ghosts in honor of the USS Lexington, cut it to 8-6 in the eighth. Kessinger's double began the frame and, following a throwing error, Abreu punched a single into center for his second RBI. Enmanuel Valdez followed with a two-run knock into left-center, giving him a club-best 34 RBIs.
Austin Schulfer, one of six pitchers used by the Wind Surge, came on for the final out in the eighth and used a double play in the ninth to record his seventh save.
Blue Ghosts right-hander Joe Record established new season-bests in innings and strikeouts, punching out five over 2 1/3 scoreless frames.
With the series level at 2, CC lefty Julio Robaina meets Casey Legumina Saturday night. First pitch 7:05.