Pioneer preview: Owlz boast two-sport stars
Angels prospects Marsh, Hunter Jr. could patrol Orem outfield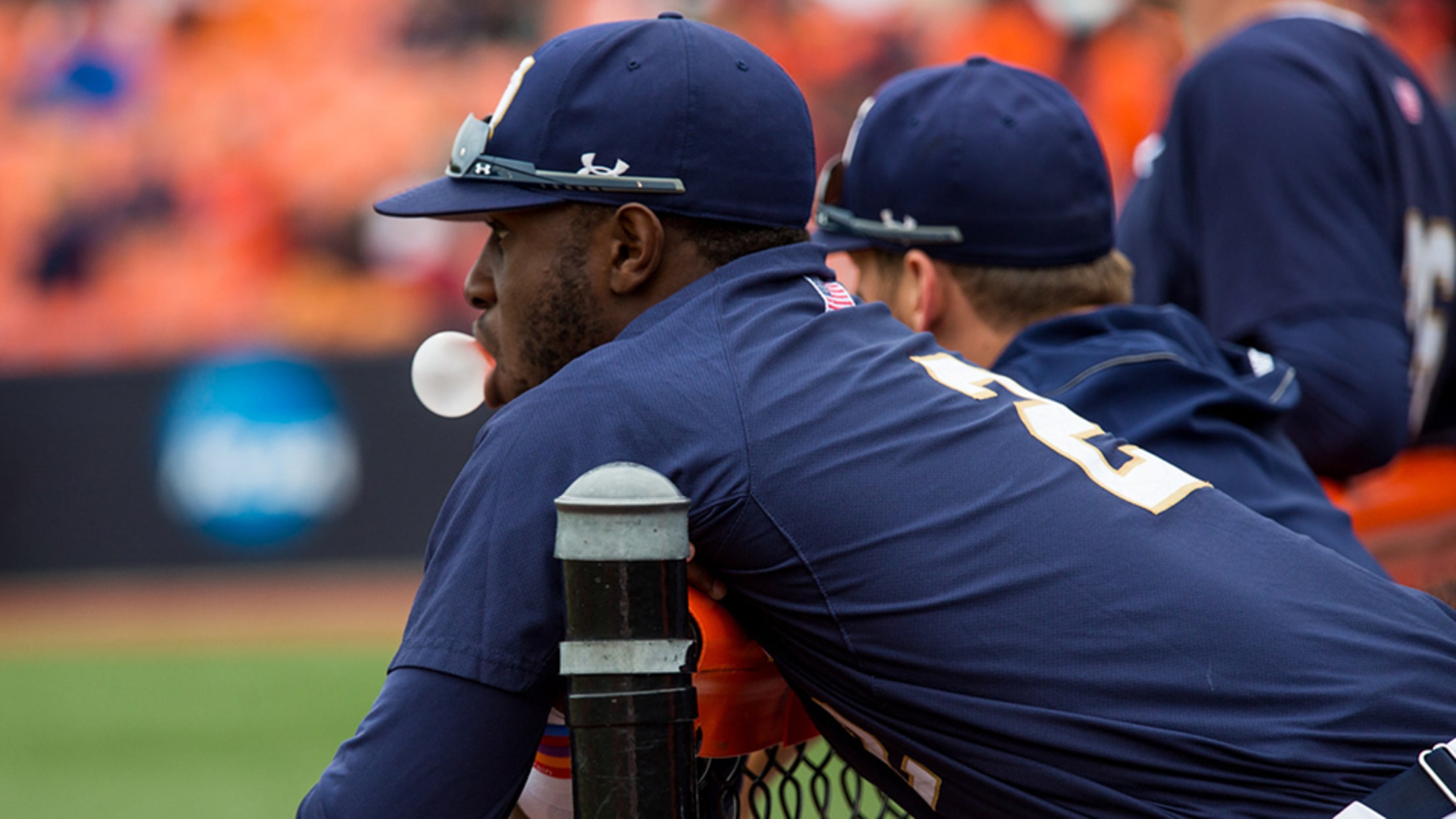 Torii Hunter Jr. caught 38 passes for 521 yards and three touchdowns for Notre Dame in 2016. (David Wegiel)
MISSOULA, Montana -- It's another year and another short Draft window for the Pioneer League, which begins its season Monday while all eight clubs have rosters in flux.And that's just the players.Mike Benjamin is the rookie skipper for the Missoula Osprey, although it's his third season as a Minor League
MISSOULA, Montana -- It's another year and another short Draft window for the Pioneer League, which begins its season Monday while all eight clubs have rosters in flux.
And that's just the players.
Mike Benjamin is the rookie skipper for the Missoula Osprey, although it's his third season as a Minor League manager.
It's been a soggy spring in Montana, and it's estimated that between seven and 12 new faces will join the Osprey roster in the season's first week.
No worries, Benjamin has plenty of experience with young players (in 2003, he coached his son's team to the Little League World Series) and inclement weather (his season opener with Kane County last year was snowed out).
"I know it's considered a hitters' league," said Benjamin, who spent much of his 13-year Major League playing career with the Giants. "As far as expectations, those don't change -- it's trying to get these kids as good as they can be. Our goal is for them to move up."
The Pioneer League is generally three years up or out for players and holdovers are rare, although Missoula has seven players back from 2016, including second-round pick Andy Yerzy, a catcher.
Defending champion Orem has two familiar faces who played sparingly in 2016: catcher Keinner Piña and pitcher Crusito Mieses. Of more interest is Brandon Marsh, a 2016 second-round pick of the Angels. Marsh, an outfielder out of Buford, Georgia, briefly decided to not sign professionally before inking a contract after a physical revealed a back issue.
"They found something in my back that wasn't serious at all, but it was concerning to the organization," he told the Gainesville (Georgia) Times last July. "I was upset. I had to come back home, but we kept negotiating and we met all the terms and [the Angels] agreed to them. I'm more than happy with the situation I'm in. I'm happy we stuck with the Angels and I'm happy the Angels stuck with us."
Marsh was assigned to the Rookie-level Arizona League but did not play and will make his professional debut with the Orem Owlz. He could be playing alongside Torii Hunter Jr., the son of five-time All-Star outfielder Torii Hunter.
All-Stars to stay: The annual Northwest-Pioneer League All-Star Game has been extended through 2020. This year's event will be played Aug. 1 in Hillsboro, Oregon, home of the Northwest League's Hops. The Pioneer League has lost the first two midseason classics following last summer's 11-5 setback in Ogden, Utah.
All-Star updates: Reigning Pioneer League MVP Meibrys Viloria (Idaho Falls, Royals) is hitting .235 for Class A Lexington in the South Atlantic League. Pitcher of the Year Aron McRee (Great Falls, White Sox) is 1-6 with a 5.00 ERA in 10 games, including nine starts, for Class A Advanced Winston-Salem in the Carolina League.
Series you need to watch: Ogden at Orem, June 19-20. The two Utah entries -- Ogden is a Dodgers affiliate -- play each other eight times in the first 11 days of the season.

Last things last
Most hits, season:
117 -- Gary Redus, Billings, 1978
Number of three-homer games in league history:
16, most recently by Ogden's
Justin Chigbogu
on
July 18, 2014Last cycle:
Jose Siri
, Missoula vs. Grand Junction,
July 4, 2016Last .400 season:
Travis Vetters, Ogden; Roberto Lopez, Orem, 2008
Last alum to win NL Rookie of Year:
Corey Seager, Los Angeles, 2016 (Ogden '12)
Last alum to win AL Rookie of Year:
Wil Myers, Tampa Bay, 2013 (Idaho Falls '09)
Last perfect game:
Jason Robbins, Billings vs. Medicine Hat, Aug. 1, 1994
Last no-hitter:
Scott Snodgress, Blake Drake and Joe Dvorsky, Great Falls vs. Casper,
Aug. 18, 2011
Last 100-strikeout pitcher:
Greg Smith, Missoula, 2005
Most consecutive strikeouts:
11, Jeff Montgomery, Billings, Aug. 8-13, 1983
Most saves, season:
(no records kept before 1969) 18, Michael Toney, Medicine Hat, 1994; Andrew Johnston, Casper, 2005.
Last year's Championship Series:Orem beat Billings
, 2-0.
Fritz Neighbor is a contributor to MiLB.com.