Two Three Run Innings Help Kernels Sneak Past Bees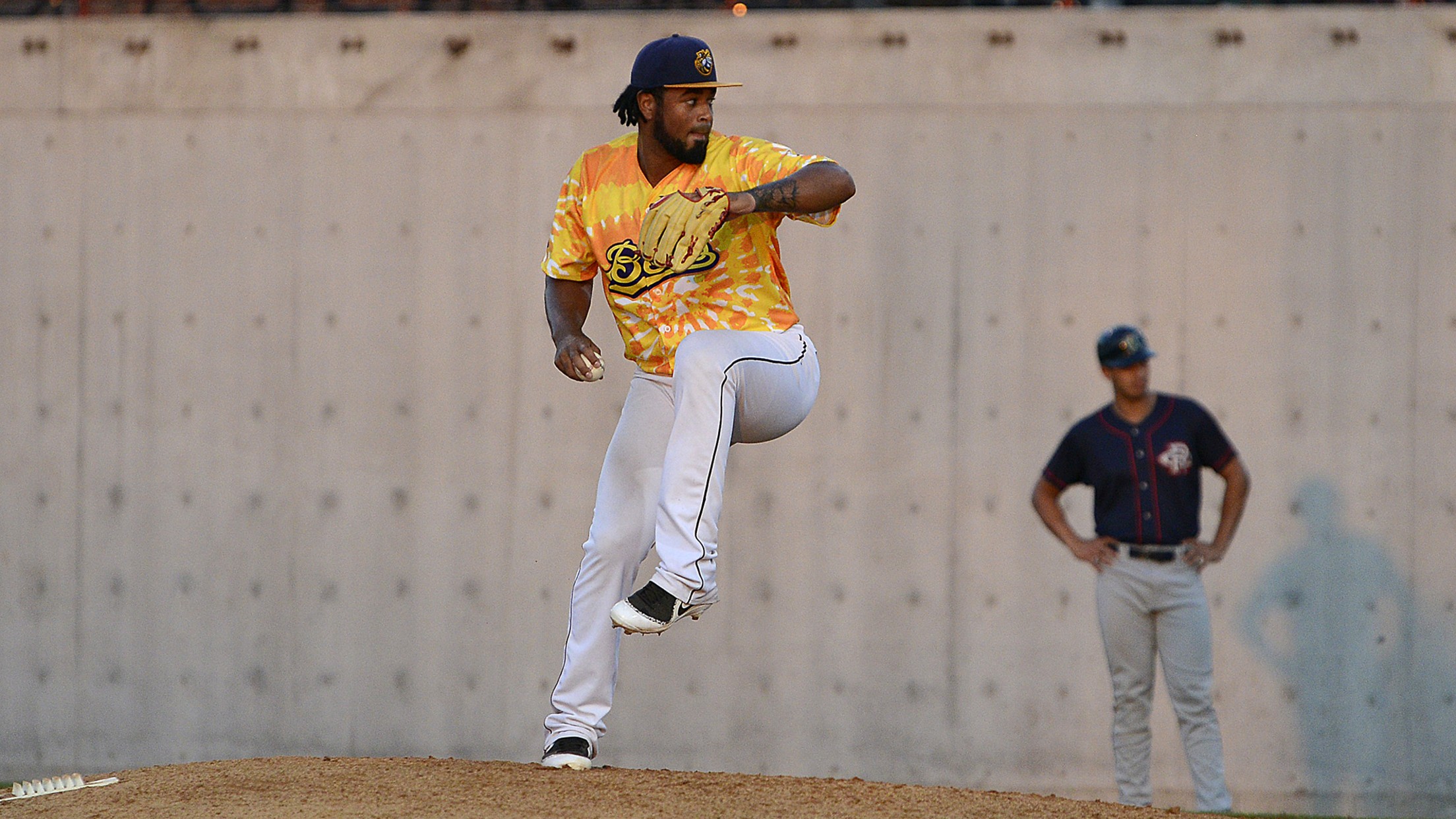 (Stephen A. Cirinna)
For Immediate ReleaseBy: RJ LarsonJune 2, 2018 
For Immediate Release
By: RJ Larson
June 2, 2018
<v:rect alt="https://hb.mlbam.net/actions/crossDomainAccess?serviceUrl=https%3A%2F%2Fservice-hb.mlbam.net%2Fcms%2Fs%2Fv1.2%2F44%2Fphoto-asset%2Fimage%2Fview%3Ffile-path%3D/assets/images/5/4/8/274912548/raw.jpg&4C5E7807-A8B5-49F0-8209-9C3CB35DB621" filled="f" id="Rectangle_x0020_2" o:gfxdata="UEsDBBQABgAIAAAAIQC75UiUBQEAAB4CAAATAAAAW0NvbnRlbnRfVHlwZXNdLnhtbKSRvU7DMBSFdyTewfKKEqcMCKEmHfgZgaE8wMW+SSwc27JvS/v23KTJgkoXFsu+P+c7Ol5vDoMTe0zZBl/LVVlJgV4HY31Xy4/tS3EvRSbwBlzwWMsjZrlprq/W22PELHjb51r2RPFBqax7HCCXIaLnThvSAMTP1KkI+gs6VLdVdad08ISeCho1ZLN+whZ2jsTzgcsnJwldluLxNDiyagkxOquB2Knae/OLUsyEkjenmdzbmG/YhlRnCWPnb8C898bRJGtQvEOiVxjYhtLOxs8AySiT4JuDystlVV4WPeM6tK3VaILeDZxIOSsuti/jidNGNZ3/J08yC1dNv9v8AAAA//8DAFBLAwQUAAYACAAAACEArTA/8cEAAAAyAQAACwAAAF9yZWxzLy5yZWxzhI/NCsIwEITvgu8Q9m7TehCRpr2I4FX0AdZk2wbbJGTj39ubi6AgeJtl2G9m6vYxjeJGka13CqqiBEFOe2Ndr+B03C3WIDihMzh6RwqexNA281l9oBFTfuLBBhaZ4ljBkFLYSMl6oAm58IFcdjofJ0z5jL0MqC/Yk1yW5UrGTwY0X0yxNwri3lQgjs+Qk/+zfddZTVuvrxO59CNCmoj3vCwjMfaUFOjRhrPHaN4Wv0VV5OYgm1p+LW1eAAAA//8DAFBLAwQUAAYACAAAACEAt3Pp4oUDAABuBwAAHwAAAGNsaXBib2FyZC9kcmF3aW5ncy9kcmF3aW5nMS54bWykVdtu4zYQfS/QfxAEpG+yLqZsyV0lsCVrUSDbBuvmA2iKtthSpErSl7Tov++QktdOUvRhV7AlcmZ4ODM8M/zwcO64d6RKMykKP55EvkcFkQ0T+8J//r0OMt/TBosGcylo4b9Q7T/c//jDB7zYK9y3jHiAIPQCF35rTL8IQ01a2mE9kT0VoNtJ1WEDU7UPG4VPgNzxMImiWdhhJvz7K1SFDfYOin0DFJfkT9qUWByxBkhOFreS0UdOvh8ZL8Txo+o3/ZOynpNfj0/KY03hQ+YE7iBFfjgqRjOYhm9W7a8A553qrL3c7byzQ3mxb4dBz8YjIJxGKIsAn4BqHA97tL/9xyrSrv93HTgzbAqDG0d0b90Qx/eRJZfIPlMCVNhz6oGooZqoIZ8aTr3dTjq+xd1EUBNiYoBPOiRKal1Je85LQqjWD5qqIyP0WfHC0kXfTZd3SQ2/URHc4oCYdNoq4X+MJwl8EIJX30ojA6w1NTBjHd5Ta8Ho6W5a7xinQY9NezetQmejQ2eiwzREYRYmc5THSYqyEOg4+aPf/4S7/mdUput5Fs2DZbZKA5TXUZAlUR7k5bRcTdNqNUvir0d7SZLuH4F42hOybCEzdKl7yBEUEqTsIlJKnlqKG23FAxmANQOCI8YVDKi0PX2SDbAIH4x0tfHtBPl60HjRK20+Utl5dlD4Cpx04Pj4qM3g08XEsUDWjHPHMS5eCQBzkAA3YanVWZa6ov0nj/J1ts5QgJLZOkBRVQXLukTBrI7naTWtyrKK/7X7xmjRsqahwm5zaSAxeledHbMMkjszIbILoUSAOpcmAi0kjq4tREvOGgtnXdJqvy258o6YF37tnjHzN2bhazdclUIsb0KKExStkjyoZ9k8QDVKg3weZUEU56t8FqEcVfXrkB6ZoN8fkncq/DxNUndKN06/iS1yz/vY8KJjhiqPs67woXfAM3DXEnEtGne0BjM+jG9SYd2/pgKO+3LQMNRj0zPnjWsW5rySzYtN2Ba+QF4lgVzQqOBCgUEr1d++d4JrovD1XwesqO/xXwTUQR4jBGbGTVA6T2CibjXbWw0WBKAK3/jeMCwNzGDJoVds38JOsUuTkEsomh0bCT34ZL3j2mzMC6cuauc5Fc0TVvgz+MyhbgufiuB5M+YRLCDYa3AHTTe97X1DoQzRu3SA4Zubxi0db0Z7nd3O778AAAD//wMAUEsDBBQABgAIAAAAIQC6I1YXQQYAAA0aAAAaAAAAY2xpcGJvYXJkL3RoZW1lL3RoZW1lMS54bWzsWUuP2zYQvhfofxB0b9Zvx4t4g10/dtuskyB20uZIS7TEmBIFkt6Nb/0FBQqkRS8FeuuhlwDtb0rRpj+iQ+ph0qazD2yBoMgaWEijb4bDmdE3JPXg4euEeheYC8LSvl+/V/M9nAYsJGnU95/Pxl/c9z0hURoiylLc99dY+A+PPv/sAToMKMnmDPFwFuMEe2AoFYeo78dSZocHByIAMRL3WIZTeLZgPEESbnl0EHJ0CQMk9KBRq3UOEkRS/wgsSmVoROFfKoUSBJRPlRnspSiB0Z8sFiTAGhsu6woh1mJAuXeBaN8HmyG7nOHX0vcoEhIe9P2a/vMPjh4coMNCico9uobeWP8VeoVCuGzoMXk0rwZttdqtznFlXwOo3MWNuqPOqFPZ0wAUBDDT3BfbZrcxaBVYA5RfOmwPu8Nm3cIb9ps7Ph+31c/Ca1Buv7WDH48HEEULr0E5vr2Db5/0Toa2fQ3K8Z0dfLd2PGx1LfsaFFOSLnfQtXanOShnW0EWjJ454b12a9xtFMY3KKiGqrrUEAuWyn21lqBXjI8BoIAUSZJ6cp3hBQqgJgeIkjkn3jmJYii8DKVMgLjWqI1rTfivfi19pTOKDjEytJVf4InYESl/PBFwksm+/xVY9Q3Iy5V3ymRMgmJUbcTSOENpZGq8//X7f37+1vv791/ev/khH3QbL0z8EKfRNwSlHxoAZrsJw7sf3/75x9t3P333129vHPaPOZqb8BlJsPAe40vvGUtgco4Z4Dm/mcYsRsTUOE4jgVKkRnHYH0H8TPTjNaLIgTuBSJi4FxxoxgU8Xb2yHJ7GfCWJw+KjOLGAE8boCePOKDxSYxlhnq3SyD04X5m4ZwhduMYeoNTK82iVAb8Sl8lBjC03n1KUShThFEtPPWNLjB2ze0mIFdcJCTgTbCG9l8Q7QcQZkhmZW9W0UTojCeRl7XIQ8m3FZvLCO2HUNeshvrCR8HYg6nB+hqkVxlO0kihxmZyhhJoBP0cydjk5XfPAxI2EhExHmDJvFGIhXDpPOMzXSPojoBh32id0ndhILsnSZfMcMWYih2w5iFGSubBTksYm9kuxhBJF3lMmXfAJs98QdQ95APLYl+4XBFvpvpoNngO7mi5tCkQ9WXFHLk8xs+p3uqYLhDXVAPlbnJ6Q9EqC36L29n9H7ROSBjFzzOiuSN1t2srIDen8mBPn+3S2ReL7cNvUPWA8JB8/cw/RKn2K4WXZbV+fiPsTcfv/e+Le9z7fPV1vGBrIWy1d88W6Xrone1fuC0LpVK4pPhd68S6gL4VjECo9vUPF1U4ui+FSvckwgIWLONI6HmfyayLjaYwyWOHXfWUkEoXpSHgZE7Dw12KnbYWnq2TCwnzDWq+rzWlOHgLJjbzWruSw2ZA5utPdbMIq89rbSG+WSweU7k2cMAaznWg6nOiWQhUkvTWHoDmc0DO7Ey96Di/uK/Nlqna8ANeqrMDCyYPlVt9vt0AFlGBPhSgOVZ7yVJfZ1cm8y0zvC6ZVAbCKKCtgk+me8nXv9NTs8lK7RqYtJ4xys53QkdE9TMQoxEV1Kul13LhprnublFruqVDo8aC0Nm5073/Ii9vmGvS2uYGmJlPQ1Lvs+51mG0omQFnfX8DGHy6TDGpHqAUvohEcmQWS5y/8bZgl40IOkYjzgGvSydkgIRJzj5Kk76vpV2mgqeYQ7Vu9AYTw0TrXA1r52JyDpNtJxosFDqSZdkOiIp3fAsPnXOF8qtVvD1aabAXpnsbhpTenK/4MQYm1u3UVwJAIOP+p59EMCRxoVkS2qb+txlTQrnmiqGsolyOaxajoKCaZ53BN5ZU7+q6KgXFXzBkCaoSkaITzSDVYM6hWN626Ru7D3q57tZKKnEGam55psYrqmm4Ws0Yo28BWLG/X5A2vyhADp5kdPqfubcrtlVy3tU6ougQEvIqfo+teoyEYrm0Gs1xTHu/SsOLsQmr3jnKCV7h2nSZhsH6nNLsVt6pHOIcD4a06P+htVy2IFuW6Ukfa9XFigjJvHtX7PnwggNOJ13AFnxh8kDWUrKFkcAXfDaBd5If9fb+4KCXwPJdUmGYpaZaYVilplZJ2KWmXkk4p6fiePhWHLzHqQNz3ykNv6GHFIXmxtrC/4Bz9CwAA//8DAFBLAwQUAAYACAAAACEAnGZGQbsAAAAkAQAAKgAAAGNsaXBib2FyZC9kcmF3aW5ncy9fcmVscy9kcmF3aW5nMS54bWwucmVsc4SPzQrCMBCE74LvEPZu0noQkSa9iNCr1AcIyTYtNj8kUezbG+hFQfCyMLPsN7NN+7IzeWJMk3ccaloBQae8npzhcOsvuyOQlKXTcvYOOSyYoBXbTXPFWeZylMYpJFIoLnEYcw4nxpIa0cpEfUBXNoOPVuYio2FBqrs0yPZVdWDxkwHii0k6zSF2ugbSL6Ek/2f7YZgUnr16WHT5RwTLpRcWoIwGMwdKV2edNS1dgYmGff0m3gAAAP//AwBQSwECLQAUAAYACAAAACEAu+VIlAUBAAAeAgAAEwAAAAAAAAAAAAAAAAAAAAAAW0NvbnRlbnRfVHlwZXNdLnhtbFBLAQItABQABgAIAAAAIQCtMD/xwQAAADIBAAALAAAAAAAAAAAAAAAAADYBAABfcmVscy8ucmVsc1BLAQItABQABgAIAAAAIQC3c+nihQMAAG4HAAAfAAAAAAAAAAAAAAAAACACAABjbGlwYm9hcmQvZHJhd2luZ3MvZHJhd2luZzEueG1sUEsBAi0AFAAGAAgAAAAhALojVhdBBgAADRoAABoAAAAAAAAAAAAAAAAA4gUAAGNsaXBib2FyZC90aGVtZS90aGVtZTEueG1sUEsBAi0AFAAGAAgAAAAhAJxmRkG7AAAAJAEAACoAAAAAAAAAAAAAAAAAWwwAAGNsaXBib2FyZC9kcmF3aW5ncy9fcmVscy9kcmF3aW5nMS54bWwucmVsc1BLBQYAAAAABQAFAGcBAABeDQAAAAA=" stroked="f" style="width:24pt; height:24pt; v-text-anchor:top"> <o:lock aspectratio="t" v:ext="edit"><w:wrap type="none"><w:anchorlock>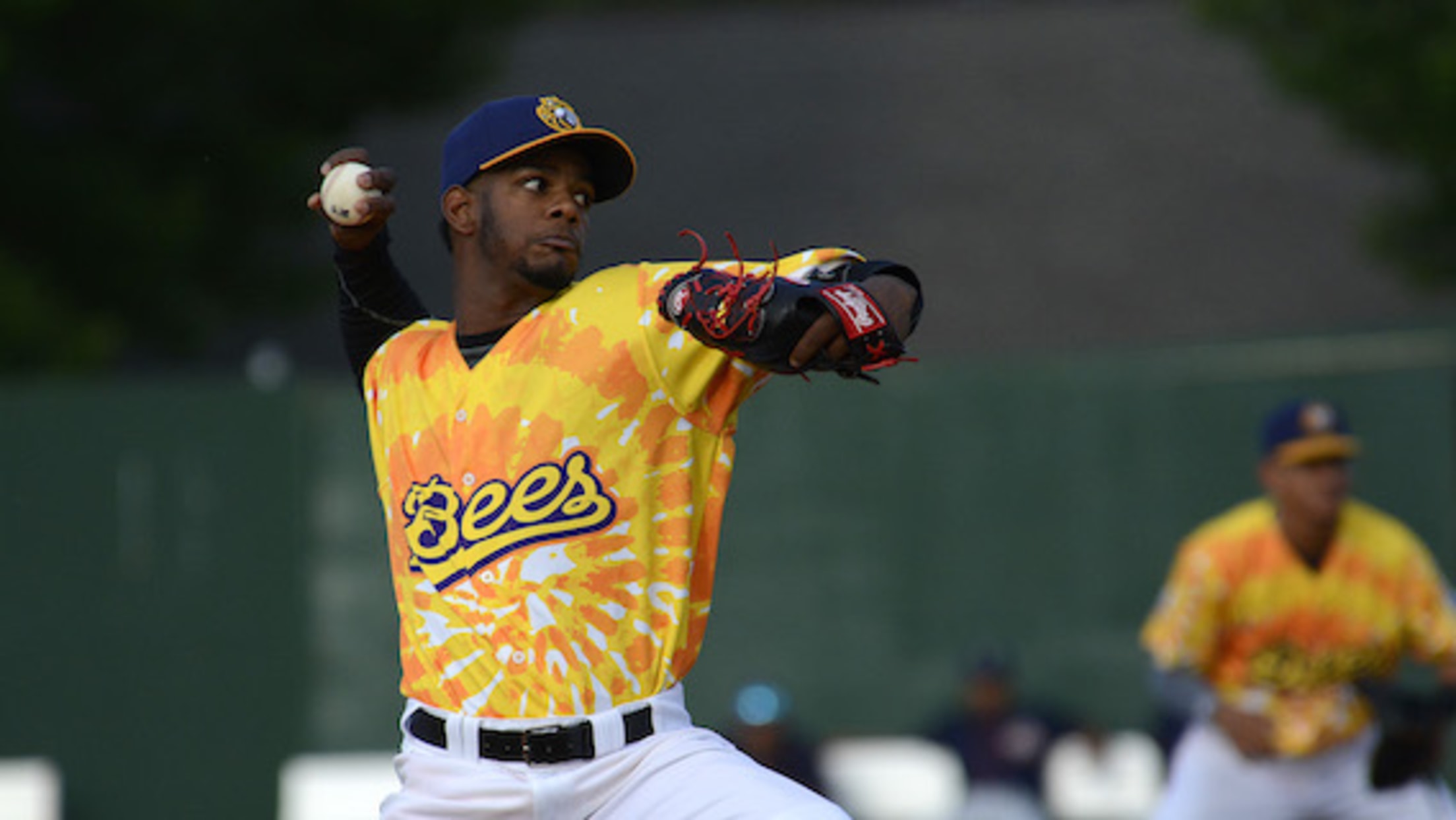 Photos by: Steve Cirinna
Oliver Ortega ready to throw heat
Two Three Run Innings Help Kernels Sneak Past Bees
Cedar Rapids scored three runs in the first and seventh inning to take game two against Burlington
Burlington, IA. - The Burlington Bees (23-33) got down early and weren't able to recover, as Cedar Rapids (26-27) took game two of the series. Bryan Sammons (2-3) earned his second victory of the season for his start in yesterday's game. Sammons went six innings, allowed two runs on four hits, and struck out eight. Oliver Ortega (2-1) suffered his first loss with the Bees after getting knocked around early. Ortega went five innings, allowed four runs on seven hits, threw two walks and five strikeouts.
Kernels get ahead right away
Cedar Rapids took a lot of the momentum early on, after scoring three runs in the top of the first. Akil Baddoo lead the game off with his fifth double of the season, and Alex Kirilloff brought him in on a single to right, making it 1-0. Jose Miranda then drew a walk to put runners on first and second, and after a strikeout from Jacob Pearson, Ben Rortvedt singled to left and scored Kirilloff to make it 2-0. After a mound visit, Trey Cabbage drove a single to left, scoring Miranda and giving Cedar Rapids a 3-0 lead.
Bees retaliate with two run second
Although the Bees were down early, they got right back in the game in the bottom half of the second. Kevin Williams Jr. Jr drew a leadoff walk, and Franklin Torres singled to center, putting runners on first and second. After a sac bunt from Julio Garcia to advance the runners, Jimmy Barnes hit a sacrifice fly to shallow left, which was just enough to score Williams Jr and make the score 2-1. Next man up Jeyson Sanchez lined one to right for a single, scoring Torres and making the score 3-2.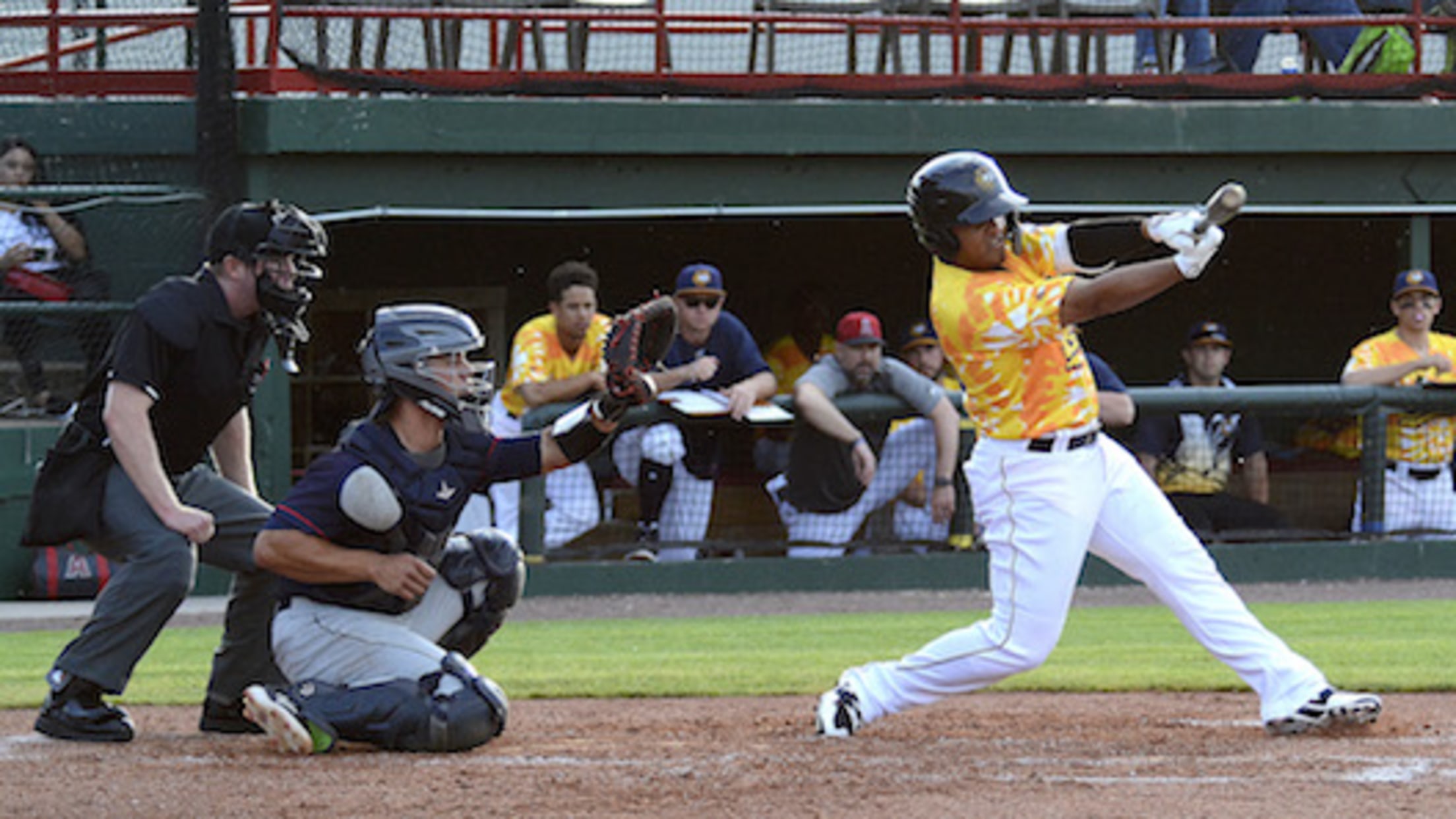 Photos by: Steve Cirinna
Jeyson Sanchez sends one opposite field for an RBI single
Cedar Rapids pulls ahead with big seventh
Cabbage gave the Kernels a 4-2 lead on a solo home run in the fourth, but Cedar Rapids really got the Bees in a hole after another three run inning. Kiriloff got things going with a two out single to left and Miranda followed it up with his second walk of the game. Jacob Pearson then hit a double to right, scoring both runners and giving the Kernels a 6-2 lead. Rortvedt then hit a double off the wall in center, scoring Pearson and putting Burlington in a 7-2 hole.
Bees come back with three runs of their own
Torres lead off the inning with another single, and Barnes reached on an error, putting runners on first and second with one out. Sanchez then drew a walk, loading the bases and Leonardo Rivas drew a walk to score a run, cutting the Kernels lead to 7-3. After a pitching change, Spencer Griffin drew a four pitch walk to score a run, and Keinner Piña drew the fourth walk in a row for another run, making the score 7-5. Williams Jr flew out to end the inning, and Burlington couldn't find a way to score another run, despite getting the leadoff man on in both the eighth and ninth inning, as they fell 7-5.
Baddoo and Kirilloff have big days and get some help
Baddoo and Kirilloff both had another great day at the plate, to help Cedar Rapids take game two. Baddoo was 4-5 in the leadoff spot, and Kirilloff was 2-4 with an RBI, a walk, and two runs scored. However, two players in the bottom of the lineup came up big and were the difference in the game. Rortvedt was 2-5 with two RBI's and Cabbage was 2-4 with two RBI's. Franklin Torres had a great day at the plate for Burlington, going 4-4 with a double, but no one else for the Bees could find the offense, as the other eight hitters only managed two hits combined.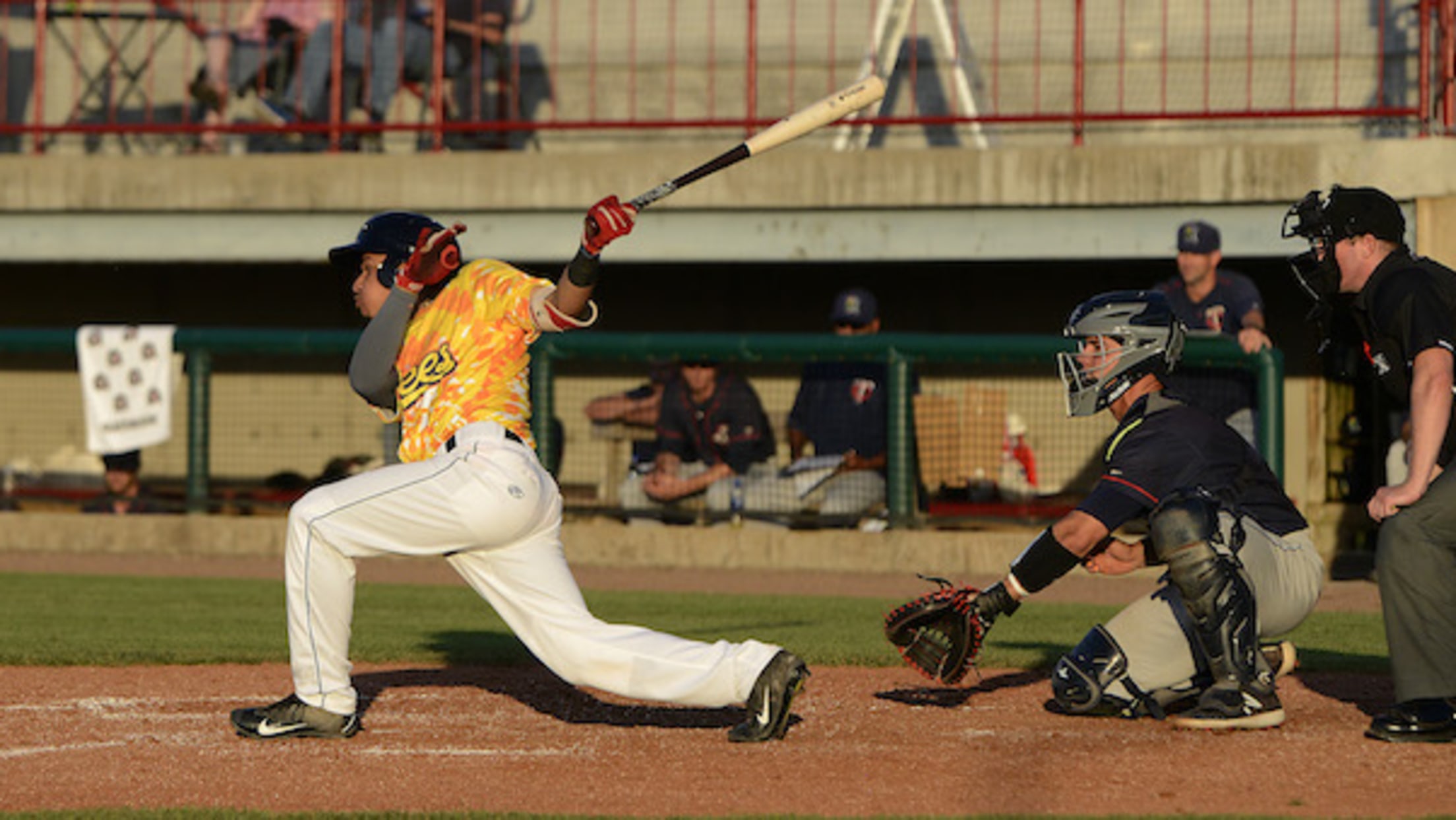 Photos by: Steve Cirinna
Torres watches one of his four hits in the game
Looking ahead
Burlington and Cedar Rapids will be back in action tomorrow at 2pm for the series finale. Simon Matthews will be making his eighth start for the Bees tomorrow, he is 0-2 with a 3.58 ERA for Burlington this season. The Kernels will be going with Edwar Colina, who is 2-1 with a 2.87 ERA in seven starts for Cedar Rapids. Both teams having won a game each will look to take the series tomorrow afternoon.
About the Bees
The Burlington Bees are the Class-A affiliate of the Los Angeles Angels of Anaheim. Professional baseball in Burlington, Iowa dates back to 1889, giving this community one of the longest and most storied histories of any current Minor League Baseball organization. The Bees take pride in upholding that rich history and providing a place for community events and maintaining affordable family entertainment. GOBEES.com
###