Carolina notes: Hill running smarter for Sox
Salem speedster learning from experience on bases, at plate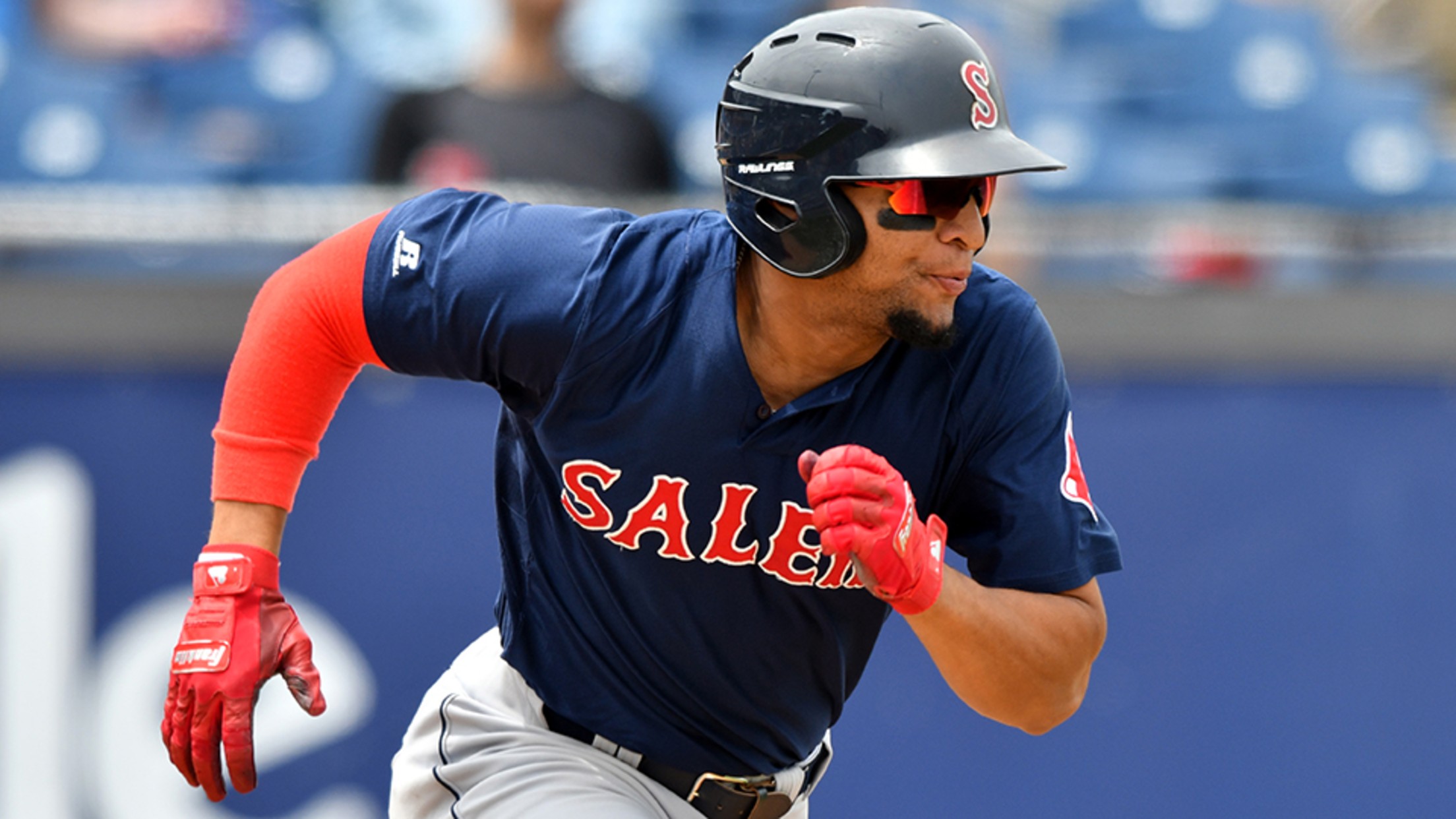 Tyler Hill has scored 42 runs and stolen 18 bases through 73 games in his first season at Class A Advanced. (Ken Inness/MiLB.com)
Tyler Hill's instincts are generally spot-on when an opposing pitcher is in the stretch.The 22-year-old reads the pitcher's tendencies from his spot just off the bag at first base and uses a quick initial step to steal second base. It is a trait he's refined through three full seasons in
Tyler Hill's instincts are generally spot-on when an opposing pitcher is in the stretch.
The 22-year-old reads the pitcher's tendencies from his spot just off the bag at first base and uses a quick initial step to steal second base. It is a trait he's refined through three full seasons in the Boston Red Sox farm system.
With plenty of natural speed, swiping bases has come easy for the Delaware native. He was tied for 18th in all of Minor League Baseball with 42 stolen bases last season at Class A Greenville, and he's fourth in the Carolina League with 18 steals so far this year for Class A Advanced Salem.
Stealing bases at a rapid pace wasn't enough, however. Hill, a 19th-round selection in the 2014 Draft, wanted to transform into a complete base runner. He refined his approach from being a terror on the bases to becoming smarter rounding the bases.
Instead of simply putting his head down and trying to take the extra base whenever he could, Hill learned to read the flight of the ball and outfielders' paths so he knows when he can go first to third or station to station.
"Last year I thought I got myself out way too much despite the stolen bases and stuff," Hill said. "It's … just being smarter and understanding the situations and just learning the game a little better helped out a lot."
Hill's improved base running has coincided with the work he's put in at the plate. Despite batting 16 points worse than last season with Greenville, Hill is drawing more walks and striking out less, which is giving him an opportunity to get on base and utilize his speed to get into scoring position. His walk rate is up to 11.9 percent from 7.2 in 2016 while his K rate is down to 11.5 percent from 14.4.
He scored a career-high 65 runs in 119 games last season, and he's on pace to top that mark this season with Salem. Hill has scored 42 runs through 73 games.
"It doesn't matter if it's a hit, walk or error; if I get on first base, my goal is to score or at least get into scoring position for our guys to give us a chance to score," Hill said.
Hill hasn't been stealing bases this season as frequently as he did last season -- he's attempted to steal 22 times compared to 50 attempts last season -- as he continues to understand situations when he needs to take the extra base.
"Pitchers in this league are a little smaller compared to the South Atlantic League," Hill said. "They all have quicker times more often, things like that, but it's just more of a focus kind of thing. You can't just run at will. You've got to pick your spots and know when's a good time to go and a good time to hold up. Controlling the aggression has been the biggest adjustment."
Hill referenced a June 16 game against Lynchburg in which he "made a little mistake" on the base paths as part of controlling his aggression.
Bobby Dalbec reached on an infield single deep in the hole at shortstop, but Hill rounded third base too wide in anticipation that there could be a throw to first. Instead, Hillcats shortstop Alexis Pantoja threw to third, and Hill was tagged out to end the inning.
It is the type of play Hill focuses on so he can learn and "keep on going" with his development.
"It's been a big adjustment," he said. "Just working through a little rough patch now at the plate, but nothing too crazy. Everything's baseball; just trying to make the adjustments as quick as I can, keep working and just keep playing my game."

In brief
A dent in the armor:
Zac Lowther
has made as many starts with the Frederick Keys as he made with the Delmarva Shorebirds this season, and the
Baltimore Orioles' No. 14 prospect
had posted nearly identical statistics in both stops until a July 1 start against the Hillcats. The southpaw, a 2017 Draft pick, allowed four earned runs in seven innings for his first loss with the Keys. It snapped a stretch of seven consecutive starts allowing one run or fewer and raised his ERA in the Carolina League to 1.67 in six starts.
From 'pen to rotation:
Salem right-hander
Daniel Gonzalez
began the season as a long reliever. If a situation called for three or four innings, Gonzalez was the man. The 22-year-old Venezuelan was recently moved into the starting rotation, and he's eating up innings. Gonzalez has pitched at least six innings in all three starts, and the Red Sox are 3-0 in those outings. He recently allowed an unearned run on four hits over a season-high seven innings on June 29 against Carolina.
New home, better results:
Wilson Garcia
was traded from the Phillies' organization to the Orioles on May 1, and he was assigned to Frederick. The move has paid dividends for the 24-year-old, who is attempting to move above Class A Advanced for the first time. Garcia is hitting .314 with 12 home runs and 47 RBIs in 54 games with the Keys. He is two homers shy of setting a career high and is on pace to set a career high in RBIs, eclipsing the mark of 60 he set last season with Clearwater in the Phils' system.
Damien Sordelett is a contributor to MiLB.com.