Urdaneta's Two Homers Power Woodpeckers to 10-3 Victory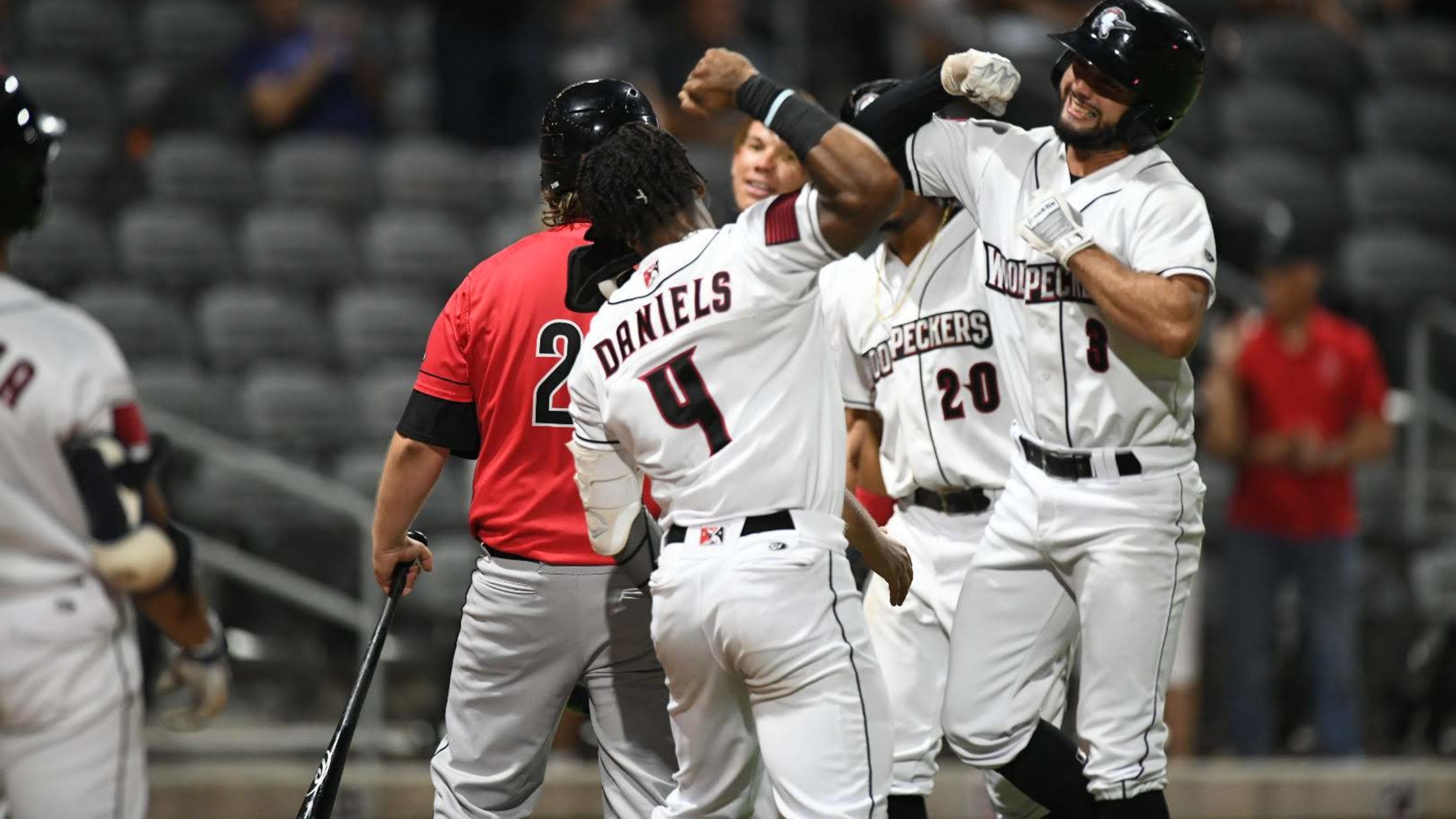 FAYETTEVILLE, NC - The Fayetteville Woodpeckers (23-32) homered four times against the Down East Wood Ducks (31-24), propelling to a 10-3 victory on Wednesday night at Segra Stadium. The four Woodpecker home runs are tied for the most in a game this season. Before Fayetteville could grab the bats, Down
FAYETTEVILLE, NC - The Fayetteville Woodpeckers (23-32) homered four times against the Down East Wood Ducks (31-24), propelling to a 10-3 victory on Wednesday night at Segra Stadium. The four Woodpecker home runs are tied for the most in a game this season.
Before Fayetteville could grab the bats, Down East opened the scoring with a Luisangel Acuna sacrifice fly to make it 1-0 in the first. Fayetteville quickly responded in the bottom of the inning with the first of three two-run home runs. With two outs and Jordan Brewer at first, Nate Perry blasted his first home run of the season against Wyatt Sparks (L, 1-1) to give Fayetteville the lead at 2-1.
Kenedy Corona singled against Sparks to leadoff the second. With no one out, Ronaldo Urdaneta belted the first pitch he saw for the second two-run homer of the game to make it 4-1. In the fourth, Down East cut it to 4-2 with an Acuna home run, the only earned run allowed by Fabricio Reina. Reina worked a season-long five innings on 52 pitches, didn't issue a walk and earned his first win of the season.
In the home fourth, Urdaneta singled, advanced to second after a throwing error from Randy Florentino on a back pick, and was balked over to third. Luke Berryhill brought him home with an RBI single, and Sean Mendoza followed with a two-run homer, the first in his pro career, to make it 7-2. Sparks gave up seven earned runs and was removed from the game after four innings.
Facing Spencer Mraz in the eighth, the Wooodpeckers put the game out of reach. After Yeuris Ramirez and Corona were hit by consecutive pitches, Urdaneta smoked his second home run of the game to lead 10-3. Urdaneta finished 3-for-4 and became the second player to drive in five runs this season.
Jayson Schroeder took to the mound in the sixth, threw 3.2 innings and struck out three. Daniel Procopio inherited the bases loaded with two outs in the ninth and got Keithron Moss to fly out and end the game.
Game three of the six-game home series is scheduled for 6:30 p.m. E.T. on Thursday. Fayetteville will start LHP Julio Robaina (2-0, 6.86) and Down East will counter with RHP Abdiel Mendoza (1-3, 4.89).
FULL BOX SCORE: Wood Ducks vs. Woodpeckers Box Score | 07/07/21 (milb.com)