Caratini, Tseng lead charge in Cubs system
Upper-level talent dominates in best of 2017 for reigning champs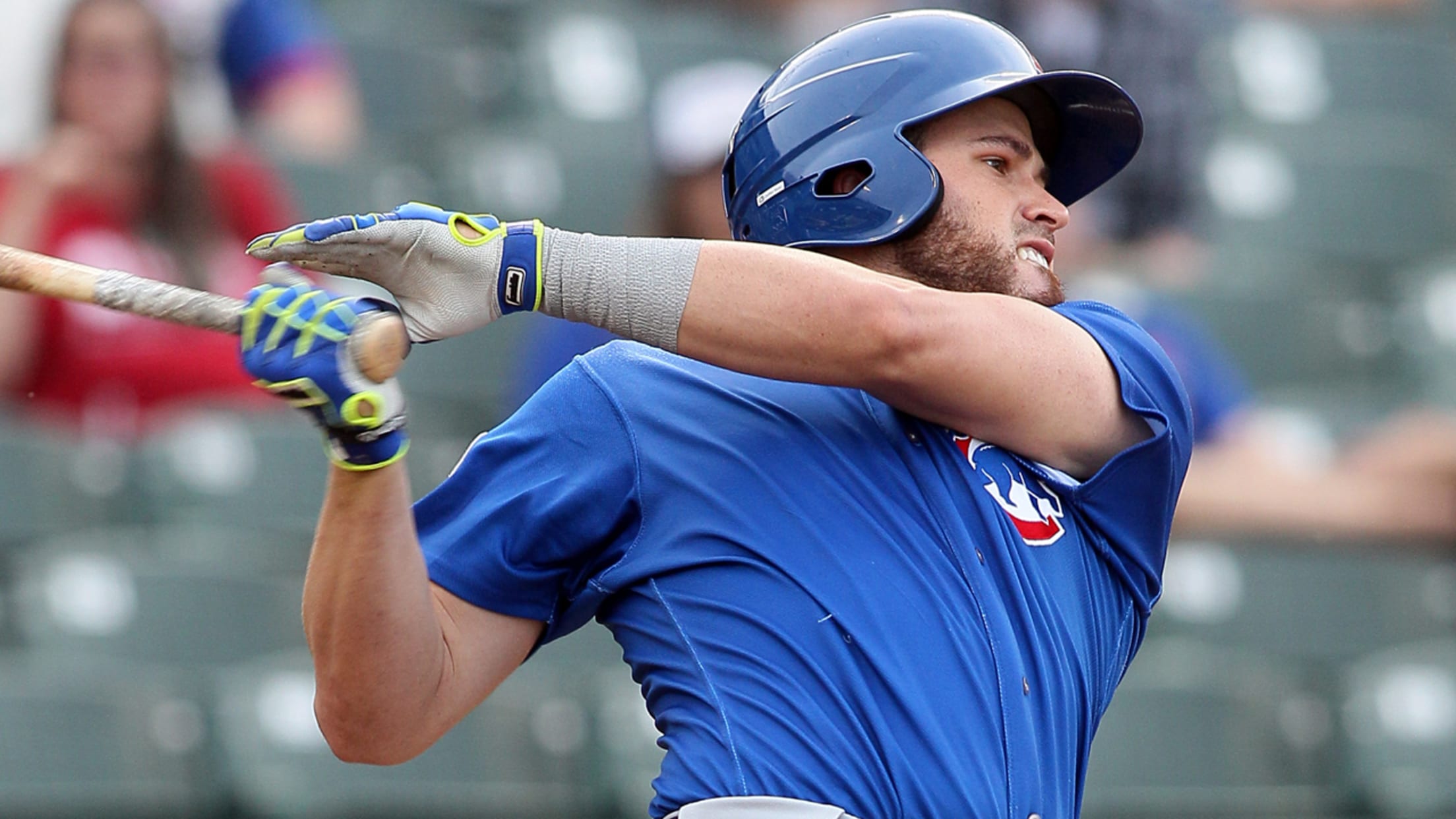 Victor Caratini raked at a .342/.393/.558 rate in 83 games with Triple-A Iowa to earn his first big league call. (Jim Redman/MiLB.com)
This offseason, MiLB.com is taking a look at the most outstanding campaigns by players in each system across Minor League Baseball and honoring the players -- regardless of age or prospect status -- who had the best seasons in their organization.The Cubs -- as you may have heard -- won
This offseason, MiLB.com is taking a look at the most outstanding campaigns by players in each system across Minor League Baseball and honoring the players -- regardless of age or prospect status -- who had the best seasons in their organization.
The Cubs -- as you may have heard -- won their first World Series in over a century in 2016 behind a roster that included a host of homegrown stars. Names such as Javier Baez, Kris Bryant and Kyle Schwarber were on the lips of Chicago faithful for years before breaking into the big leagues and making their mark en route to baseball history. The Cubs system may not be quite as star-studded now due to deals like the ones that shipped out former top prospects Gleyber Torres and Eloy Jiménez for key pieces at the Major League level, but it's not devoid of exciting pieces either.
As Chicago tries again to punch a World Series ticket, much of its top Minor League talent is at the higher levels of its system. That should be good news for the Cubs, who have a core group set to contend for the next few years and should be more in need of complementary pieces than rebuilding ones in coming seasons.
Catcher -- Victor Caratini, Iowa (83 games), Chicago (31 games): In the past two years, Caratini -- the Cubs' Minor League Player of the Year in 2017 -- has taken sizable steps. A trade acquisition from Atlanta three years ago, the 24-year-old backstop hit .342/.393/.558 with a career-high 10 homers and 61 RBIs in 83 games with the I-Cubs this season, and after getting his first call to the Majors, Caratini impressed there as well. The club's sixth-ranked prospect held his own with a .254/.333/.356 big league slash line, and in addition to catching duties, he saw time in the field at first base, left field and right field.
First baseman -- Chris Dominguez, Iowa (102 games): Signed as a Minor League free agent in January, Dominguez put together a solid year across the board in a position where the big club looks set with Anthony Rizzo. The 2009 third-round Draft selection of the Giants made his big league debut five years later with that team before time in the Reds and Red Sox systems. In 2017, Dominguez returned to form at the plate, .batting .284/.323/.443 -- his best marks in each category since 2013. The 30-year-old held down first base for Iowa as well with a .988 fielding percentage.
Second baseman -- Jhonny Bethencourt, Eugene (63 games): While the bulk of Chicago's top performers come from the full-season ranks, Bethencourt turned in a strong season with the Class A Short Season Emeralds. In a career-high 63 games, the 20-year-old bounced back from a lackluster offensive 2016, belting his first professional homer and driving in a personal-best 21 runs while scoring 44 times. Playing away from a Cubs complex for the first time, Bethencourt primarily saw action at second base, but also got time at short and third.
Third baseman -- Jason Vosler, Tennessee (129 games): In his first full season in Double-A, Vosler took significant steps in reaching base and hitting with pop in 2017. The most notable jump came in the Northeastern University product's power. Vosler tallied 32 doubles and three homers a year ago between Class A Advanced Myrtle Beach and Tennessee. In 2017, he began turning more of those extra-base drives into balls that left the yard, belting 21 homers -- eight more than his entire career total heading into the season. Vosler boosted his OBP from .314 in 26 games with Tennessee in 2016 to .343 this year while his slugging percentage jumped from .359 to .429.
Shortstop -- Zack Short, South Bend (66 games), Myrtle Beach (65 games): A 17th-round pick out of Sacred Heart in 2016, Short broke out in his first full season and got better as he climbed the ladder. After hitting .237/.393/.424 in 66 games with the Class A Cubs, he posted a .263/.372/.414 line with the Pelicans.
"He hadn't played much baseball, and the more at-bats guys get as a pro, they start making some adjustments to the swing zone, what I call it," Class A Advanced Myrtle Beach manager Buddy Bailey said. "They figure out the strike zone. To be a good hitter, you have to know the strike zone and condense your swing zone. He was able to do that. He got off to a good start right out of the chute which gave him a lot of confidence. You have to have confidence, and he played solid all the way through."
Outfielders
Charcer Burks, Tennessee (121 games): Burks' bat came alive in his third full season with his a slash line of .270/.370/.395 checking in as his best above the short-season ranks. After tallying just five home runs in his first three years as a pro, the 2013 ninth-rounder hit 10 in 2017, his second straight campaign with double-digit blasts. Even with an emerging offensive profile, the best assets for the organization's No. 22 prospect may still be in the field where his plus run tool enables him to cover extensive ground in center.
Mark Zagunis, Iowa (97 games), Chicago (seven games): Zagunis split 101 games nearly evenly between Double-A and Triple-A in 2016, but his return to Iowa this year came with offensive growth. The 24-year-old bumped his on-base percentage 44 points to .404.
"He has a track record of being a good hitter," Iowa hitting coach Desi Wilson told the Des Moines Register in May. "It doesn't surprise me. I just feel like he's getting consistent at-bats and he's starting to feel comfortable at the plate."
The outfielder finished his season on a strong note. Zagunis batted .301/.370/.422 in 21 July games and followed with a .294/.500/.412 line in 11 August contests.
"I think I've accomplished a lot, made my [big league] debut," Chicago's No. 8 prospect told MiLB.com in August. "I started real slow. I missed a lot of time in Spring Training due to [an injured] foot. Besides the slow start, I'm excited about where I'm at. I feel good."
Primarily a catcher in college at Virginia Tech, Zagunis handled the transition to a full-time outfield role well. In 92 games in both corner outfield spots, Zagunis posted a .980 fielding percentage with three assists.
Luis Ayala, South Bend (114 games): Manning all three outfield positions, Ayala was strong wire to wire for the Cubs. The 21-year-old went from the Rookie-level Arizona League in 2016 straight to full-season ball this year and hit .281/.360/.373 in 114 games. Ayala registered 15 outfield assists on the year, playing 43 games in center, 41 in right and 28 in left.
Utility -- Tyler Alamo, Myrtle Beach (114 games): Over two seasons outside of complex ball, Alamo played in 126 games. He nearly matched that total in his first season at the Class A Advanced level. Alamo saw extensive action at first base and behind the plate as well as at designated hitter for the Pelicans, posting an overall slash line of .281/.322/.422 with a career-high 12 homers and 42 RBIs to complement his defensive versatility.
"This year it worked out for him where he had more playing time consistently, and he took advantage of it," Bailey said. "When you're getting two or three games a week, 10 to 12 plate appearances compared to 30 or so and being able to be in the lineup every day pretty much, whether it's DH, first or you caught, he learned the strike zone better. One big thing I think where his average got better was he was able to hit the ball the other way more this summer. He figured out how to use more of the field."
Right-handed starter -- Jen-Ho Tseng, Tennessee (15 starts), Iowa (nine starts), Chicago (two games/one start): After two lackluster seasons, Tseng returned to form on the way to the Majors in 2017. The Taipei native fanned 122 batters while walking just 38 in 145 1/3 Minor League innings this season, going a combined 13-4 with a 2.54 ERA to earn his first call to Chicago. That summons came in mid-September, when Tseng though the was headed to the Windy City to be named the organization's Minor League Pitcher of the Year. The team's 13th-ranked prospect did pick up that distinction the following month.
Left-handed starter -- Justin Steele, Myrtle Beach (20 starts): In a career-high 20 outings for the Pelicans, Steele proved stalwart, posting a 2.92 ERA in the Carolina League.
"He was able to throw strikes in large part, and he's got a quality-plus breaking ball that he was able to command," Bailey said of the Cubs' No. 10 prospect. "I think he started out on the right foot this year and just kept going off that. He got better with the willingness and better command, being able to locate fastballs which, for a lefty facing a lot of righties, you've got to be able to do that. "
Steele struck out 82 batters and walked 36 in 98 2/3 innings, decreasing his walks total from the year prior (39 in 77 1/3) while dropping his WHIP from 1.71 in 2016 to 1.38 this year. He finished 6-7.


Relief pitcher -- Dillon Maples, Myrtle Beach (21 games), Tennessee (14 games), Iowa (17 games), Chicago (six games): Of all the Cubs' breakout years, Maples' might have been most impressive. The 25-year-old had pitched just nine games at Class A Advanced prior to 2017, when he rocketed through three levels en route to his big league debut.
"The biggest thing was his command," Bailey said. "He's always had great stuff but wasn't able to get it in the zone enough to take advantage of it. This year, he came up with the slider which -- he's always had a power curveball -- gave him more of a control breaking ball that he could throw for strikes more whether to get ahead in the count or get back in a count to finish hitters."
Maples never posted a strikeout-to-walk ratio better than the 2-to-1 mark he did in 2015, but in 2017, his 100 whiffs and 37 free passes outpaced that mark at 2.70-to-1.
"He had another bullet in his thing, and off of that, he was able to pitch around all of it," Bailey said of the team's No. 14 prospect. "When you're throwing 96 [mph], occasional 100, and you've got a power curveball and are throwing sliders like that, the biggest thing for him was the ability to throw strikes."
Tyler Maun is a contributor to MiLB.com. Follow him on Twitter @TylerMaun.