Reyes, multiple picks headline Rule 5 Draft
Outfielder goes to Tigers; Orioles pick three; Royals, Bucs take two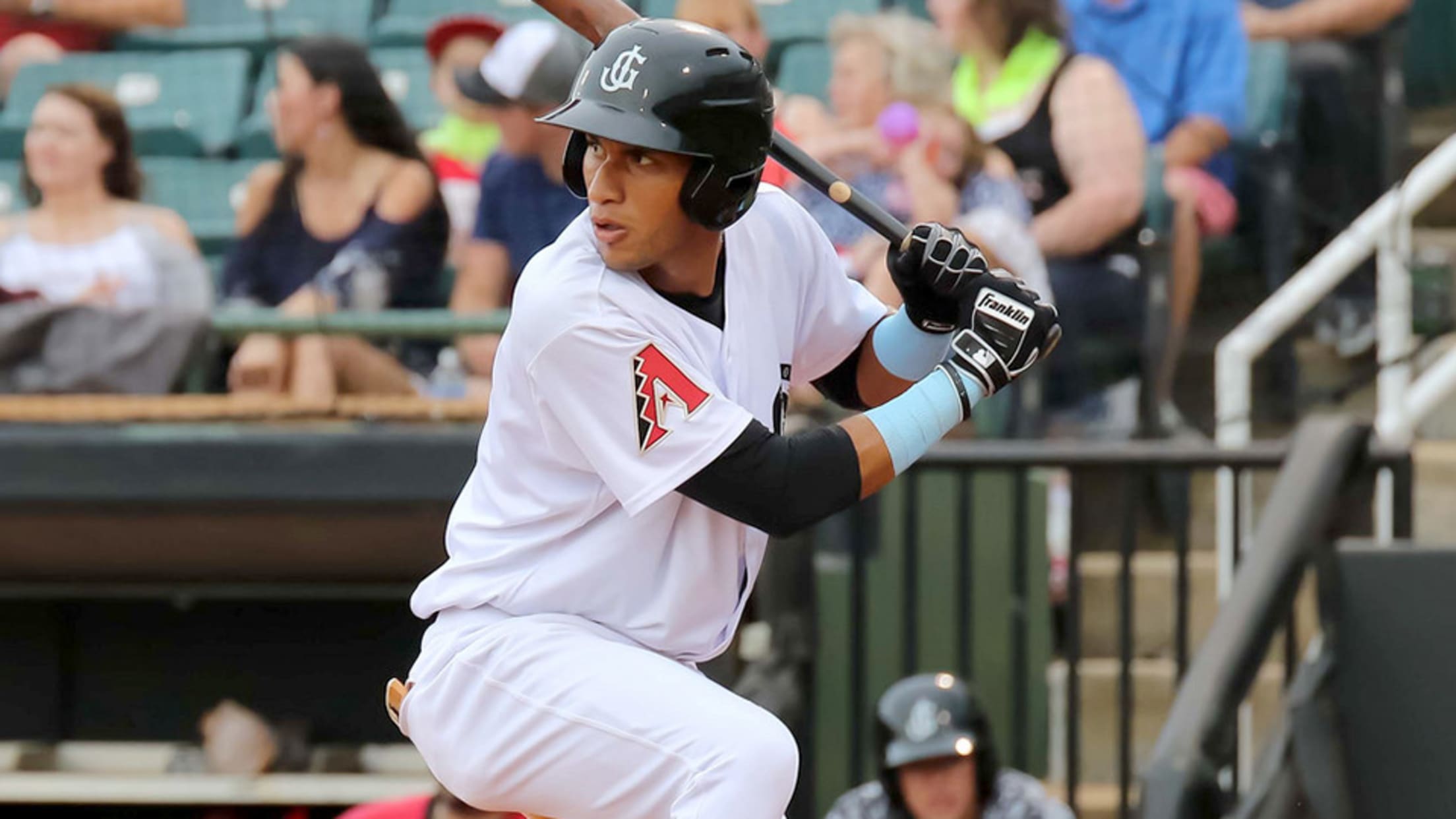 Victor Reyes ranked fourth among D-backs farmhands with 18 steals last season. (MiLB.com)
LAKE BUENA VISTA, Fla. -- Eighteen Minor Leaguers were given new life Thursday morning.That's how many players were picked during the Major League phase of this year's Rule 5 Draft, held as part of the Winter Meetings. All 18 will be given chances to crack the MLB roster with their
LAKE BUENA VISTA, Fla. -- Eighteen Minor Leaguers were given new life Thursday morning.
That's how many players were picked during the Major League phase of this year's Rule 5 Draft, held as part of the Winter Meetings. All 18 will be given chances to crack the MLB roster with their new club next year. If a player fails to remain on the 25-man roster for the entire 2018 season, he must be offered back to his original club.
With picks going in order of worst-to-best record from the 2017 season, the Tigers made the first selection, taking No. 18 D-backs prospectVictor Reyes. The 23-year-old outfielder has good speed and a strong arm and should be a solid fourth outfielder for Detroit as it begins its rebuild. A switch hitter, Reyes hit 292/.332/.399 with 18 stolen bases in 126 games last season for Double-A Jackson, but showed little power with only four home runs.
Elsewhere, three clubs ended up with multiple Rule 5 players by the time the dust settled.
The Orioles, who began the day with only 34 players on their 40-man roster, made three selections -- left-hander Nestor Cortes Jr., right-hander Pedro Araujo and right-hander Jose Mesa Jr.. All three should get shots to crack Baltimore's bullpen. Cortes and Mesa, in particular, both came from the Yankees system after dominant relief runs in the lower ranks.
The Royals did not make an official selection but did trade for both right-handers Brad Keller and Burch Smith. Keller was Arizona's No. 12 prospect and posted a 4.68 ERA in 130 2/3 innings as a starter at Double-A Jackson. Smith comes from the Rays system and just returned to the mound after missing all of 2015 and 2016 due to elbow surgery.
The Pirates made one pick of their own, taking former Indians right-hander Jordan Milbrath, but also traded 2017-18 international bonus money to the Phillies for Twins right-hander Nick Burdi. The latter has hit triple digits out of the bullpen but underwent Tommy John surgery last May and probably won't be able to make his Major League debut until the middle of the summer, at the earliest.
The most interesting pick might have come from the defending World Series champions. The Astros chose Anthony Gose and made a point to call him a left-handed pitcher. The 27-year-old reached the Majors with the Tigers as an outfielder but moved to the mound in 2017, allowing nine earned runs while striking out 14 in 10 2/3 innings at Class A Advanced Lakeland. He had recently signed a Minor League deal with the Rangers, who had said they'd entertain letting him play both ways, but with Houston's selection, it sounds like he'll be given an immediate chance to crack the Majors as a pitcher.
Here are the rest of the selections made in the Major League and Triple-A portions of the 2017 Rule 5 Draft.

Rule 5 Draft selections
Sam Dykstra is a reporter for MiLB.com. Follow and interact with him on Twitter, @SamDykstraMiLB.