Cal notes: Rawhide's Harrison 'born to coach'
Brother of big leaguer Josh discovered path during playing career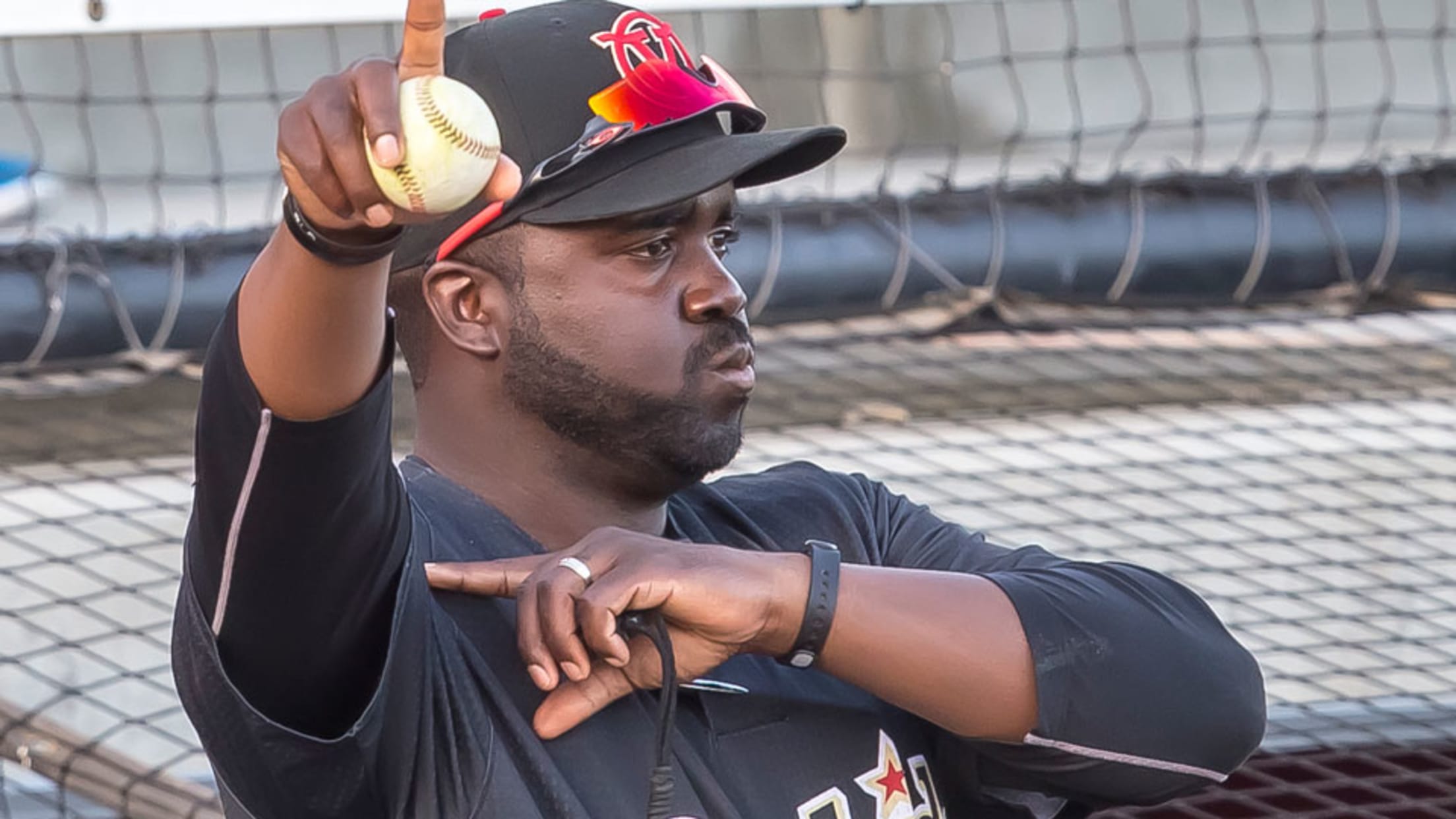 Visalia hitting coach Vince Harrison was drafted by Tampa Bay in 2001 and played nine pro seasons. (Ken Weisenberger/MiLB.com)
In 2005, Vince Harrison was coming off a season in which he posted a .388 on-base percentage and 42 extra-base hits while climbing to Double-A. He also was coming off a second surgery to repair a broken wrist.Although the then-25-year-old infielder had only recently met the woman who became his
In 2005, Vince Harrison was coming off a season in which he posted a .388 on-base percentage and 42 extra-base hits while climbing to Double-A. He also was coming off a second surgery to repair a broken wrist.
Although the then-25-year-old infielder had only recently met the woman who became his wife, Ericka, she noticed something about Harrison that he wasn't ready to see himself.
"She said, 'I know you're going to hate me for this, but you're born to coach,'" he recalled.
Twelve years later, with Harrison in his second year as the Visalia Rawhide hitting coach and fourth working in the D-backs system, he understands that Ericka was onto something.
"We laugh about it now, but I didn't take what she saw [as a compliment]. I almost saw it as her saying, 'You should quit,'" he said.
Sidelined that spring, he faced a choice.
"I'd just been Rule 5'd by the Rangers and I was in Surprise, in Arizona, and they gave me the option to [have the surgery] there with their guy or to go back to Cincinnati and do it with my guy, who'd done it before. There was only one factor pulling me back [to Ohio], but that was my brother, Josh," he said, referring to 2014 All-Star Josh Harrison, who was in his final year at Princeton High School.
"As a senior, he was a small guy and I knew he could play, but he didn't get a lot of colleges showing interest. Coming back was a win-win," Harrison said. "I'd just quit a job substitute teaching and coaching, so I was missing about a week of that and resumed back with it. I went to [physical] therapy a couple times a week, but the rest of the energy, I was putting into the team."
It paid off.
Princeton had its best season in recent memory and his younger brother accepted a scholarship from the University of Cincinnati. Those factors prompted his then-girlfriend's remark, but Harrison finished his rehab and signed with the Red Sox that August.
"I kind of gave her this face, like, 'Do you realize I'm a couple weeks away from playing in Triple-A baseball games, which is just one step away from the Majors?'" he said. "She wasn't even a baseball fan then, but she said, 'I just see you with your brother and the boys, and I know you were meant to coach.'
"The next year, I tore my quad. I was in Florida in Spring Training with the Cardinals, but before March was over, I was back in Cincinnati doing rehab again. Instead of my thoughts going to, 'What do I need to do to get back to playing?' the first thing, I called the baseball coach at the high school."
Harrison, whom the Cincinnati Enquirer has described as "one of the best all-around athletes ever to come out of" that city, grinded it out as a player through 2011. Over the course of his career, he played five Minor League seasons and four more in independent ball, but he kept coming home to coach during the offseason.
"It started just as a way to make some extra money, but I found it harder and harder to leave each year. I was seeing that I found a way to impact kids' lives," he said. "I got that with substitute teaching, too, but it's more tangible when you see a ninth grader come try out and then a few years later, they're signing a letter of intent with a college."
The Harrison brothers "often talk about it being fate" that Vince's wrist surgery happened when it did.
"My biggest accomplishment during all of that was helping my brother get prepared for college, and to see him in the big leagues makes me appreciate everything we did then," he said.
He continues to help his brother, talking on the phone several times a week during the season and putting together "a plan of attack" each offseason.
The brothers also have been collaborators for four years on an annual Martin Luther King Jr. Day baseball camp for children, recruiting pros -- including Collin Cowgill and Jacob May -- as fellow instructors. Along with his career as a player and the time he's put in with Josh, that's part of the experience he draws upon as Rawhide hitting coach.
"With the young kids, you're more thorough with your explanation, and with pros, you might assume they know more than they do," he said. "But you learn to assume you have to teach them everything, and when they start to get it, they give you that nod and you can see they know. That's always a good sign -- when they give you that nod."
Harrison may be getting more and more of those nods of late. After Visalia batted .237 with 10 homers in April, the Rawhide hit .309 with four homers through the first four games of May.

In brief
Rodger that:
A hand injury kept
Brendan Rodgers
out of action for much of April, but MLB.com's
No. 12 overall prospect
has arrived with Lancaster. Through his first 10 Cal League games, the Rockies' 2015 first-round pick amassed 17 total bases and a .318 on-base percentage.
Riding high:
Early last week,
second-ranked Padres prospect
Cal Quantrill
struck out an even dozen for Lake Elsinore after letting loose with a confession: the 22-year-old right-hander is
a big Selena Gomez fan
.
Crashing down:
After Rancho Cucamonga's
DJ Peters
batted .400/.545/.960 over the last seven games of April to close the month with Cal League Player of the Week honors, the
No. 19 Dodgers prospect
hit a bump with the turn of the calendar. In the first three games of May, he was 1-for-13 with five strikeouts, but he pumped the brakes on the skid with a 2-for-5 effort on Thursday against Inland Empire.
Josh Jackson is a contributor to MiLB.com. Follow and interact with him on Twitter, @JoshJacksonMiLB.