Guerrero, Bichette highlight MWL All-Stars
Reds' Stephenson, Friedl among seven Dayton players selected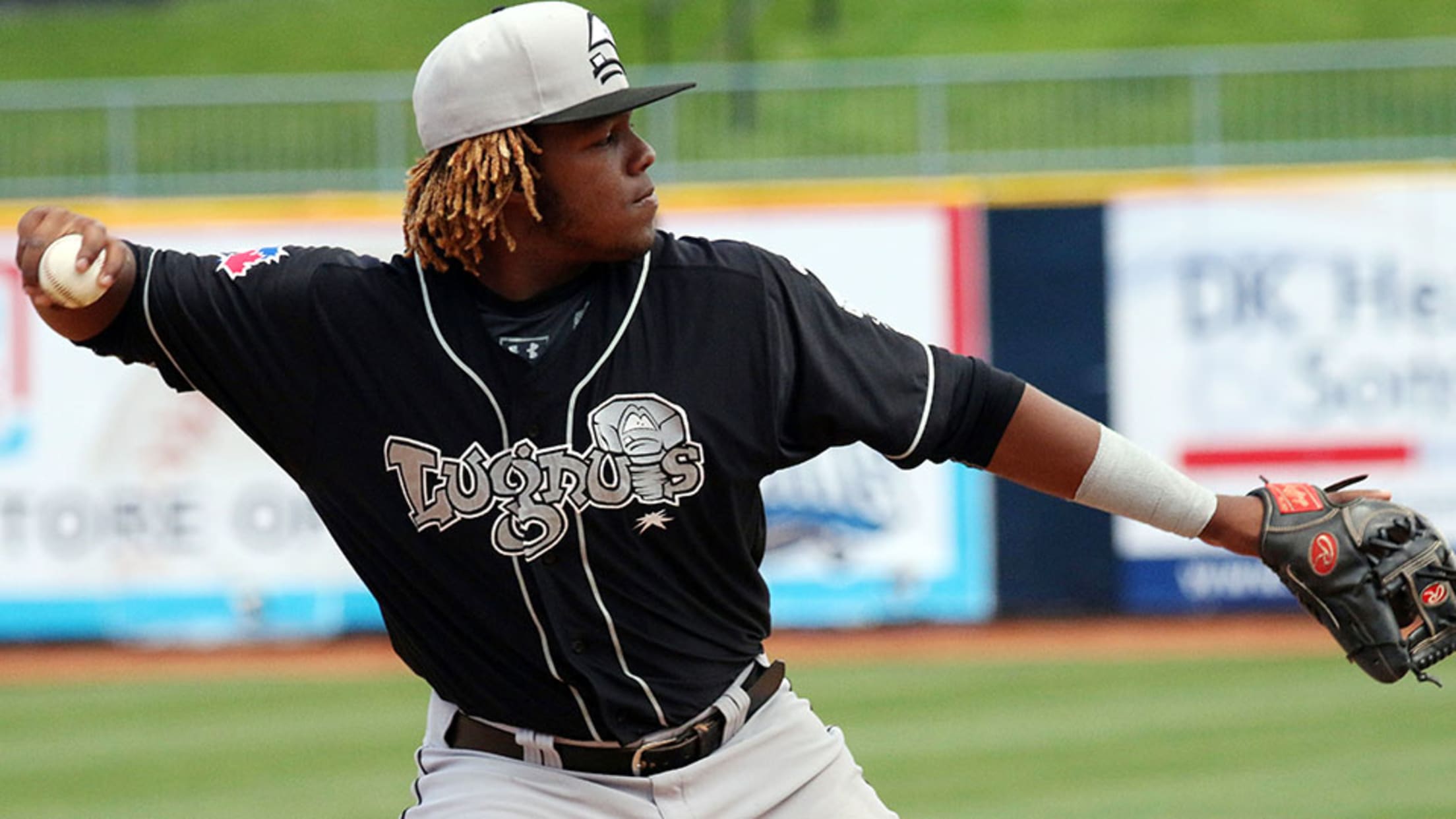 Vladimir Guerrero Jr. ranks third in the Midwest League with a .422 OBP and tied for third with a .332 batting average. (Carl Kline/MiLB.com)
Lansing third baseman Vladimir Guerrero Jr. ranks in the Midwest League's top 10 in several offensive categories and now has an All-Star nod to show for it.Toronto's top prospect is one of four Lugnuts representing the East Division. Bo Bichette, who ranks ninth on the Blue Jays' list and leads
Lansing third baseman Vladimir Guerrero Jr. ranks in the Midwest League's top 10 in several offensive categories and now has an All-Star nod to show for it.
Toronto's top prospect is one of four Lugnuts representing the East Division. Bo Bichette, who ranks ninth on the Blue Jays' list and leads the loop in hits, runs scored, batting average, slugging percentage and OPS, also made the squad along with pitchers Justin Maese and Geno Encina. The Dayton Dragons topped the West Division with seven selections, including the league leader in wins and strikeouts, Scott Moss.
The rosters were chosen through voting between league managers and coaching staffs, local media members and front-office executives. The 53rd Midwest League All-Star Game is scheduled for June 20 at Dow Diamond in Midland, Michigan -- home of the Great Lakes Loons -- and will be streamed live on MiLB.TV.
Guerrero is the highest-rated prospect in this year's showcase, ranking 28th on MLB.com's top 100. His .332/.422/.484 batting line with four homers, 31 RBIs and 36 runs scored is impressive enough, but perhaps even more notable is the fact that the 18-year-old has walked 27 times against 24 strikeouts.
Cubs No. 3 prospect Dylan Cease is the only other top-100 prospect among the initial All-Star selections announced Wednesday, checking in at No. 66 as one of four representatives from South Bend. The 6-foot-2, 190-pound right-hander posted a 2.65 ERA and 54-to-18 strikeout-to-walk ratio in 34 innings before a leg injury sent him to the DL on May 19.
2017 MWL All-Star rosters:East Division | West Division
Reds No. 7 prospect Tyler Stephenson will catch for the East and is joined by Dragons teammate and outfielder T.J. Friedl -- Cincinnati's 15th-ranked prospect -- and designated hitter Michael Beltre. Tony Santillan (No. 14) and his 2.45 ERA also received All-Star recognition for Dayton, but he's been on the DL since May 31 with a shoulder injury. Fellow hulers Wennington Romero and Aaron Fossas round out the Dayton contingent.
West Michigan landed six All-Stars, led by Blaise Salter, the league's leader with 44 RBIs and 23 doubles. Salter and teammate Jacob Robson -- both starting outfielders for the East -- are two hits behind Bichette for the league lead with 69 apiece, while Robson's .337 average ranks second on the circuit.
The league's co-leader in stolen bases with 19, Anthony Jimenez is one of three Clinton representatives along with right-hander Brandon Miller and lefty Danny Garcia. Miller is tied for fourth with six wins, while Garcia is right behind with five victories.
Jon Duplantier, the D-backs' No. 8 prospect and the league leader in both ERA (0.74) and WHIP (0.74), is among four pitchers from Kane County -- saves leader Tommy Eveld and WHIP stalwarts Sam McWilliams (0.92) and Tyler Mark (0.94) are the others. No. 9 prospect Anfernee Grier was tapped for the outfield.
Cedar Rapids also placed six players on the West squad, including four starters -- first baseman Lewin Diaz, third baseman Travis Blankenhorn, shortstop Jermaine Palacios and DH Mitchell Kranson. Blankenhorn is the Twins' No. 7 prospect, while Diaz ranks 10th in the system. Palacios is second in the league with 107 total bases and boasts a stellar .320/.367/.519 batting line through 50 games.
Padres No. 6 prospect Fernando Tatis Jr. joins Guerrero as like-named sons of former Major Leaguers on the All-Star roster and leads three Fort Wayne representatives, including No. 7 prospect Jorge Oña and 17th-ranked Logan Allen.
Chris Tripodi is an editor for MiLB.com. Follow him on Twitter @christripodi.