Suns' Johnson touches 'em all twice
Nationals No. 26 prospect slugs Class A-best 15th, 16th homers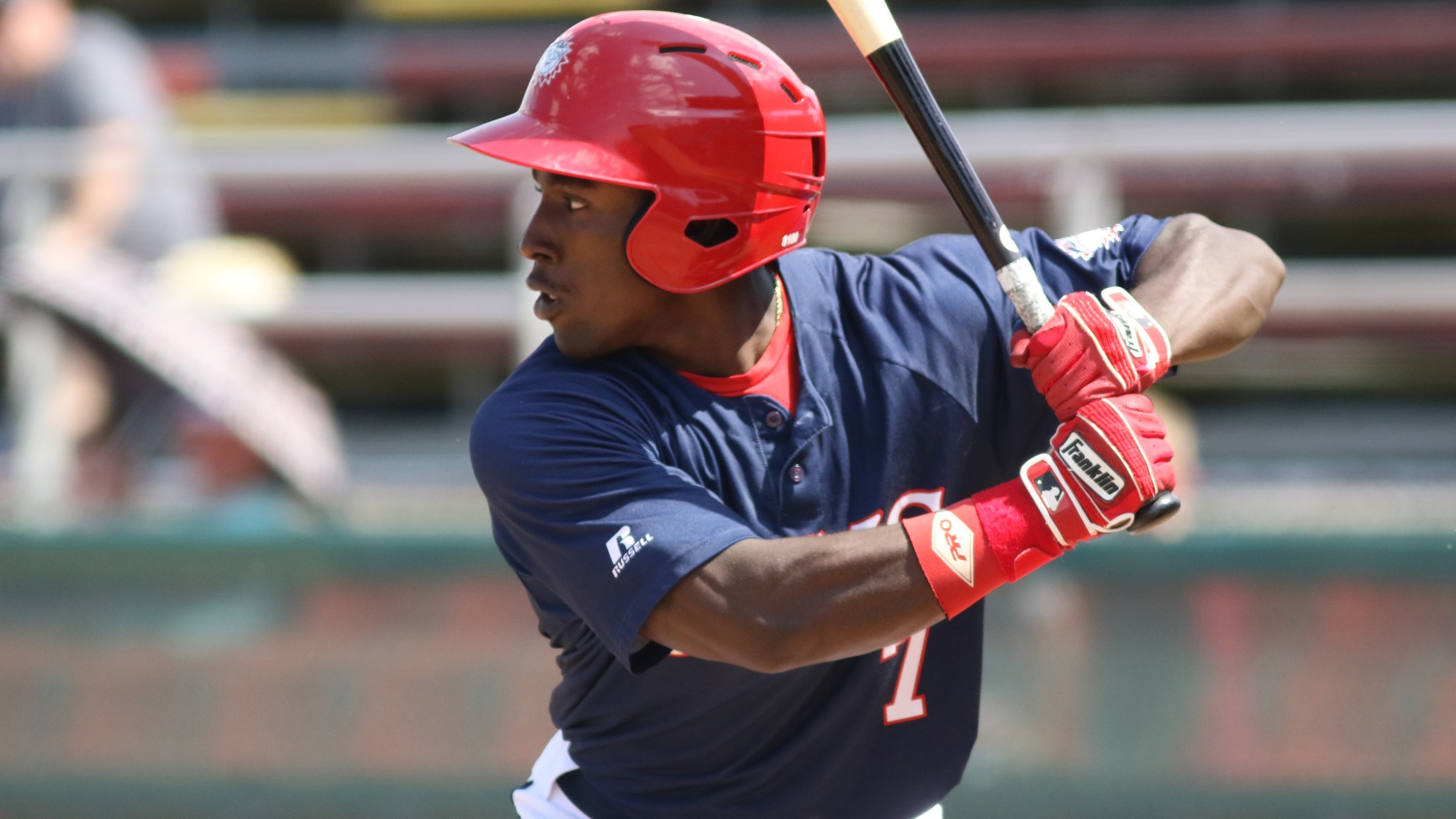 Daniel Johnson leads the South Atlantic League with a .565 slugging percentage. (Andy Grosh/MiLB.com)
At this point of the season, it'd be unfair to say anyone is surprised with the power that Daniel Johnson continues to display.The Nationals' No. 26 prospect belted his Class A-leading 15th and 16th homers and drove in three runs to power Class A Hagerstown to an 8-3 victory over Greensboro at
At this point of the season, it'd be unfair to say anyone is surprised with the power that Daniel Johnson continues to display.
The Nationals' No. 26 prospect belted his Class A-leading 15th and 16th homers and drove in three runs to power Class A Hagerstown to an 8-3 victory over Greensboro at Municipal Stadium.
"It's cool to be recognized for the hard work that you do, but at the same time we've still got a lot of games left and I want to be able to keep this up and finish strong, so it doesn't mean that much to me right now," Johnson said.
The 21-year-old fell behind, 0-2, against Grasshoppers starter Kolton Mahoney (2-3) in the first inning, then evened the count at 2-2 before sending a fastball over the fence in right field.
Gameday box score
Mahoney got two strikes against Johnson in the fifth, but the 5-foot-10, 185-pound outfielder again was able to stay in the count and took the right-hander deep to right-center for his third homer in as many games.
"Really, I was just focused on putting the ball in play, especially with two strikes," Johnson said. "I wanted to make sure I saw the ball as long as I could and not get fooled by anything so I could get a good swing on it. I did just that and ended up with two home runs.
"I've been working on my two-strike approach through the years. You get better and better with two strikes with the repetition and I think that's helped me get better and better when I'm down in the count."
Over his last three games, Johnson is 8-for-14 with seven RBIs. He leads the South Atlantic League with a .565 slugging percentage and ranks fourth with a .934 OPS in 66 games. The New Mexico State product is averaging a home run every 17 plate appearances and sports a .250 ISO.
Johnson has been a jack of all trades this year, hitting in every spot in the order except for cleanup while playing all three outfield positions.
"It shows that I'm a versatile player, not just in the field but with the bat as well," he said. "It's nice to be able to show that off to the organization and all the scouts that come to the game."
As well as Johnson has played through the first three months of the season, he's making a concerted effort to improve his baserunning.
"I want to hone in on the weakest parts of the game," said Johnson, who's been caught stealing eight times in 14 tries. "I want to get my reps in on the basepaths. I want to start getting better jumps so I can start stealing more bags and just have more success on the basepaths."
The Suns totaled five homers, with Nick Banks and Nationals No. 6 prospect Sheldon Neuse hitting two-run blasts and Blake Perkins adding a solo shot. Jake Noll contributed three hits, including a pair of doubles, and a run scored.
In his first start back from the temporary inactive list, Nats No. 17 prospect Tyler Watson (5-2) recorded a career-high 10 strikeouts over six innings. The 20-year-old southpaw allowed a run on four hits and did not walk a batter.
"It was nice to see him get back into the game," Johnson said. "He's a really good pitcher who's always been very good at locating and today he was dominating like he usually does."
Michael Leboff is a contributor to MiLB.com.