Raquet tosses one-hit shutout for P-Nats
Nats No. 18 prospect fans four in third complete game of '18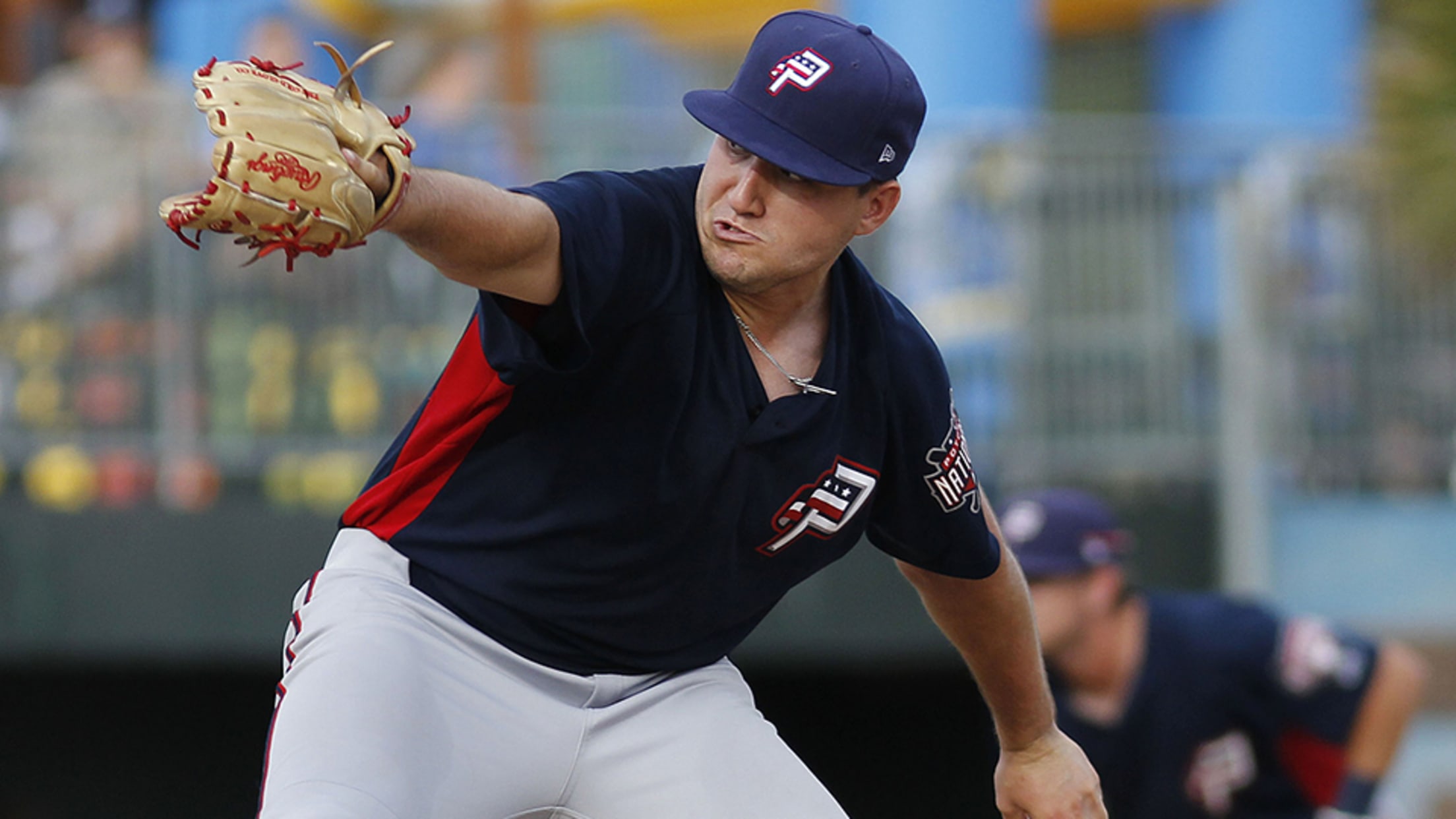 Nick Raquet was unscored upon in three of his last six starts for Potomac. (Robert Gurganus/Four Seam Images)
When Nick Raquet began his professional baseball career a year ago, he said he felt like "more of a thrower than a pitcher." Sunday's start proved just how far he's come.The Nationals' 18th-ranked prospect fired a one-hitter for his first career shutout as Class A Advanced Potomac blanked Wilmington, 1-0, in
When Nick Raquet began his professional baseball career a year ago, he said he felt like "more of a thrower than a pitcher." Sunday's start proved just how far he's come.
The Nationals' 18th-ranked prospect fired a one-hitter for his first career shutout as Class A Advanced Potomac blanked Wilmington, 1-0, in the first game of doubleheader at Frawley Stadium. He issued a pair of walks and struck out four in the seven-inning gem, matching the longest start as a Minor Leaguer.
Gameday box score
"I've been working on a lot of stuff lately and I feel like things are finally coming together," Raquet said. "I needed to be more relaxed throwing on the mound with a good tempo and a fluidity with my delivery. I wasn't too fast today and was able to get ahead and keep things between their knees while throwing through my catcher and just letting the ball do what it does. I can't control it once I let it go.
"Now I just hope I can keep it going heading into the playoffs."
Despite not recording a strikeout until the sixth, the 2017 third-round pick kept the Blue Rocks off the board by continuing to generate weak contact while getting some help behind him when he needed it most. After a 1-2-3 first inning, Raquet (5-3) issued a leadoff walk to Gabriel Cancel in the second before getting Royals No. 16 prospect Emmanuel Rivera to bounce into a double play and retiring Travis Jones on a fly ball to center.
In the third, Nathan Esposito reached on a one-out throwing error by shortstop David Masters, who helped turn another double play on a ground ball off the bat of Jackson Lueck.
"The double play is a pitcher's best friend," Raquet said. "I've had really solid defense behind me down the stretch, so I've just been trying to throw the ball into contact. I kept going inside and getting them jammed, and if it's not broken, I say don't fix it. We decided to just keep going there until someone could beat us."
After giving up a leadoff double to Blake Perkins in the fourth, Raquet set down the next 10 batters as he began to groove his breaking ball. He capped the sixth with a pair of strikeouts and made it three straight in the seventh before walking D.J. Burt. But the 22-year-old picked off the Royals' No. 28 prospect before getting Cancel swinging on his 82nd and final pitch.
The victory brought Raquet's ERA down to 4.91, the first time it's dipped below 5.00 since his promotion from Class A Hagerstown on June 21. He's thrown 122 2/3 innings across the two levels, by far the heaviest workload he's carried in a single season. The length of the campaign began to wear on the William & Mary product at times, but he said the outing he put together Sunday showed the potential he has headed into the postseason.
"I'm still learning how to prepare and have less time in betweenn starts," he said. "I'm still continuing to develop my routine and find what works. But I've seen how the hitters get better as you go higher and I'm starting to read swings and sequence more effeciently, even with some ups and downs. Hopefully, I'll learn from them."
Telmito Agustin went 2-for-2 with a walk and plated the game's lone run with two outs in the fourth, legging out an infield single to score Andruw Monasterio.
Wilmington's Andres Sotillet (2-6) also went the distance, allowing one run on four hits and four walks while striking out seven. It was his second complete game of the season and first in the Carolina League.
Nathan Brown is a contributor to MiLB.com. Follow him on Twitter @NathanBrownNYC.