Nationals Prospect Primer: Down, not out
After Eaton deal, Robles remains brightest star; Glover ready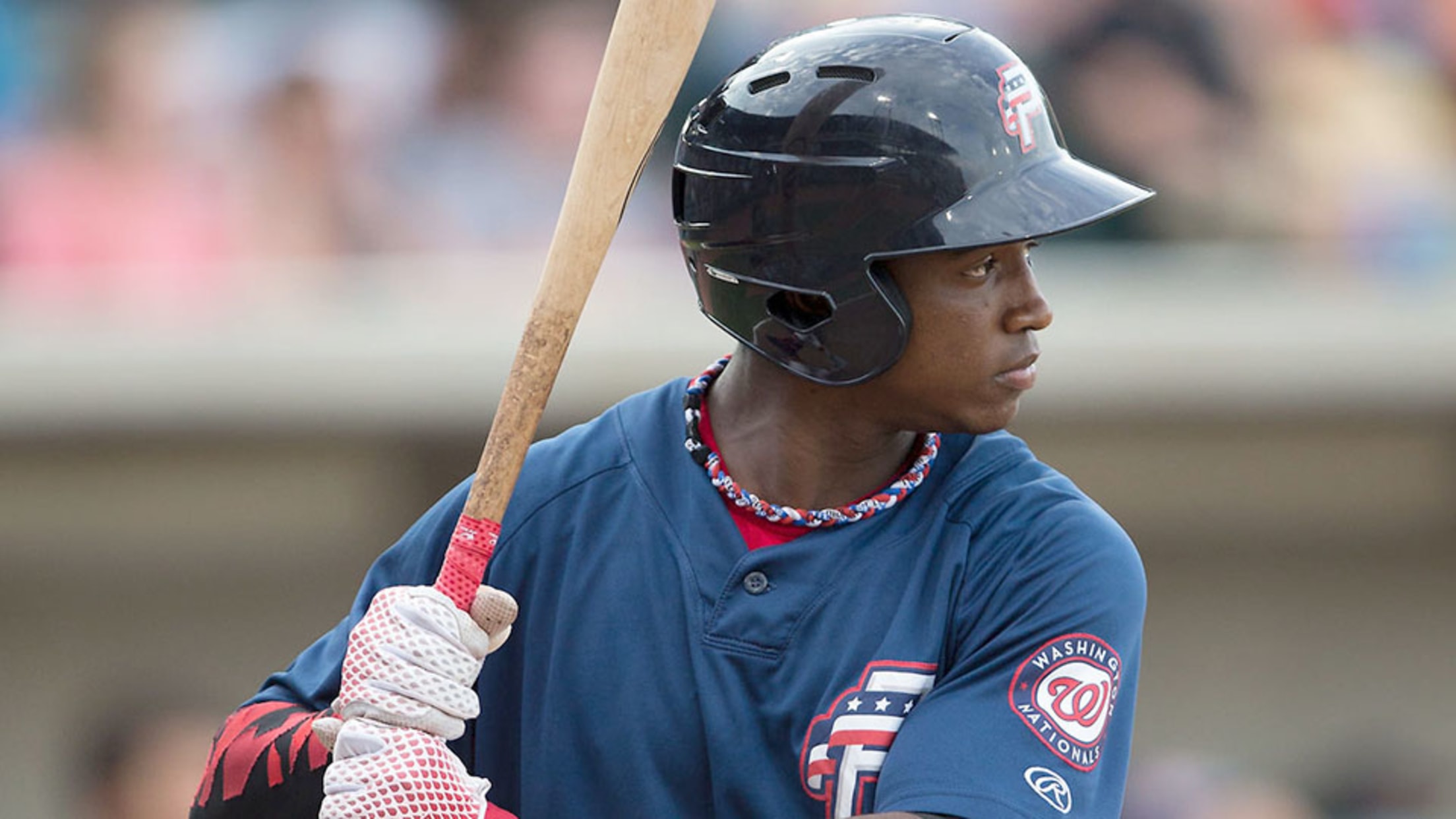 Victor Robles also scored four runs for Class A Hagerstown on April 19, 2016. (Brian Westerholt/Four Seam Images)
Some players are on the verge of stardom, others are entering a crucial phase of their development and still others are getting their first tastes of full-season ball. With the 2017 season approaching, MiLB.com takes a look at the most intriguing prospects from each MLB organization.Shining star: Victor Robles, OFThe
Some players are on the verge of stardom, others are entering a crucial phase of their development and still others are getting their first tastes of full-season ball. With the 2017 season approaching, MiLB.com takes a look at the most intriguing prospects from each MLB organization.
Shining star: Victor Robles, OF
The story of the Nationals' farm system can't be told fully without acknowledging the fact that the organization dealt MLB.com's No. 11 overall prospectLucas Giolito, No. 46 Reynaldo López and 2016 first-rounder Dane Dunning to the White Sox in a trade that netted outfielder Adam Eaton. That's fine, if viewed through the lens that the point of farm systems is to improve the Major League club. But it left the system significantly thinner, putting a big spotlight on the one young uber-talent Washington refused to let go in that deal: Robles.
Coming in at seventh on the overall Top 100, the 19-year-old center fielder would have entered 2017 as the Nationals' top prospect, regardless of whether or not Giolito and Lopez were still around, because he could be the Minors' toolsiest player behind No. 2 prospect Yoán Moncada. Robles received grades of 60 or above on the 20-80 scale for his hit, run, arm and fielding tools. The power isn't the only thing considered "average" with a 50 grade, but at 6 feet, 185 pounds, there's room to grow.
Robles put all that on display last season at Class A Hagerstown, where he hit .305/.405/.459 with 20 extra-base hits and 19 steals in 64 games before earning a promotion on June 27. He was unable to find similar success at Class A Advanced Potomac with a .262/.354/.387 line over 41 contests, but that still works out to an above-average 110 wRC+ despite the facts that Robles was the Carolina League's youngest regular position player and he missed time in July and August after being plunked in the hand. What's more, the Dominican Republic native ranked highest among Top-100 prospects in our offseason evaluation of Speed Score.
The Nationals are excited about when Robles will put the whole package together at the upper levels but won't push him too quickly, even as he takes up a bigger part of the organizational outlook in his second full season.
"With Victor, you see the five tools that you want to see in a player," said Nationals director of player development Mark Scialabba. "There are certain parts of his game that are still very raw, but he should certainly impact the game on an everyday basis in all different ways. We want to continue to let him grow, let him learn the game, continue to work on his approach offensively, be more consistent at the plate, continue to improve his jumps and angles defensively. He has the speed and the arm strength to impact the game defensively right now, but we also want to make sure he's a smart baseball player and learns how to play the game in different situations. He's starting to show some leadership skills here in early camp, and the tools are there. But we want to make him the most complete player he can be, so that he's ready for when the bell rings.
At the crossroads: Austin Voth/A.J. Cole, RHPs
The departures of Giolito and Lopez should open up the paths of Voth and Cole -- the Nationals' No. 8 and 9 prospects respectively -- from Triple-A Syracuse to the Majors. The problem is Washington has one of the deepest rotations in the game with Cy Young winner Max Scherzer, franchise cornerstone Stephen Strasburg and solid starters Tanner Roark, Gio Gonzalez and Joe Ross. It's unlikely, barring injury, that anyone could crack that group.
Cole is the only one of the pair with Major League experience, but showed little reason to stick in 2016, having put up a 5.17 ERA in eight starts (38 1/3 innings). What's more, his 4.26 ERA in 124 2/3 innings with Syracuse marked a Triple-A high over the course of his three seasons at the level. Voth has perhaps passed the 25-year-old in the Nats' pecking order. The 2013 fifth-rounder ranked third in the International League with a 3.15 ERA and added 133 strikeouts over 157 innings last season with Syracuse. Following a seven-start stint in the Arizona Fall League, he was added to the 40-man roster in November, taking away a potential hurdle from his Major League debut.
Both Cole and Voth will have some pressure on them at Triple-A to prove that not only are they ready for the Majors, but that they are capable of supplanting one of the Nats' other impressive starters over the long term.
"A.J., at this point in the career, he's got to go out there and perform," Scialabba said. "He's got to get in the strike zone, attack hitters, pitch off his fastball effectively and just be consistent with his secondary stuff. He's got both a curveball and a slider, and I think he needs to figure out which one he can go to more. But on any given day, he can go to either one. So it's just a matter of continuing to learn how to pitch to hitters at the big league level, but getting strike one and creating a consistent delivery that's going to allow him to have some life on his fastball, which he's starting to do now. We're excited about that.
"For Voth, it's just continuing to build off what he did in the Fall League, continuing to improve the feel and action of his changeup. I think he'll have three weapons to go with. He's a very deceptive fastball strike thrower that commands the ball well, but he has to continue to learn how to pitch and mix speeds effectively. Austin and A.J. are both candidates, and they could be up with our big league club early this year."
Full-season debutant: Carter Kieboom, SS
Nationals fans know a thing or two about the Kieboom family with catcher Spencer Kieboom working his way through the system from a 2012 fifth-round pick to a one-game Major League cameo in October. Now it's time to meet his younger and potentially more talented brother. Carter Kieboom was taken with the 28th overall pick out of a Georgia high school in June, and he enters his first full season as Washington's No. 4 prospect.
The 19-year-old shortstop proved to be solid, though at times inconsistent, in his first season in the Rookie-level Gulf Coast League with a .244/.323/.452 over 36 games that worked out to a 129 wRC+ in the typically pitcher-friendly complex circuit. All four of his homers came over a six-game stretch from Aug. 11-18. With that pro debut behind him after a spring full of high-school ball, Kieboom has a chance to show he can be an above-average with the tools, especially the arm, to stick to a demanding position at short.
"He's a baseball rat. He loves the game," Scialabba said. "Every day he comes to the park trying to get better at what he does. Very professional. He's had some experience playing with talent in his amateur days and really made a nice transition into pro ball in the Gulf Coast League. Some minor setbacks along the way physically, but he's in great shape right now. Worked his tail off this offseason. We're very pleased with where he is. We feel like he'll be very comfortable at shortstop."
Full-season debutant II: Juan Soto, OF
If there was ever a player who could transition from the GCL to Class A ball in a year's time, it's Soto, who captured the lower circuit's MVP award in 2016 during his first pro season. Playing the entire 2016 campaign as a 17-year-old, the right fielder led the league in average (.361), slugging (.550) and OPS (.960) by wide margins. (His next closest competition hit .323, .530, .872 in those respective categories.) Prospect prognosticators took notice and MLB.com moved Soto, who signed for $1.5 million out of the Dominican Republic in 2015, from No. 15 in the Washington system before the 2016 season to No. 3 entering 2017.
The Nats pushed Soto to Class A Short Season Auburn for a six-game cameo in September and seem ready to push him to Class A Hagerstown next week.
"I think he's certainly somebody that could make that jump," Scialabba said. "He's very young, but he's very advanced for his age not only in his approach to hitting but all phases of his game. He's very mature. He's got tremendous bat-to-ball instincts. He leverages the ball extremely well. He can cover all parts of the strike zone at a young age. We're optimistic there. Defensively, he continues to work extremely hard at his craft, and he's shown the ability to have the potential to be an average everyday defender in the corners as well. Bright future ahead."
Major League-ready: Koda Glover, RHP
With a fastball that averaged 96.8 mph in the Majors along with a plus slider, Glover has the stuff to be a closer at some point. The Nationals believe he has that temperament, though that'll have to wait with the big club officially giving Blake Treinen that role Thursday. For the record, Glover himself says he has no preference when he pitches. But one thing's for sure, he has a Major League arm.
Pay little mind to the 23-year-old right-hander's 5.03 ERA in 19 2/3 Major League innings last season. A later-revealed torn labrum in his hip drastically affected his performance, but the right-hander has returned to full health this spring. Should Treinen falter, Glover remains the Nationals' closer-in-waiting.
"You have to have a certain type of makeup to pitch at the back end of a ballgame, and he certainly has that," Scialabba told MiLB.com. "He's a competitive man. He's a bulldog. He's not going to be afraid. He's going to pitch inside. He's going to attack hitters with everything he's got and leave it all out there. He's certainly not afraid no matter who he's facing. He continues to make adjustments and we're excited about his future."


Others to keep an eye on: Erick Fedde takes over as Washington's top pitching prospect following the departures of Giolito and Lopez, and it comes during an interesting time in his development. The 24-year-old right-hander underwent Tommy John surgery in May 2014, making this his second full season on the mound since the procedure. Baseball's No. 60 overall prospect threw 121 innings at Potomac and Double-A Harrisburg in 2016, and Scialabba pointed to the organization's post-Tommy John handling of Jordan Zimmermann and Strasburg as the road map for Fedde. Both pitchers threw upward of 180 innings at the same point in their returns, so it would appear Fedde won't have much of an innings leash should he stay healthy in 2017. ... Though the system's pitching has taken a hit, Scialabba pointed to No. 12 Jesus Luzardo (who is recovering from his own elbow surgery), No. 19 Tyler Watson and No. 24 Joan Baez as lower-level hurlers who the organization remains high on. ... Andrew Stevenson has the speed and the instincts to provide tremendous value as a center fielder, but after hitting .246/.302/.328 in 65 games at Harrisburg, he'll have to show he can hit enough to make the Majors. He showed improvement with a .353/.417/.518 line over 21 games in the AFL. With the speed of Eaton and Michael A. Taylor, there's no rush to get Stevenson's glove to the big leagues just yet.
Sam Dykstra is a reporter for MiLB.com. Follow and interact with him on Twitter, @SamDykstraMiLB.