Weldon Mills Distillery Announced As Official Spirit of the Durham Bulls
2 title-winning NC organizations to team up to develop new "Snorting Bull" Bourbon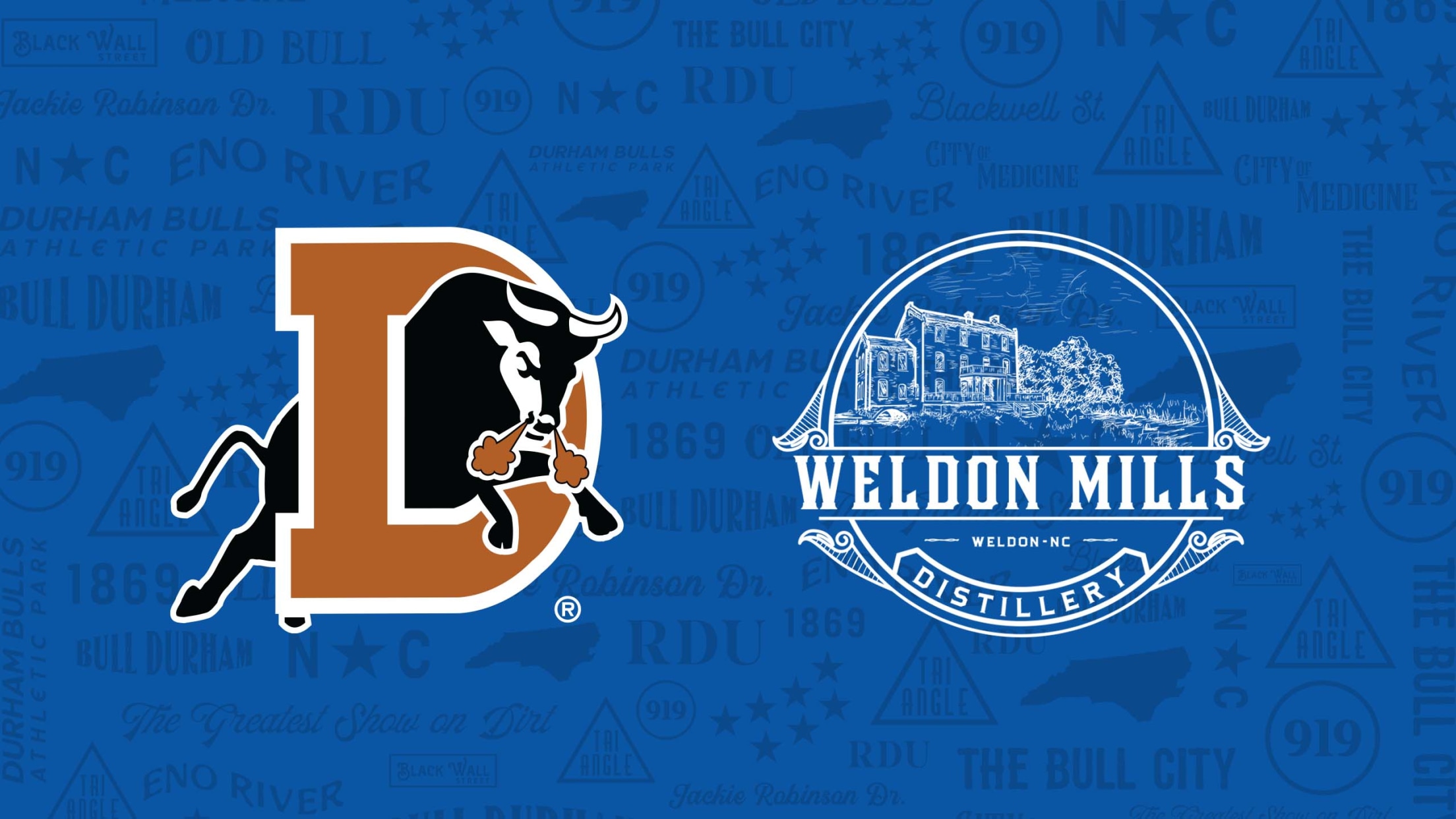 The reigning Back-to-Back Triple-A National Champion Durham Bulls announced today the launch of a new partnership with award-winning Weldon Mills Distillery to become the official spirit of the Durham Bulls. The two title-winning organizations will also pair up to develop a new "Snorting Bull" Bourbon that will be available later
The reigning Back-to-Back Triple-A National Champion Durham Bulls announced today the launch of a new partnership with award-winning Weldon Mills Distillery to become the official spirit of the Durham Bulls. The two title-winning organizations will also pair up to develop a new "Snorting Bull" Bourbon that will be available later this summer.
"We are excited to be partnering with Weldon Mills to bring together two North Carolina brands and another unique partnership to the Bull City" said Durham Bulls General Manager Tyler Parsons. "From day one this has been an amazing collaboration, and we cannot wait for Bulls fans to try out some of the new cocktail offerings here at the DBAP this season."
"Durham Bulls baseball, back-to back champions, and Weldon Mills Distillery, 2022 and 2023 Distillery of The Year, is simply a dream-come-true partnership" said Weldon Mills co-founder Bruce Tyler. "A legendary part of North Carolina sports partners with new Carolina lore. It's North Carolina at its best. We recognize each others' drive and determination and see a long-term bond forming right before our eyes. Our organizations, and more importantly, our people, are excited for the future."
In conjunction with the partnership this season, Weldon Mills has opened a new Durham craft cocktail lounge within walking distance of Durham Bulls Athletic Park, giving fans the opportunity to try new signature cocktails in both locations. The craft cocktail lounge, located on the corner of Roxboro Street and Main Street in Downtown Durham, is now open, while the "Snorting Bull" bourbon will be available later this summer at both locations.
The Bulls begin their Back-to-Back Triple-A National Championship defense on Opening Night 2023 at the DBAP on Friday, March 31. First pitch against the Norfolk Tides, the Triple-A affiliate of the Baltimore Orioles, is set for 6:35pm. Single-game tickets for all 75 home dates are now available and can be purchased at DurhamBulls.com.
For more information on full-season and mini plan packages, please call 919.956.BULL.
About Capitol Broadcasting Company
Capitol Broadcasting Company, Inc. is a diversified communications company which owns and/or operates WRAL-TV, WRAL Digital, WRAZ-TV, WRAZ Digital, WRAL-FM, WRAL-HD2, WCMC-FM, WCMC-HD1, WDNC-AM, WCMC-HD2, WCMC-HD3, WCLY-AM, WCMC-HD4, Microspace, CBC New Media Group and Wolfpack Sports Properties (a joint venture with Learfield) in Raleigh, NC; WILM-TV, WILT-LD and Sunrise Broadcasting in Wilmington, NC; The Durham Bulls Baseball Club, Bull City Hospitality, and the American Underground startup hub in Durham, NC; The Holly Springs Salamanders in Holly Springs, NC; and real estate interests including the American Tobacco Historic District in Durham, NC, and Rocky Mount Mills in Rocky Mount, NC; and Professional Builders Supply (an equity partnership) in Morrisville, NC.
About Weldon Mills Distillery
WMD produces some of the world's finest spirits including Bourbon, Whiskey, Vodka, Gin and Tequila. Led by two serial accomplishers, Bruce Tyler and Michael Hinderliter, WMD committed itself to becoming the most accomplished distillery in North Carolina and on equal footing with the long-time legends of this spirits world.
The desire to create, distill and deliver something different is WMD's driving force. There are many ingredients that flavor this distillery in the Roanoke River Valley and second location in Durham, NC. A naturally beautiful environment, pristine river water and people with an insatiable desire to succeed.