Well-Rounded Performance Gives Loons Fourth Consecutive Win
Loons never trail after four-run second inning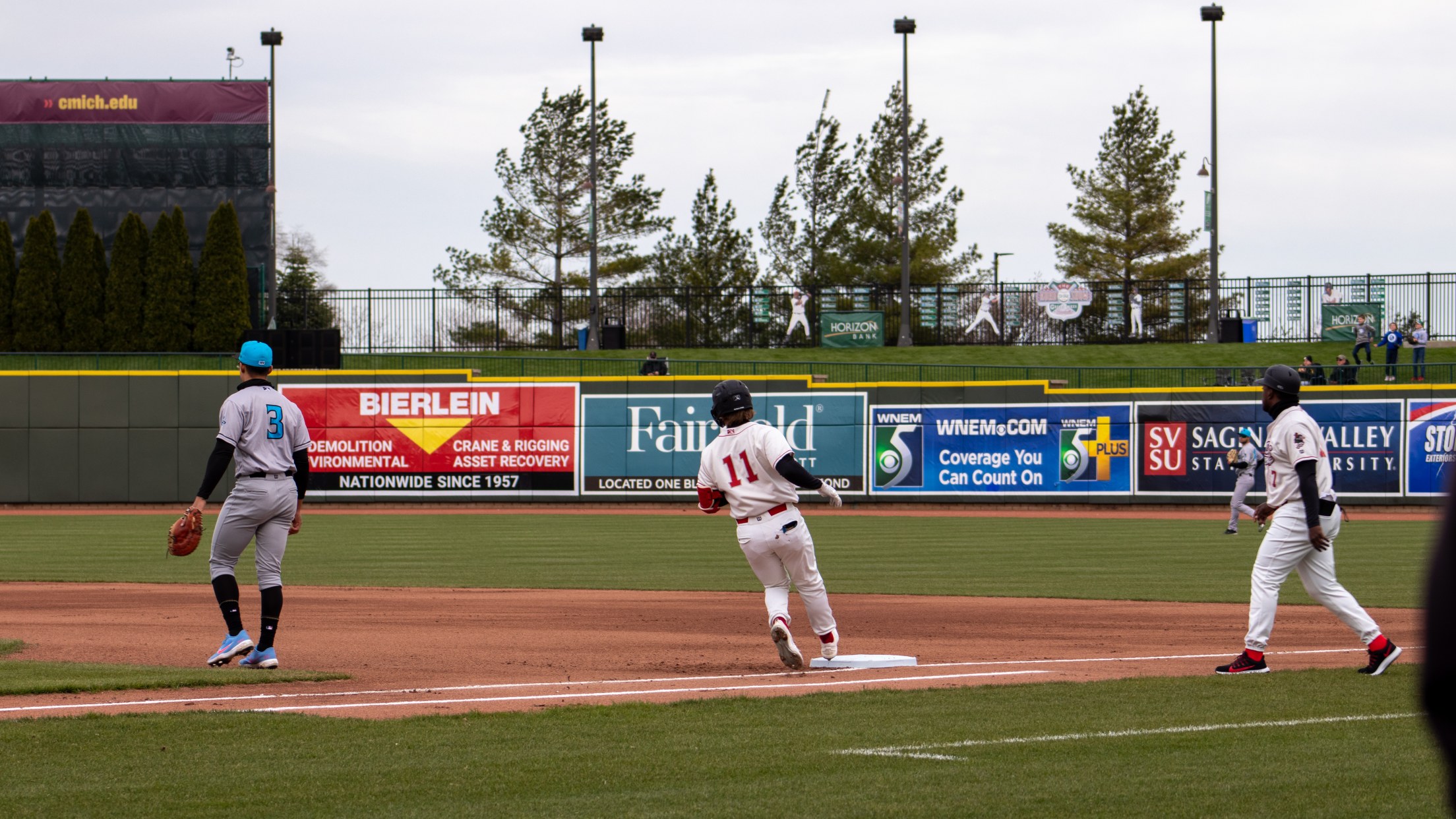 MIDLAND, Mich. – The Great Lakes Loons never trailed on Saturday night at Dow Diamond, but the Beloit Sky Carp certainly had some momentum, scoring runs in each of the sixth and seventh innings to pull themselves within two runs. In the bottom of the seventh inning, the Loons found
MIDLAND, Mich. – The Great Lakes Loons never trailed on Saturday night at Dow Diamond, but the Beloit Sky Carp certainly had some momentum, scoring runs in each of the sixth and seventh innings to pull themselves within two runs.
In the bottom of the seventh inning, the Loons found the separation they needed to shift momentum back in their favor.
With two outs and men on second and third, Kekai Rios touched a single to the outfield to score them both and put the Loons ahead by four. Great Lakes would go on to win, 8-3.
The Loons (14-12) got all the run support they needed in the bottom of the second inning, plating four runs in the frame. Rios led off the inning with a double, and advanced to third on an Edwin Mateo single. Rios scored on a fielder's choice hit by Ismael Alcantara. Imanol Vargas walked, then Jonny Deluca smacked a single to right field which would've loaded the bases if not for an error by Beloit right fielder J.D. Orr, which advanced every runner one base and plated Alcantara. With two Loons in scoring position, Jorbit Vivas poked a single to the outfield, driving both runners in and putting the Loons ahead 4-0.
Sky Carp starter Evan Fitterer (L, 0-2) came back out for one more frame, which was perfect, then came out of the game. His final line read three innings, four hits, four runs (three earned), one walk and five strikeouts.
Beloit (8-18) got a run back in the top of the third inning on consecutive doubles from Nasim Nunez and Cody Morissette. While the Sky Carp did tag six hits against him, Kendall Williams allowed just that one run. The Loons right-handed starter tossed four strong innings, and did not allow a walk while striking out one in his Dow Diamond debut.
Great Lakes, the Los Angeles Dodgers' High-A partner, got back out to a four-run lead in the bottom of the fourth inning, thanks to a two-out solo homer from DeLuca, his team-leading seventh blast of the season. Despite a 16 mph wind blowing in from left field, DeLuca was able to blast one over the left-center field wall.
The Sky Carp, affiliate of the Miami Marlins, plated a run in each of the sixth and seventh innings. The lone hit allowed by Michael Hobbs (W, 3-0) was a solo homer by Will Banfield, his first of the season. Other than that, Hobbs was perfect in two frames. The Loons right-handed reliever picked up three strikeouts without walking a batter in those innings.
In the seventh, the visitors needed to string things together to notch their run. Ynmanol Marinez led off the frame with a double against Ryan Sublette, then Orr walked and was cut down on a fielder's choice which allowed Marinez to move to third and Marcus Chiu to reach first. Nunez smacked a single to score Marinez and cut the Loons lead to two, 5-3.
Sublette faced some adversity, but still had a positive outing, allowing the single run in 1 1-3 innings while striking out two and walking a batter.
After the two-run Rios single in the seventh, the Loons added one more in the eighth. Alcantara led off the inning with a single, stole second base, and moved to third on a groundout. DeLuca came through with his second RBI of the game on a deep sacrifice fly to center field, and the Loons led by the score that would be the final, 8-3.
Jose Hernandez did not earn a save because the score was not close enough, but he was terrific once again. Hernandez inherited a runner in scoring position with one out and left him stranded, tossing the final 1 2-3 innings without allowing a run to score. The Loons southpaw reliever allowed a hit and another baserunner on a hit batsman, but picked up a strikeout and shut the door on a Great Lakes win. He has now inherited four baserunners in nine relief appearances this season, and none of them have scored.
Great Lakes has now won the series against Beloit and is on a four-game winning streak, looking to make it five on Sunday. The Loons are also looking to win a second consecutive series by a five-games-to-one margin, after doing that at West Michigan last week. The final game of the series is set for Sunday afternoon at Dow Diamond, with first pitch at 1:05 p.m. Right-handed pitcher Kevin Malisheski (0-0, 9.95 ERA) will make his first start for the Loons this season, opposing Sky Carp southpaw Zach King (1-1, 2.14 ERA). It's Mother's Day at the Ballpark, presented by Andrews Hooper Pavlik, and as on every Sunday, kids eat free and run the bases. Get your tickets now on Loons.com, or tune in for all the action on ESPN 100.9-FM, beginning at 12:50 p.m. with the Loons On-Deck Circle, driven by Garber Chevrolet Midland.
The Great Lakes Loons have been a Single-A partner of the Los Angeles Dodgers since the team's inception in 2007. Dow Diamond serves as the team's home and also houses the Michigan Baseball Foundation, a 501(c)(3) non-profit public charity, and ESPN 100.9-FM. For tickets or information about the Loons, call 989-837-BALL or visit Loons.com.