Whitecaps' Deatherage goes 5-for-5
Tigers' 10th-round pick scores two runs, drives in another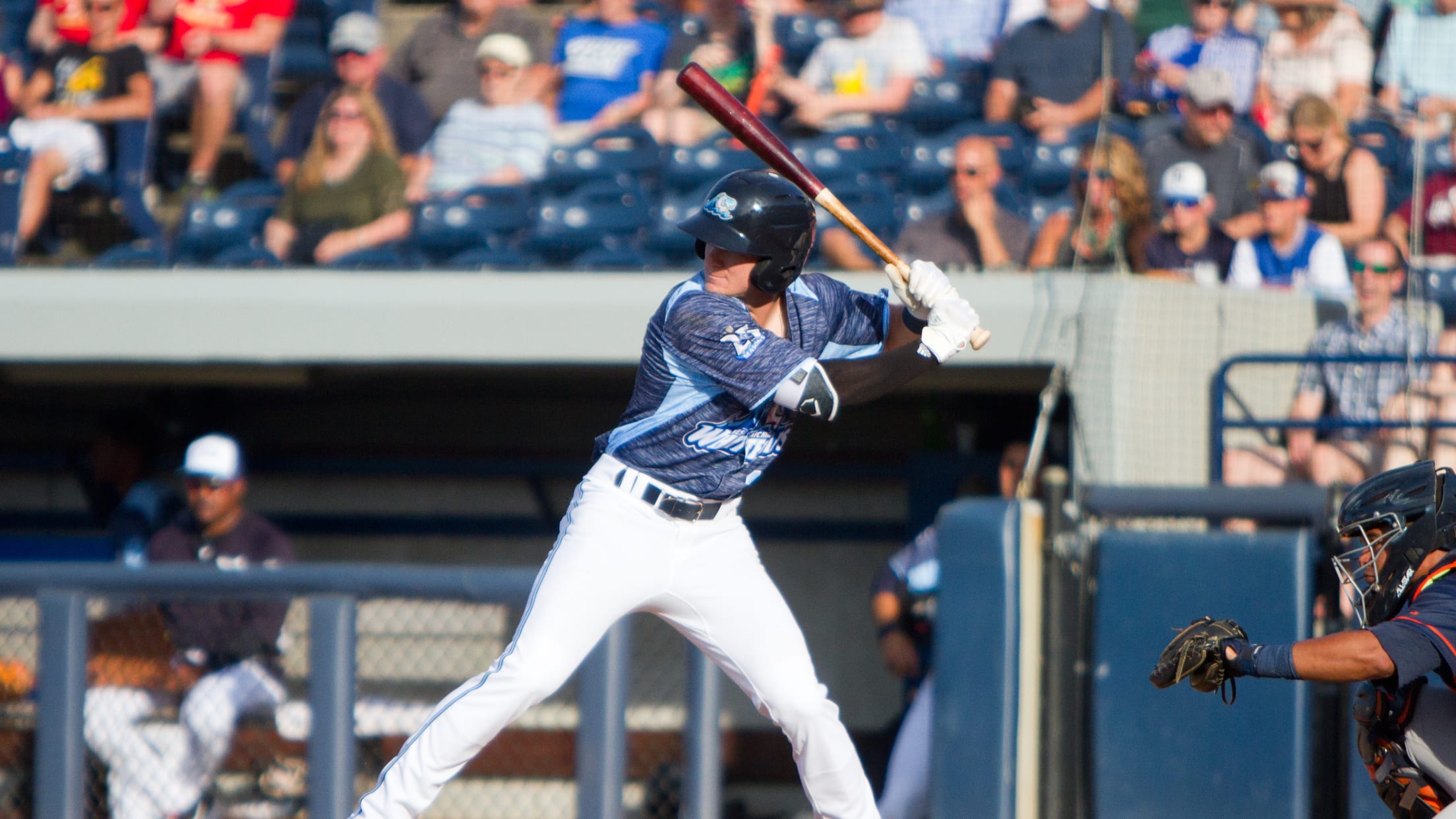 Brock Deatherage has reached safely in all 12 games since joining West Michigan on June 21. (Emily Jones/MiLB.com)
Brock Deatherage has 13 Minor League games under his belt -- and two milestones.After roaring onto the scene with a three-homer game in his professional debut in the Rookie-level Gulf Coast League on June 18, he turned in his first-ever five-hit performance on Wednesday.The Tigers' 10th-round Draft pick went 5-for-5
Brock Deatherage has 13 Minor League games under his belt -- and two milestones.
After roaring onto the scene with a three-homer game in his professional debut in the Rookie-level Gulf Coast League on June 18, he turned in his first-ever five-hit performance on Wednesday.
The Tigers' 10th-round Draft pick went 5-for-5 with a triple, two runs scored and an RBI, leading a 14-hit attack as Class A West Michigan powered past Lansing, 7-3, at Cooley Law School Stadium.
"The first day we got him and I saw him get out there and play, I said he reminds me of [former Major Leaguer] Jim Eisenreich," Whitecaps hitting coach Mariano Duncan said. "He does everything good and when he's out there he just goes about his business. He works hard every day.
"I think we have a very exciting kid right now."
Deatherage raised his average 91 points and is batting .385/.467/.667 with six extra-base hits, including three triples, five walks and 10 runs scored in 11 games since being promoted from the GCL on June 21.
"This is one to remember, for sure," he said. "I just wanted to go out there and have fun and take it at-bat to at-bat like I always do. I just shortened up a little, kept my aggressive approach and it worked out for me."
The 22-year-old turned around a 2-0 fastball from right-hander Maverik Buffo (9-3) in the opening inning and grounded it into right field for a single. In the third, he went after the first pitch and blooped a two-out single to center.
Deatherage got to Buffo again in the fifth as he lined a 1-1 pitch into right for a single that scored Garrett McCain after a throwing error by right fielder Chavez Young. Tigers No. 21 prospectReynaldo Rivera followed with his seventh homer of the season to put West Michigan ahead for good, 4-2.
Gameday box score
"I always go [to the plate] looking for a pitch to attack early in the count. That's just part of who I am," Deatherage said. "I really don't like getting deep into a count. I go up there hunting a first-pitch fastball and if I get it I just try to put my best swing on it. And that's what I did in my first three at-bats."
The North Carolina State product was out of his comfort zone in the seventh after a seven-pitch battle with righty Claudio Custodio. But he came out on top by hammering a triple into the left-center field gap that plated Brady Policelli from first.
"I think they caught on to my approach because [Custodio] threw me changeups early and throughout the count and I just did my best to foul them off," said Deatherage, who fouled off three pitches during the at-bat. "But then he gave me a fastball and I was ready for it."
When he stepped to the plate with two outs in the ninth, Deatherage knew exactly what was at stake.
"I was absolutely trying to get five hits there," he said. "I've had four hits a few times in my life but never five, and I know how rare these opportunities are, so I wanted to make the most of it."
After getting a first-pitch changeup from right-hander Dalton Rodriguez, Deatherage swung early but not did not miss as he lined it into center for his fifth hit and fourth single.
"I got a fastball there in the middle-outer part of the plate and put a good swing on it. And when I got to first, I said, 'Wow, I did it. Five hits," he said.
Deatherage wasn't the only one on the field to notice. After another knock by Rivera and a wild pitch, he found himself at third base, where West Michigan manager Lance Parrish had a message.
"He told me that I had just done something that he never did in his career. He never had a five-hit game," Deatherage said. "And I know how successful and long his career as a baseball player was, so to be able to hear him tell me that was a great feeling. It put a smile on my face."
Whitecaps second baseman Kody Clemens bashed his first professional homer to right in the fourth. He didn't wait to get his next one, going deep to the same spot an inning later. In the ninth, the 22-year-old son of seven-time Cy Young Award winner Roger Clemens flied to the warning track in left with the bases loaded.
"I think he's just starting to put it together now. This is who he really is," Deatherage said. "He's been struggling a little of late, but he's been barreling balls up and just hitting them right at guys. This was a huge game for him and for our team as well."
West Michigan starter Elvin Rodriguez (6-4) picked up the victory after allowing three runs on six hits and two walks while fanning two over six frames. Clate Schmidt yielded one hit and struck out three the rest of the way for his fourth save.
Rob Terranova is a contributor to MiLB.com. Follow him on Twitter @RobTnova24.