West Virginia hangs on in 7-6 nail-biter Saturday
Stafford and Lorenzo go 5-for-8 with five runs scored and an RBI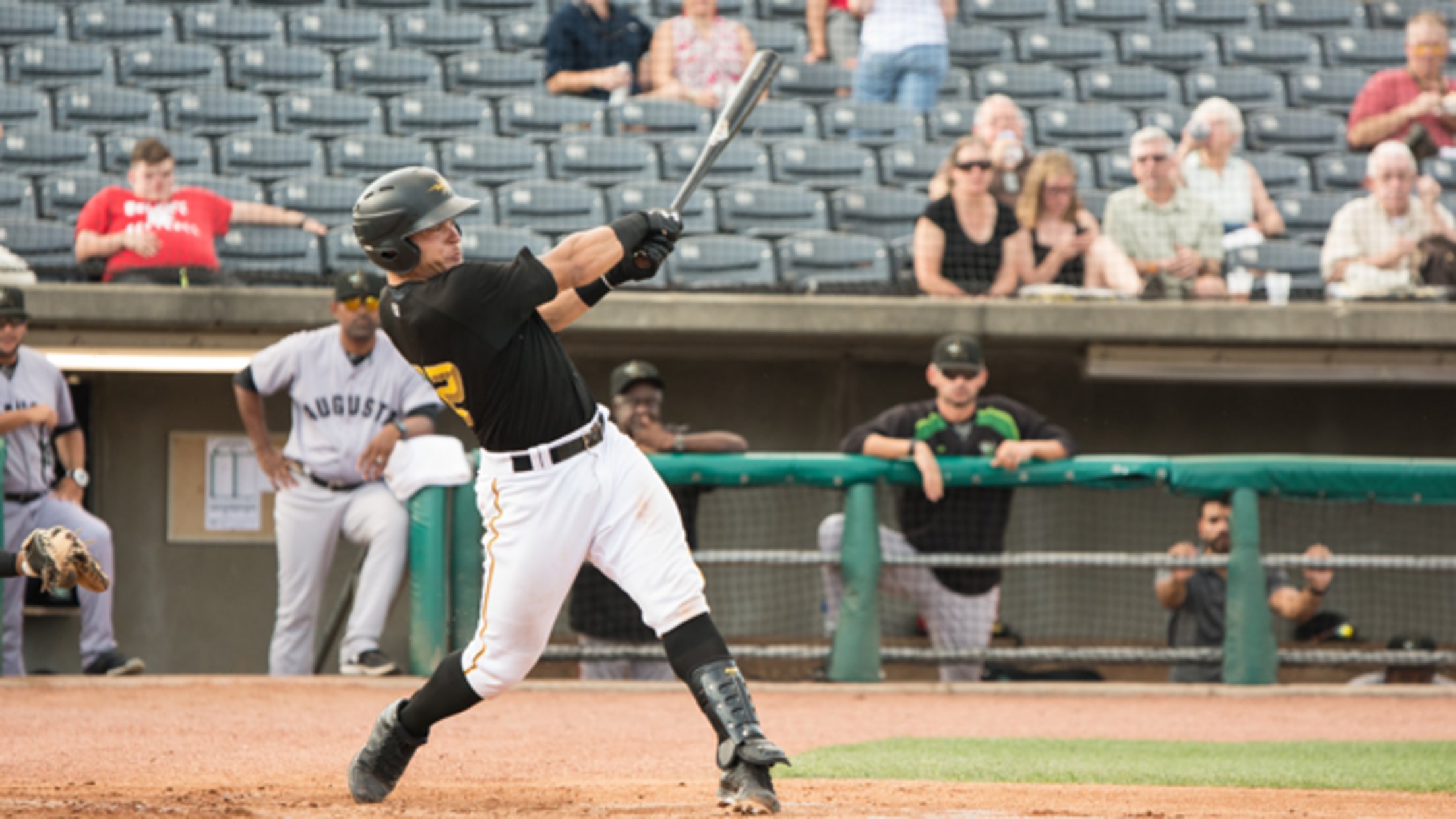 Deon Stafford clubbed his 10th home run of the season Saturday night in the Power's 7-6 win. (Joe Williams)
ROME, GA (August 25, 2018) - West Virginia's offense exploded for seven early runs, and the Power staved off a furious Rome comeback to hang on for a 7-6 win Saturday night at State Mutual Stadium.West Virginia (28-30, 65-59) wasted no time getting to Rome starter Freddy Tarnok (4-5). After getting
ROME, GA (August 25, 2018) - West Virginia's offense exploded for seven early runs, and the Power staved off a furious Rome comeback to hang on for a 7-6 win Saturday night at State Mutual Stadium.
West Virginia (28-30, 65-59) wasted no time getting to Rome starter Freddy Tarnok (4-5). After getting set down 1-2-3 in the first, the Power sent all nine men to the plate in the second and snagged an early 4-0 lead. Deon Stafford led off the frame with a walk. After Rodolfo Castro struck out, Rafelin Lorenzo singled to right to put runners at first and second with one down. The next batter, Luke Mangieri, struck a high chopper towards the shortstop, AJ Graffanino, who made an errant throw that sailed past Hagen Owenby at first base. Stafford scored on the play and gave West Virginia a 1-0 lead. Tarnok induced a fly out from Jesse Medrano for the second out of the inning, but issued a walk to Lolo Sanchez that loaded the bases. Travis Swaggerty then plopped a base hit into shallow center field that plated Lorenzo and Mangieri before Connor Kaiser reached on an infield single to Tarnok that saw Sanchez scamper home and end Tarnok's night.
Rome (26-32, 66-61) responded with one run in the bottom of the second against Samuel Reyes (3-3), who made his first career MiLB start Saturday night. Reyes, who set down the first four batters he faced, saw Trey Harris reach with one down on a throwing error by Medrano. Owenby then singled Harris over to second. Two batters later, Alan Crowley ripped a single over Kaiser's head to score Harris and decrease the Power's lead to 4-1.
The Power picked up right where they left off in the third against Braves reliever John Curtis. Stafford singled to kick off the frame before Lorenzo collected his second single of the night with a ripped knock to center. After Mangieri flew out, Medrano laced a base hit to center that sent in Stafford, while Sanchez followed that up with a run-scoring knock of his own to left to make it 6-1 West Virginia.
In the fourth, Stafford lofted a solo home run to right field, his 10th of the season and second at State Mutual Stadium, to extend the Power's lead to 7-1.
Reyes dominated Rome over the first five innings, holding the Braves to one unearned run on two hits while striking out a pair. Heading into the sixth, Reyes had not allowed an earned run in his last 13 innings. However, the first five batters for the Braves reached in the sixth, with Harris delivering a two-run double and Owenby tallying an RBI single to score three runs and end Reyes' night on the hill.
Joel Cesar took over with runners on second and third and nobody out in the bottom of the sixth. Crowley tacked on another run with a sacrifice fly to center, but Cesar prevented any further damage by tagging out Kevin Josephina as he tried to score on a ball back to the mound before inducing a pop out from Justin Dean to end the threat and keep West Virginia ahead by two.
Cesar battled his way through three innings of relief, holding serve against Rome while allowing just two hits and striking out two batters.
John Pomeroy (S, 2) came on for the ninth and struggled to start the inning. Graffanino reached to begin the inning on a fielding error by Mangieri. Pomeroy then walked the bases loaded before getting the first out on a fielder's choice. With runners on first and third, Pomeroy fanned Owenby swinging for the second out, but then reloaded the bases by walking Josephina. He came back to fan Crowley looking to finish off the win and secure his second save in the South Atlantic League. Pomeroy has still yet to allow a hit in his six appearances with the Power. Over his last 11 appearances, Pomeroy has surrendered just two hits and one unearned run while striking out 16 batters.
West Virginia concludes its four-game series with the Rome Braves at State Mutual Stadium Sunday afternoon, with first pitch set for 2 p.m. RHP Max Kranick (4-5, 3.96 ERA) toes the rubber for the Power, while the Braves counter with righty Alan Rangel (5-6, 3.96 ERA). Pregame coverage begins at 1:40 p.m. on The Jock 1300 and 1340 AM, as well as online at www.wvpower.com and via the TuneIn Radio App and MiLB First Pitch App.
Following their series finale with the Rome Braves, the Power opens their final homestand of the 2018 regular season Monday, August 27, against the Hagerstown Suns. The final home stretch kicks off with Family Buck Night and ends with a Thirsty Thursday, presented by Rock 105. The homestand also includes a Two for Tuesday, presented by Rock 105, August 28, and a Pets in the Park Night August 29. For tickets and more information, call the Power at 304-344-2287 or visit wvpower.com.