Whitecaps get Walked Off in 6-5 Loss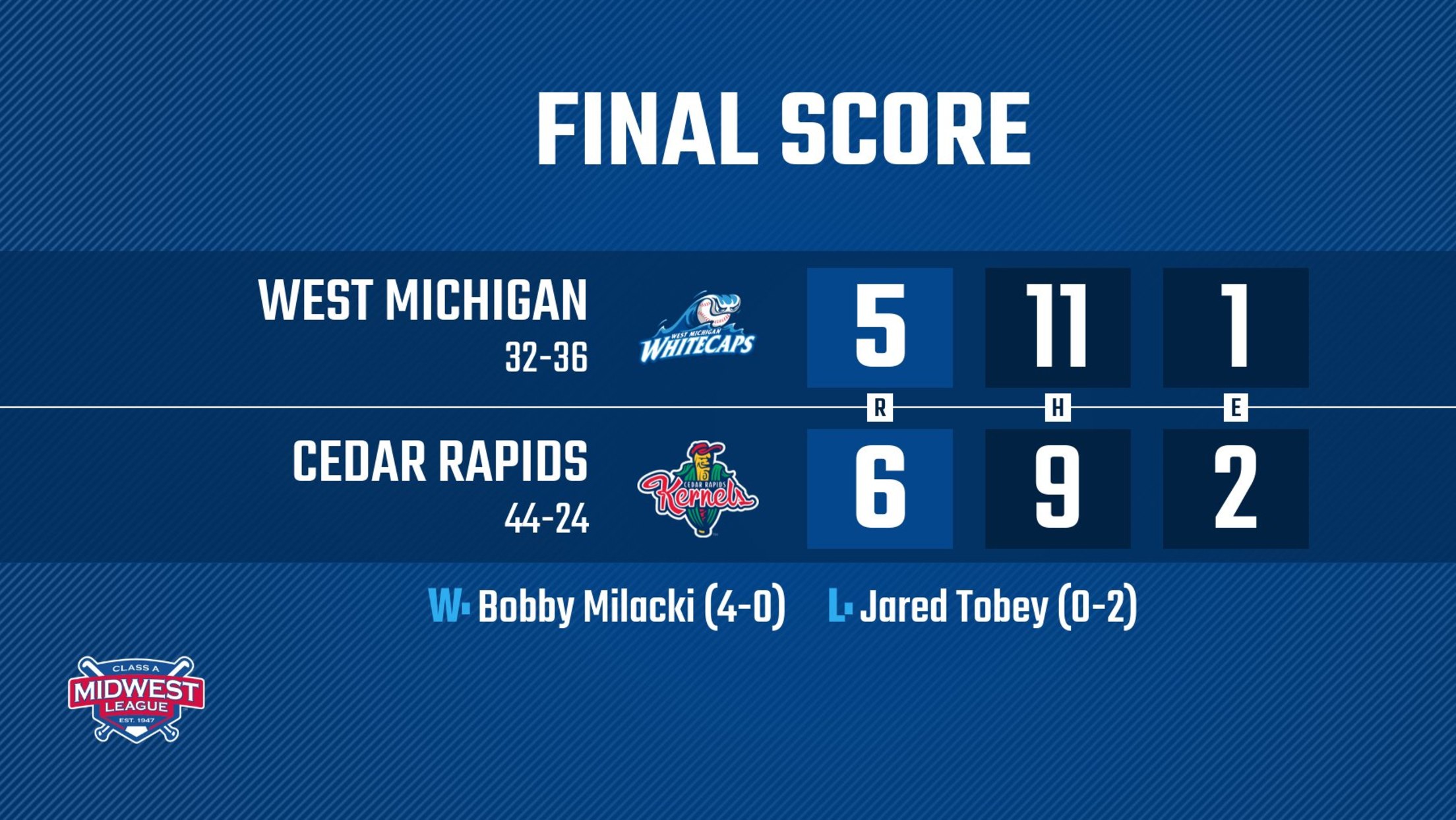 CEDAR RAPIDS, IA – A game-winning home run by Midwest League RBI leader Christian Encarnacion-Strand with two outs in the bottom of the ninth helped the Cedar Rapids Kernels walk off the West Michigan Whitecaps, 6-5 on Saturday at Perfect Game Field. Encarnacion-Strand, who entered the contest with 57 RBI
CEDAR RAPIDS, IA – A game-winning home run by Midwest League RBI leader Christian Encarnacion-Strand with two outs in the bottom of the ninth helped the Cedar Rapids Kernels walk off the West Michigan Whitecaps, 6-5 on Saturday at Perfect Game Field.
Encarnacion-Strand, who entered the contest with 57 RBI – 13 more than the next closest Midwest League player in Lansing catcher Tyler Soderstrom, launched an opposite-field solo shot down the right-field line with two outs and a 2-2 count to help the Kernels guarantee a series split. West Michigan needs a Sunday victory to split the six-game set.
The first inning watched Kernels outfielder Kyler Fedko blast a two-run triple to put Cedar Rapids ahead, 2-0. The 'Caps then took a 4-2 with single runs on productive outs in the third, fifth, sixth, and seventh frames. A pair of sacrifice flies by Jose King and Daniel Cabrera and two Cedar Rapids errors helped West Michigan build a 4-2 lead. In the eighth, the Kernels blasted a lead-changing home run for the second straight night against the 'Caps bullpen, as Wander Javier blasted a go-ahead three-run homer to give the Kernels a 5-4 lead. In the ninth, Cooper Johnson led off the frame with his first home run of the season – a solo shot to tie the game at five. In the bottom of the frame, reliever Jared Tobey struck out the first two batters he faced before Encarnacion-Strand delivered the home run and knockout blow, becoming the first game the Whitecaps surrendered a walk-off home run since August 13, 2021, at Lake County.
Cedar Rapids reliever Bobby Milacki (4-0) tossed an inning of scoreless relief in collecting his fourth win of the season, while Tobey (0-2) gave up the ninth-inning homer in suffering his second loss. Cabrera, Austin Murr, King, and Cooper Johnson each had two hits in a losing cause, while Johnson reached base a team-best three times. The Whitecaps fall to 1-1 in the second half and 32-36 overall, while the Kernels improve to 1-1 and 44-24 during the 2022 season. The game was played in front of 3,863 fans at Perfect Game Field in Cedar Rapids.
UP NEXT
The Whitecaps conclude their 12-game road trip with a Sunday afternoon series finale against the Cedar Rapids Kernels at 3:05 pm. Detroit Tigers Top-5 Prospect Ty Madden gets the start for West Michigan against Kernels right John Stankewicz. Broadcast coverage with Dan Hasty begins on the Whitecaps Baseball Network at 2:50 pm. Get your tickets for all 2022 home games now at www.whitecapsbaseball.com.