Whitecaps record another whitewash
Tigers prospects Watkins, Gutierrez extend streak to 32 innings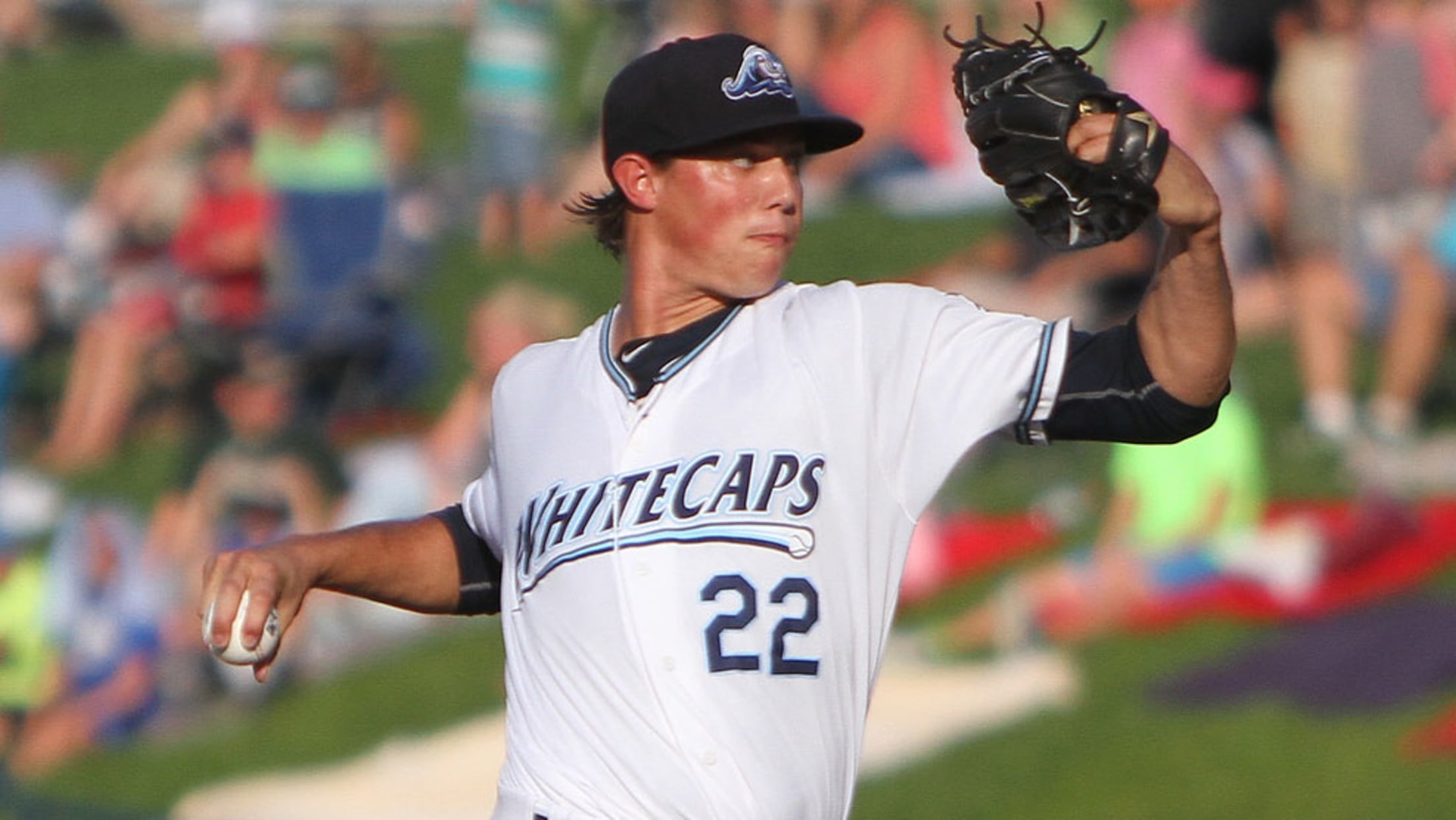 Spenser Watkins went 5-3 with a 3.82 ERA in 13 games -- 12 starts -- last season with West Michigan. (Emily Jones/MiLB.com)
Class A West Michigan pitching coach Jorge Cordova laid out a plan for his hurlers to start the season and they've executed it almost perfectly.With Spenser Watkins and Alfred Gutierrez combining on a five-hitter, the Whitecaps extended their season-opening shutout streak to 32 innings with a 2-0 blanking of South Bend on
Class A West Michigan pitching coach Jorge Cordova laid out a plan for his hurlers to start the season and they've executed it almost perfectly.
With Spenser Watkins and Alfred Gutierrez combining on a five-hitter, the Whitecaps extended their season-opening shutout streak to 32 innings with a 2-0 blanking of South Bend on Saturday at Four Winds Field.
Box score
"I met with [all the pitchers] before the season started and I just tried to convince them how important it is to locate the fastball," Cordova said. "That's the main reason why we are in the Minor Leagues -- to learn how to command the fastballs. Because with this young group of hitters, they always think that after two strikes or when they are behind in the count, we are going to throw breaking balls, so what I preached to my pitchers was to try to work backward. We threw almost 85 percent fastballs in the last three games."
Started by Tigers' sixth-ranked prospectKyle Funkhouser in the opener of Friday's doubleheader, the Whitecaps have yielded only 13 hits and five walks in three games.
"The key last night was just throwing ahead in the count and taking advantage of the [cold] weather and throwing a lot of fastballs, especially inside late in at-bats, because nobody wants to get jammed this time of the year," Cordova said.
Featuring a fastball that sat in the mid-90s, Funkhouser allowed one hit and one walk while striking out nine over five innings in the seven-inning game.
"He was showing electric stuff," Cordova said of the 23-year-old right-hander. "The hitters were afraid to get jammed and he took advantage of it."
The nightcap went 16 innings, with West Michigan using five relievers after Eudis Idrogo gave up three hits and fanned five over five frames. Eduardo Jiménez, Jason Foley, Zac Houston, Fernando Perez and Trent Szkutnik each tossed multiple innings out of the bullpen and combined for 14 strikeouts.
"That was actually very stressful because we are carrying one extra reliever this year, just because we have so many young kids in the rotation," Cordova said. "We have only one reliever left over for tonight, and that was Alfred Gutierrez, who threw pretty well in 3 2/3 innings."
Before Gutierrez, Watkins gave everything Cordova and the Whitecaps could've asked for in his 16th career Midwest League start.
"He's kind of a veteran in this league and he knew we were really short on relievers tonight," Cordova said. "I talked to him before the game and told him we need him to go at least six innings. He went out there and mixed things up, got ahead with his fastball and depended on the movement of his breaking balls to give us what we needed."
The 24-year-old right-hander lasted 5 1/3 innings and held the Cubs to four hits and two walks while posting five punchouts.
The spotless run has helped a West Michigan offense that's totaled five runs and 15 hits in three games.
"We know we don't have too much room to make any mistakes because we haven't scored many runs so far," Cordova said. "We just try to keep ourselves in the game by putting zeros across the board and wait for the hitters to score the runs."
On Saturday, the Whitecaps got three hits from Austin Athmann and a solo homer and triple from Cam Gibson.
Michael Peng is a contributor to MiLB.com. Follow him on Twitter @MichaelXPeng.