Wild 13 Inning Game Ends in Loss to Naturals
Travs fail to hold late lead, fall in longest game of season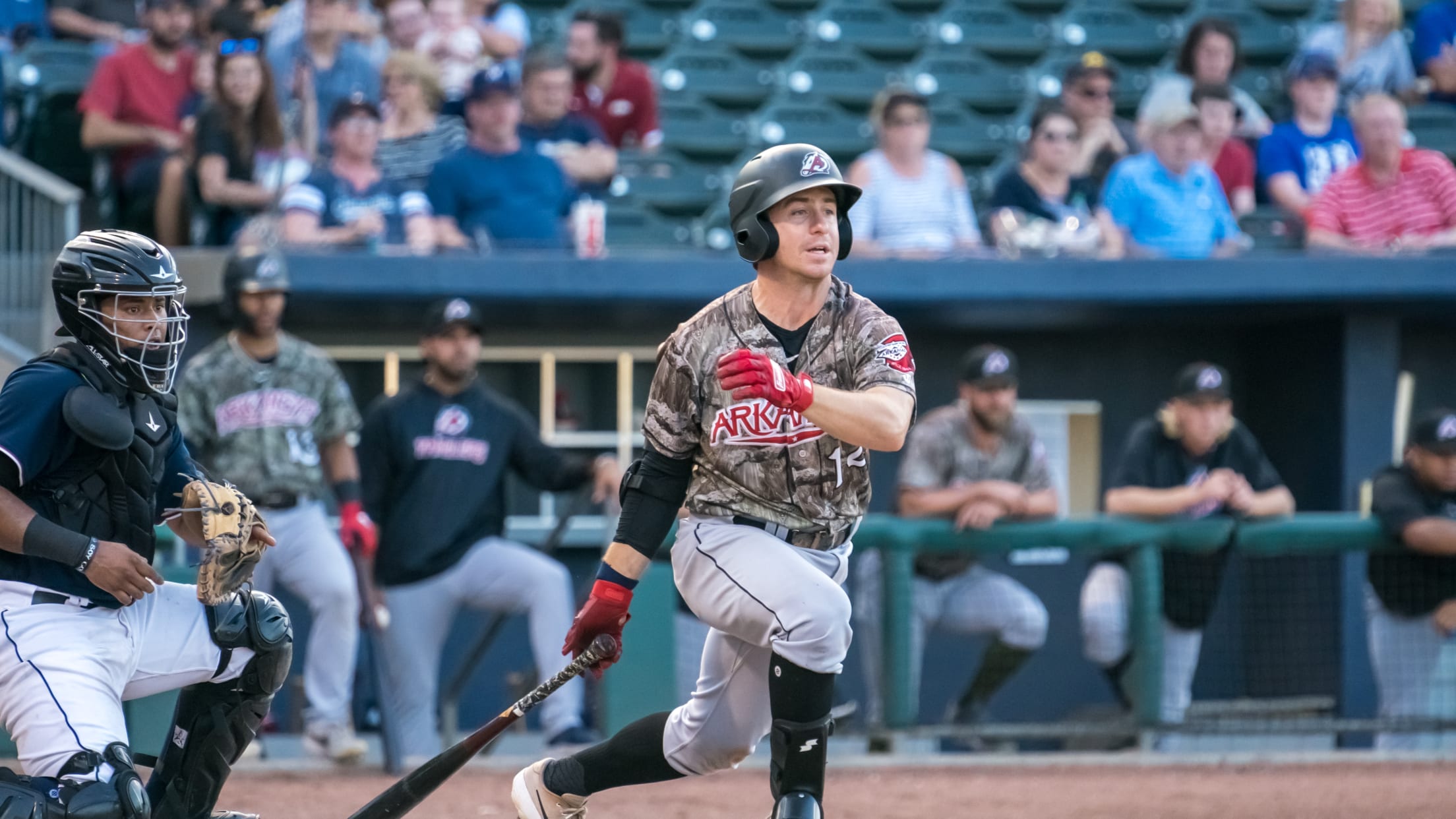 Donnie Walton posted his second four-hit game of the season with 3 RBIs on Tuesday night. (Tim Campbell)
Springdale, AR-In their longest game of the season, the Arkansas Travelers bowed to the Northwest Arkansas Naturals, 9-8 in 13 innings on Tuesday night. Khalil Lee drove in the game winning run with two out in the bottom of the 13th inning on a base hit to right field off
Springdale, AR-In their longest game of the season, the Arkansas Travelers bowed to the Northwest Arkansas Naturals, 9-8 in 13 innings on Tuesday night. Khalil Lee drove in the game winning run with two out in the bottom of the 13th inning on a base hit to right field off Travs lefty Matt Tenuta. After trailing by three just an inning into the game, the Travs rallied to take the lead on two occasions and had a two run advantage into the bottom of the ninth inning only to see the Naturals score twice, the second run coming home on a throwing error. Neither team scored in the extra frames until the 13th when the Travs got a tallied thanks to a throwing error on an attempted sacrifice bunt. Arkansas did not get a hit after a homer by Nick Zammarelli in the top of the 9th inning.
Moments That Mattered
* Donnie Walton put the Travs on top in the 8th inning with his fourth hit of the night, scoring Luis Liberato who had doubled opening the inning.
* With two out and a runner at first in the ninth inning, Meibrys Viloria singled to centerfield. With the lead runner (and potential tying run) headed for third, centerfielder Dom Thompson-Williams threw that way but it was a wild throw that skipped into the Travs dugout allowing the tying run to come in and force extra innings.
* Wyatt Mills struck out all six batters he faced in the 10th and 11th innings with the potential winning run at second the entire time prolonging the game.
Notable Travs Performances
* SS Donnie Walton: 4-7, 3B, 3 RBI
* LF Luis Liberato: 3-5, SH, 2 runs, 2B, 2 RBI
* RHP Wyatt Mills: 2 IP, 6 K
News and Notes
* Travs pitching struck out 17 Naturals to set a season-high for a game.
* The 30 combined hits and 13 runners stranded by Arkansas also matched season-highs.
* It was the second four-hit game of the season for Walton. No Trav has had a five-hit game this year.
* Mariners reliever Sam Tuivailala threw a scoreless inning in his second ML rehab appearance with the Travs.
Up Next
The decisive game of the series is Wednesday night with left-hander Ricardo Sánchez (5-5, 4.11) on the mound against lefty J.C. Cloney (2-2, 3.14). First pitch is scheduled for 6:35 and the game will be broadcast on the Sports Animal 920, the First Pitch App, TuneIn radio and milb.tv.