Abreu caps five-hit night with walk-off knock
Rockies outfielder belts homer, drives in three to lead Tourists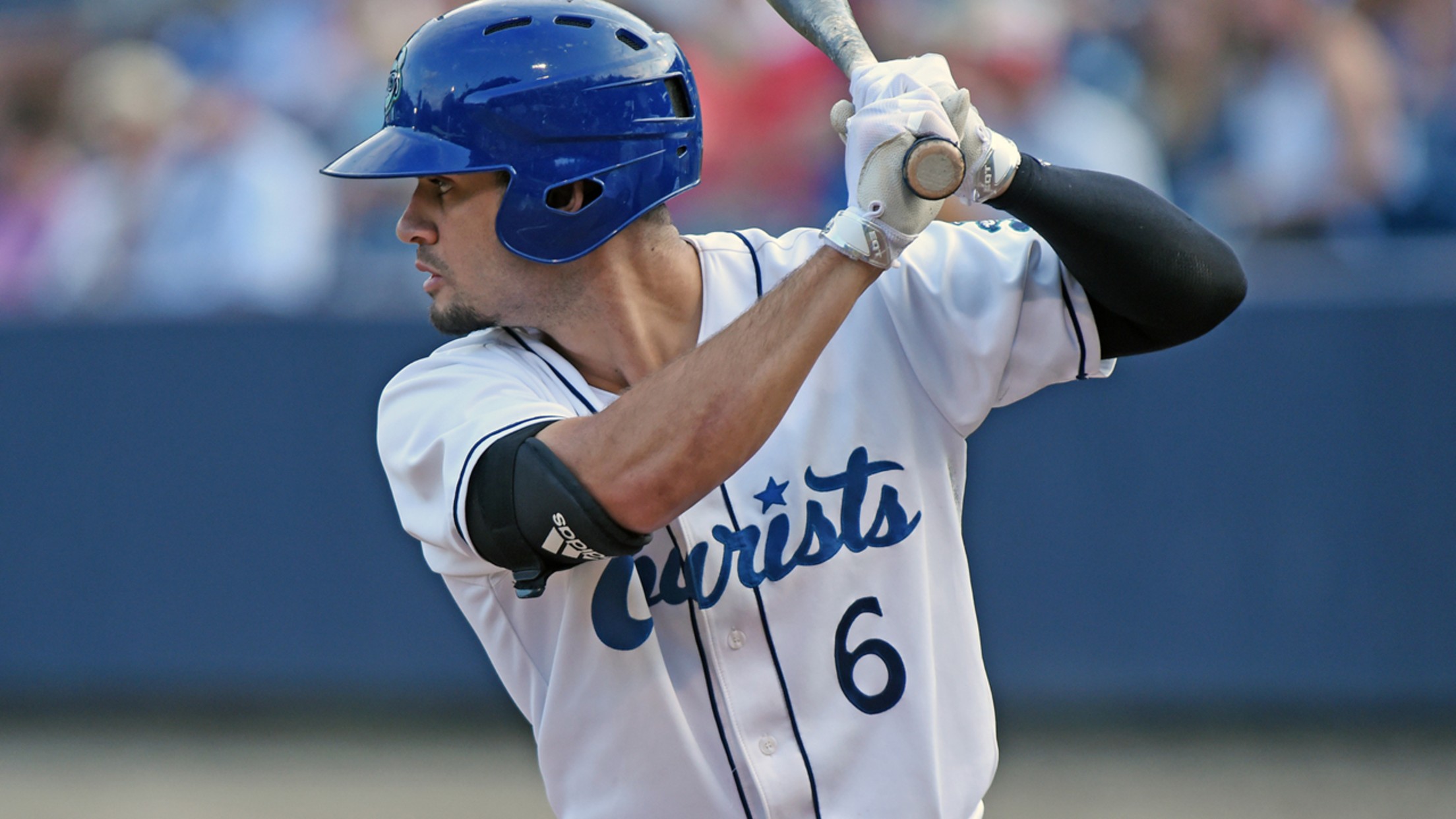 Willie Abreu's five-hit night bumped his August slash line to .402/.464/.667 through 21 games. (Brian McLeod/MiLB.com)
Willie Abreu's game Thursday night was already one of the highlights of his season from a personal standpoint. But his last hit ended up carrying all the significance.Abreu's two-out walk-off single in the bottom of the 10th inning capped his first five-hit game as a professional and led Class A
Willie Abreu's game Thursday night was already one of the highlights of his season from a personal standpoint. But his last hit ended up carrying all the significance.
Abreu's two-out walk-off single in the bottom of the 10th inning capped his first five-hit game as a professional and led Class A Asheville to a 9-8 win over Augusta at McCormick Field. The Rockies outfield prospect also scored four runs and drove in three more.
"Honestly, I was just trying to get the run in and do whatever's possible to get a win," said Abreu, who plated Jacob Bosiokovic with the winning run. "We've been having some big games as of late and they haven't been falling our way at the end. It felt good to get that win and get some momentum, especially here heading toward the end of the season."
Gameday box score
Prior to getting to play hero, Abreu was the engineer behind Asheville's 15-hit output. The 2016 sixth-round pick kicked his night off with a solo homer to center field in the first inning and doubled to center in the third ahead of an RBI triple to right by Colorado No. 17 prospectTyler Nevin. After beating out an infield single to third base in the fifth, Abreu added an RBI knock to left in the sixth.
The effort was Abreu's 11th multi-hit game in August, the continuation of a consistent offensive upswing as the season has progressed. The 22-year-old batted .240/.267/.400 in 25 June games, then followed with a .307/.351/.500 line in 22 contests in July. Thursday's performance pushed his August line through 21 games to .402/.464/.667.
Abreu said though the results have been dramatic in recent months, they've been in the works for much longer.
"It's been a lifetime of work," the 2016 sixth-round pick said. "Everybody sees the last two months, but it's been a long time that I've been working on my craft obviously. I take a lot of pride in it. Really, it's just not worrying about results. It's staying dedicated to my job and not getting too amped up because I don't get hits here, don't get hits there.
"Marv Foley and Norberto Martin, our supervisor and our hitting coach, we've been working a lot on just getting my swing where it needs to be, keeping my approach the same way and staying consistent throughout the season. It's been great, but honestly, all that really matters to me is winning ballgames."
The Tourists' victory marked the 28th time this season that Abreu has batted second, and the former Miami Hurricane has had his best success in that role. Abreu is a .362/.417/.586 hitter in the second spot in the lineup, better than his next-best line of .311/.367/.556 in 11 games as a No. 3 hitter. The 22-year-old doesn't pay those numbers much mind, though.
"It's strange, honestly, because I've never really worried about it," the Hialeah, Florida native said. "This is the first time I've actually thought about that. I'm never really worried about where I hit in the lineup. I've hit from first to last and anywhere in between, so I'm not really too mindful about that. Honestly just every time I go up to bat, I try to look for a good pitch and see what situation we're in to put my team in the best position to win ballgames. If there's somebody at second and third base, I know that's what really is my job, to drive in runs. That's exactly what I try to do."
The five-hit showing surpassed four-hit outings Abreu posted four times this season. He couldn't recall another game like it in his baseball life.
"I don't think I had one in college actually," he said with a laugh. "This might be my first one ever. Results are great, but just putting the barrel on the ball is what I look for. It's crazy, this might be the first time I got five hits. It's nice."
Though Asheville has gone 10-13 in August, six of those losses have been one-run decisions, giving the Tourists confidence in their finish to 2017.
"We all get along great, and we've just been doing everything we can to get wins however way possible," the 6-foot-4, 225-pound slugger said. "We played 17 innings the other day (in a 6-4 win at Rome on Aug. 15). That's the biggest thing, to see how much a team can fight when they're down at the end of games or in tied ballgames and get it done. That's the biggest thing, to care for each other and always pull for each other.
"As a ballclub in general, we've always known our potential. Since Spring Training, we've known we can make huge strides. Obviously, it's late in the year, but we still want to show that we've been working very hard, and it just happened to click a little later than usual."
• Get tickets to a Tourists game »
With a strong July and August, Abreu is thrilled to be heading toward the offseason on his highest notes of the year.
"Going into the offseason, you always want to end on a positive note and get to be in a spot where you want to continue to develop where you are and whatever you're working on," he said. "Then you have three or four months to work at it again and continue to get better. It's great to be able to surge at the end."
Tyler Maun is a contributor to MiLB.com. Follow him on Twitter @TylerMaun.