Abreu spearheads trio of Tourists homers
Rockies outfielder begins string of back-to-back-to-back jacks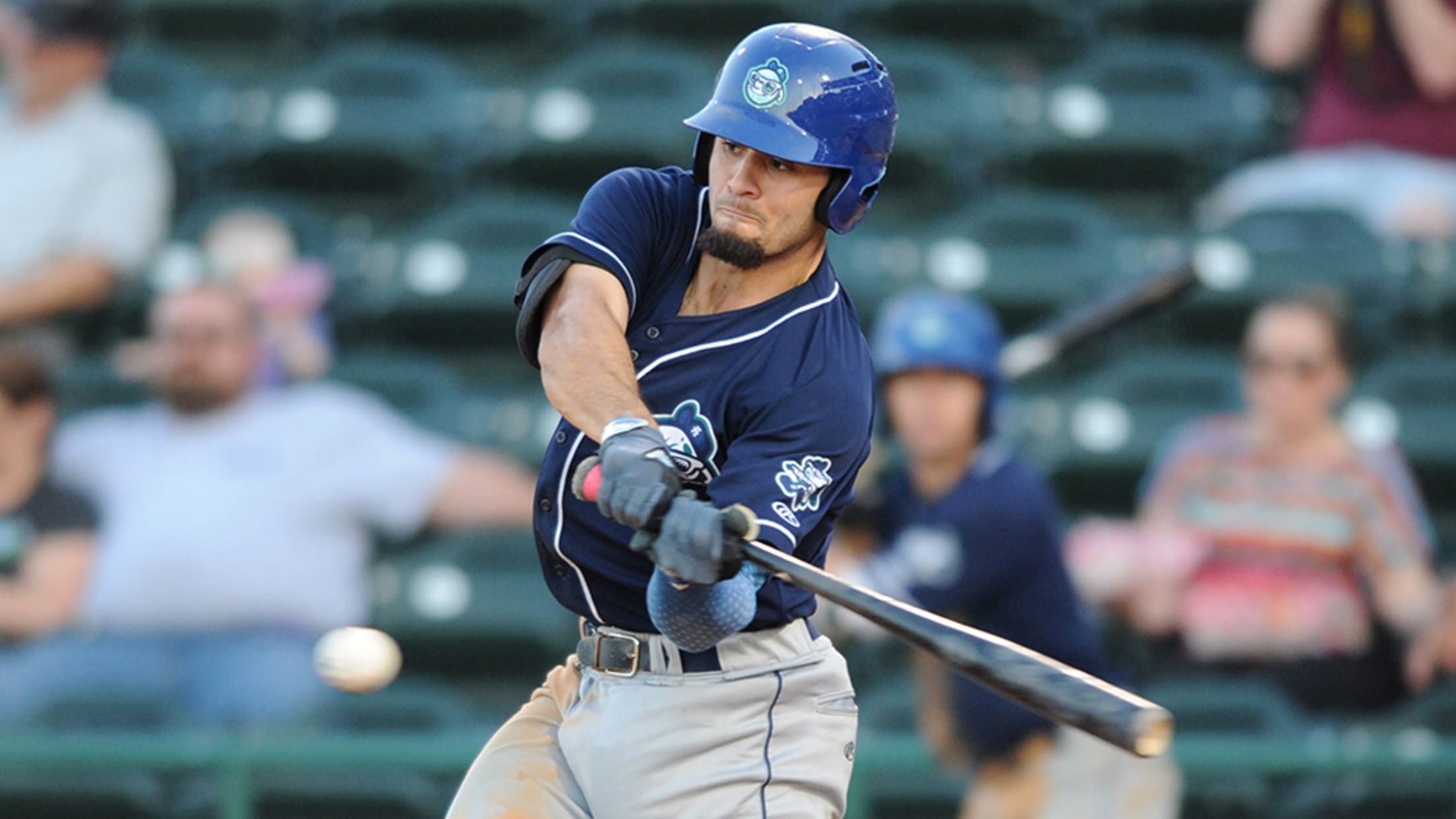 Willie Abreu is hitting .259 with 44 RBIs and 19 stolen bases in his first full-season campaign. (Tracy Proffitt/MiLB.com)
Willie Abreu, Bobby Wernes and Jacob Bosiokovic ignited a few early fireworks for Class A Asheville on Monday night. Although it might not have swayed the result, it created a buzz in what might have been an otherwise been a typical early-July South Atlantic League game.The Rockies prospects belted back-to-back-to-back
Willie Abreu, Bobby Wernes and Jacob Bosiokovic ignited a few early fireworks for Class A Asheville on Monday night. Although it might not have swayed the result, it created a buzz in what might have been an otherwise been a typical early-July South Atlantic League game.
The Rockies prospects belted back-to-back-to-back homers in the Tourists' 12-4 loss to the Greensboro Grasshoppers at First National Bank Field. At the time, the three long balls knotted the game at 3-3.
Gameday box score
The trio collected four of Asheville's five hits and Max George slugged a solo shot in the ninth to cap the team's scoring.
"It was something that was pretty cool. Still, it doesn't outweigh the loss," Abreu said. "You'd much rather have something like that take place during a win. That's the most important thing, but tying the game that inning was the main goal and the homers did that for us."
In the third frame, Abreu jumped on Greensboro starter Dustin Beggs' first-pitch fastball and pulled it over the wall in right-center field for his seventh homer. Wernes launched his second round-tripper of the season to left-center on the next pitch, and Bosiokovic worked the count to 3-1 before completing the trifecta with a blast to left for his seventh.
"In that situation, I'm looking for a good pitch to hit," Abreu said. "I'm trying to put the bat on the ball and get something going. I want to do anything to help us win. That's my main goal. Depending on the situation can dictate little things, but the main part is getting a good pitch and attacking. You want to jump on the pitch and not let it jump you. I got a good pitch, put a good swing on it and the rest is history.
"After Bobby went deep, it's only right that Bosiokovic swings for it too. He's one of the strongest men I've ever seen, so there's always a shot he goes yard. After we hit the second, we all knew he was going to get a big swing in there. I still don't think that blast has landed yet. It should have counted double, it was hit so far."
The game remained tied until the seventh when the Grasshoppers pulled away. Luis Pintor notched a grand slam and a double in the inning. The 22-year-old finished a triple shy of a cycle with a walk and a career-high five RBIs.
Still, Abreu was able to appreciate the feat he and his teammates accomplished.
"It was really cool," the Hialeah, Florida native said. "You talk and joke with teammates about going back-to-back, but it's pretty special to add another one on to it. It's fun. It's creating memories with guys you're with day in and day out, and it's special to have things like that to talk about. But again, the main goal is winning, so hopefully we bounce back tomorrow and get the win."
Kyle Keller (1-0) took over for Beggs to start the sixth and struck out four in three perfect innings for Greensboro.