Blue Rocks' Lynch rolls to scoreless outing
No. 3 Royals prospect allows four hits, fans six over six innings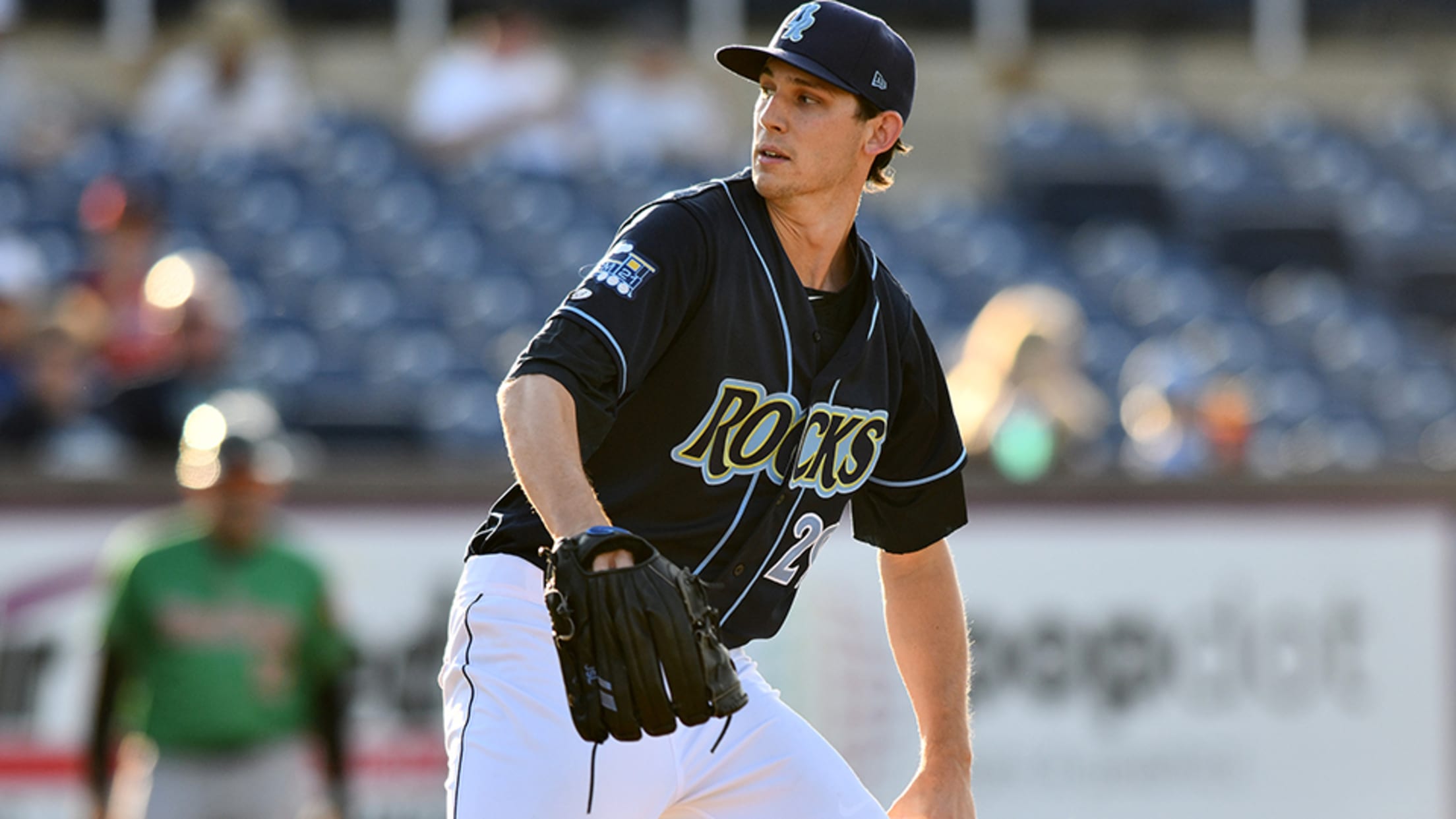 Daniel Lynch turned in his first scoreless outing since returning from his second injured list stint this season. (Ken Inness/MiLB.com)
Physically, Daniel Lynch felt as good as he's been in a long time Thursday.But mentally, at least early on, was a different story.Still, Kansas City's third-ranked prospect worked around four hits and a walk while whiffing six over six frames as Class A Advanced Wilmington blanked Lynchburg, 4-0, at Calvin
Physically, Daniel Lynch felt as good as he's been in a long time Thursday.
But mentally, at least early on, was a different story.
Still, Kansas City's third-ranked prospect worked around four hits and a walk while whiffing six over six frames as Class A Advanced Wilmington blanked Lynchburg, 4-0, at Calvin Falwell Field.
Gameday box score
"I felt really good, and that's the biggest thing for me right now -- feeling good," Lynch said. "I've been feeling good all week, not just grinding through to try to feel good for the game, and that's most important. But my head was not in the right place the first couple of innings. I think, maybe I was thinking too much, thinking about my mechanics, and it was causing me to fall behind early. But then I was able to lock in and it gave me the push that I needed."
The left-hander returned from his second injured list stint on Aug. 13, and after three straight quality outings, Lynch (5-2) posted his first shutout since coming back. Over 78 1/3 innings with the Blue Rocks this season, he sports a 3.10 ERA with 77 punchouts and 23 walks.
Against the Hillcats, the 22-year-old acknowledged the key to his success was not an orthodox one, and certainly not a method he will aim to lean on going forward. He allowed the leadoff batter to reach in four of his six innings on the hill -- including his final three frames -- but none of the runners were able to reach third.
"Letting guys get on base really helped me flip the switch," Lynch said. "You can't think about anything else when someone is on. You just focus on getting guys out. So I think that whenever [someone got on base], it allowed me to focus on just getting guys out and that got me where I needed to be."
Last year's No. 34 overall Draft selection recovered from a leadoff single by Steven Kwan in the opening frame by inducing a 6-4-3 double play off the bat of No. 4 Indians prospectTyler Freeman.
Lynch left baserunners stranded at first in the second and third, then yielded a leadoff double down the line in left field to Mitch Reeves. But Gavin Collins flied out to shallow right before 18th-ranked Will Benson and Jonathan Laureano struck out to end the frame.
"That was a huge confidence booster for me," Lynch said. "There was a guy on second with two outs and I got ahead 1-2 on the batter, and I feel like a lot of times I fall into the trap of forgetting that I have a good fastball. Especially with guys on base. But I went with my heater there and I got him out, and I walked off really happy to get that out with my fastball in a big situation."
Jodd Carter roped a leadoff two-bagger to left in the fifth, but MLB.com's No. 73 overall prospect recorded three straight outs to leave the runner stranded.
In the sixth, Lynch allowed a third consecutive leadoff hit -- a single into center by Freeman, who swiped second to put himself in scoring position. But Reeves went down swinging and Collins and Benson both grounded out.
"If you go back and look at the beginning of my season here, I had three starts that were OK but not great, and it took me a little bit to get into a groove," Lynch said, "So I'm not entirely sure that's what's going on for me again right now, but I definitely am getting more comfortable each time out, and I'm feeling good again."
Southpaw Josh Dye and righty Tad Ratliff completed the shutout. Dye allowed a walk and struck out one over two frames, while Ratliff whiffed one in a perfect ninth.
Ninth-ranked Royals prospect MJ Melendez put the Blue Rocks on the board with a solo dinger to right in the second. No. 15 prospect Brewer Hicklen finished with an RBI and Cristian Perez roped a two-RBI knock in the third.
Rob Terranova is a contributor to MiLB.com. Follow him on Twitter, @RobTnova24.