Woodpeckers Grounded in Doubleheader
Nationals complete Saturday Sweep with Walkoff Homer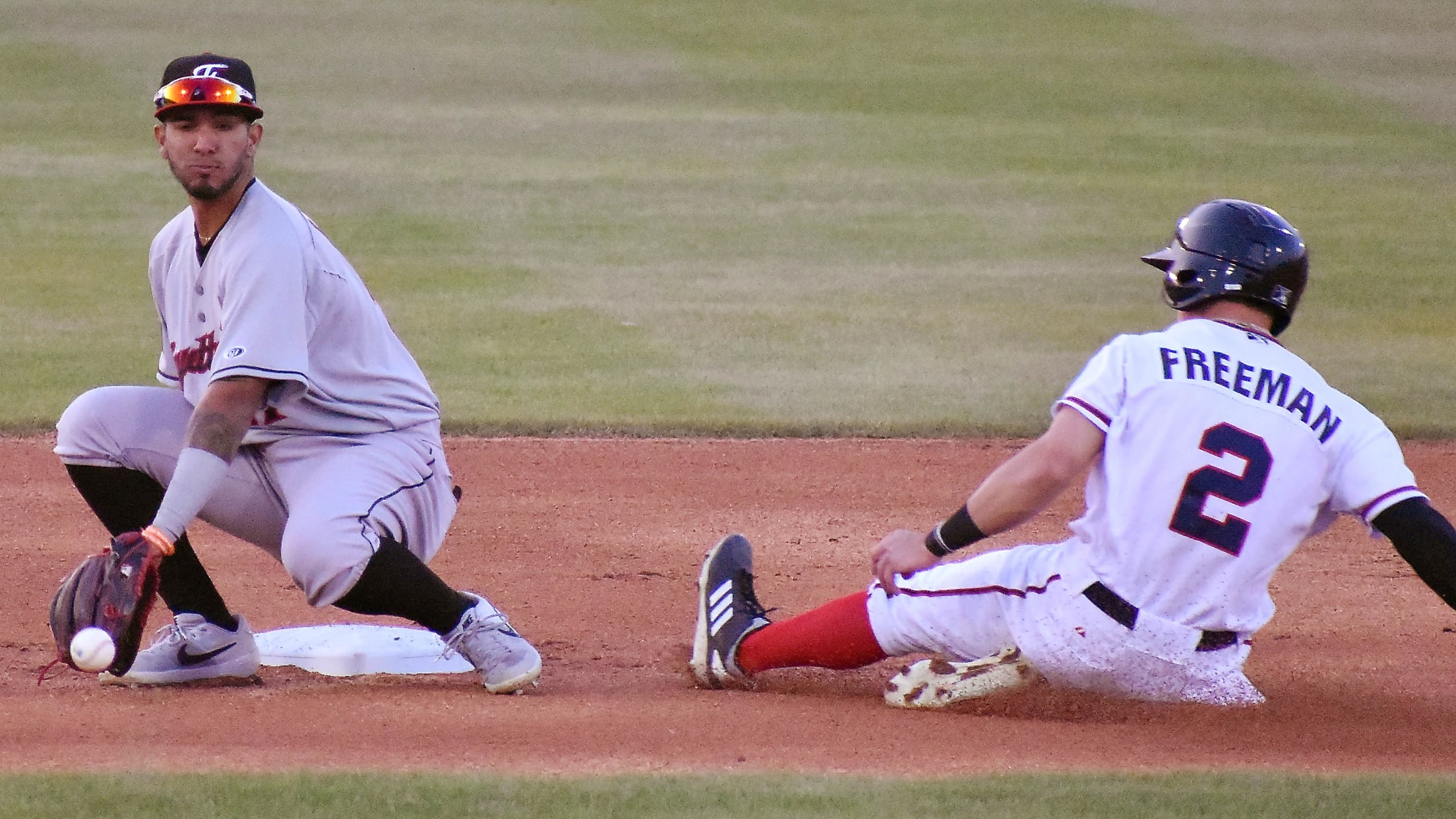 Fayetteville Woodpeckers shortstop Jonathan Arauz fields a throw from catcher Michael Papierski as Potomac baserunner Cole Freeman slides in safely during Thursday's game at Pfitzner Stadium in Woodbridge, Va. [Photo by Patrick Obley]
The Woodpeckers dropped both ends of their doubleheader on Saturday to the Potomac Nationals. Fayetteville was bested 5-1 in game one, and 5-3 in game two. Nationals catcher Alex Dunlap closed the night with a walkoff three-run home run with two outs. The loss drops the Woodpeckers to 1-2 on
The Woodpeckers dropped both ends of their doubleheader on Saturday to the Potomac Nationals. Fayetteville was bested 5-1 in game one, and 5-3 in game two. Nationals catcher Alex Dunlap closed the night with a walkoff three-run home run with two outs. The loss drops the Woodpeckers to 1-2 on the year, and they will attempt to salvage the series with game four tomorrow.
In the opening contest, Potomac struck quickly against starter JP France, tagging the right-hander for a couple of walks and pair of runs in the second inning, and another run in the third. Fayetteville had multiple opportunities to decrease the deficit, as they had a leadoff batter reach base in five of the game's seven innings, but only one would come around to score, when Miguelangel Sierra doubled to open the fifth inning and came around to score on a single by Seth Beer. Potomac pushed the game even further out of reach in the sixth, when they strung together a pair of walks and a pair of singles to score two more runs.
In game two, the Nationals looked to be off to a similar, fast, start, as they plated a pair of runs in the first three innings against Edgardo Sandoval, one unearned. While the Woodpeckers struggled early against lefty starter Grant Borne, things changed for the better in the fourth inning when Scott Manea shot a two-run home run just inside the left field foul pole to tie the game. Manea was a member of the Astros' trade to the New York Mets this January that sent JD Davis and Cody Bohanek to New York.
Entering the fifth inning, Yohan Ramirez took the mound for Fayetteville, and spun a scoreless fifth and sixth while dancing around four baserunners. The Woodpeckers aided the right-hander in his relief work by taking the lead in the top of the fifth. Cory Julks lasered a ball into right-center field and sped around the bases for a stand-up triple. Julks eventually scored on a sacrifice fly. Entering the bottom of the seventh inning, Ramirez allowed runners at first and third base with only one out, but he was able to win a six-pitch battle with Osvaldo Abreu of Potomac for his fifth strikeout of the evening.
With two outs in the frame, Tommy DeJuneas was summoned from the bullpen to try for the save. The first pitch delivered by DeJuneas to catcher Alex Dunlap was deposited beyond the left field wall as the Nationals dugout exploded in celebration.
Fayetteville and Potomac will play one final game in their four-game series, with first pitch slated for tomorrow at 1:05 PM. Chad Donato will start on the mound for Fayetteville.