Howard debuts in style with Gwinnett
2006 National League MVP reaches base four times, collects RBI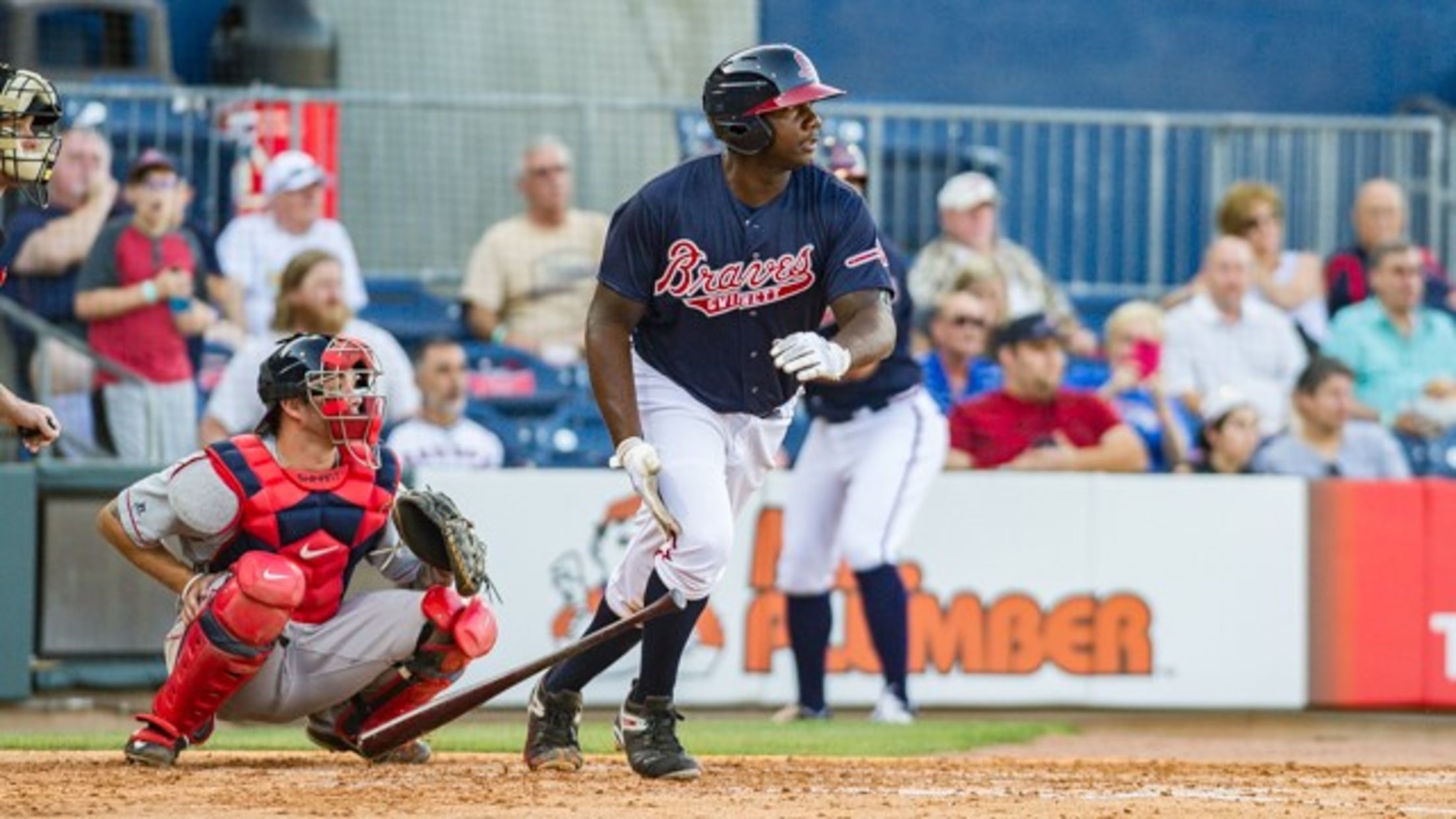 Ryan Howard finished in the top five in National League MVP voting four times. (Will Fagan/Gwinnett Braves)
The first page of what may be the final chapter of Ryan Howard's illustrious career was written Saturday night. Making his debut with Triple-A Gwinnett, Howard reached base four times and drove in a run in a 5-2 win over Pawtucket before 7,837 at CoolRay Field. 
The first page of what may be the final chapter of Ryan Howard's illustrious career was written Saturday night.
Making his debut with Triple-A Gwinnett, Howard reached base four times and drove in a run in a 5-2 win over Pawtucket before 7,837 at CoolRay Field.
Box score
Howard hasn't been a full-time Minor Leaguer since 2005 when he played 61 games for Triple-A Scranton/Wilkes-Barre. The St. Louis native made his Major League debut on Sept. 1, 2004, playing 13 seasons with the Phillies through 2016. In 1,572 games with Philadelphia, Howard hit .258 with 382 home runs and 1,194 RBIs.
He was named the 2005 National League Rookie of the Year after hitting .288 with 22 homers and 63 RBIs. The following season, Howard hit .313 and set career-highs with 58 homers and 149 RBIs in 159 games to capture the NL Most Valuable Player award.
Although he hit just .196 last year, the Missouri State product tied Maikel Franco for the Phillies' lead with 25 homers in 112 games. The Braves signed Howard to a Minor League deal on April 6.
"It's baseball," Howard told the Gwinnett Daily Post. "I'm just going to have fun and try to help these guys win games. I was down in extended (spring) training about 10 days … my body's responding well. I was good last year, so it's just continuing to play."
Serving as the designated hitter Saturday, Howard made his presence felt in the opening inning by lacing a single to center field off Marcus Walden (0-2) to score Braves top prospect Ozzie Albies with the game's first run.
"Anytime you can get guys on, it puts pressure on the (opposing) pitcher and on the defense," Howard told the newspaper. "We just did a good job. I think the entire lineup all the way through made [Pawtucket pitchers] throw pitches."
The three-time Major League All-Star fouled off the first two pitches he saw in the third before singling to center again.
Howard reached base the hard way in the fifth when he was hit by a pitch from reliever Edgar Olmos. The 37-year-old didn't get the chance to swing the bat in his final trip to the plate as the Red Sox intentionally walked the 2006 Silver Slugger award winner.
Albies, ranked eighth overall by MLB.com, had a single, double, a walk and scored twice. Matt Tuiasosopo plated four runs for Gwinnett.
Jason Hursh (2-0) surrendered a run on three hits and struck out three in 2 1/3 innings of relief for the win. Jason Motte struck out the side in the ninth for his second save in as many games.
No. 3 Red Sox prospectSam Travis collected two hits and scored a run.
Michael Leboff is a contributor to MiLB.com.