SAL notes: Yanks' Wagner aided by adjustments
Charleston first baseman on a tear after advice from new coach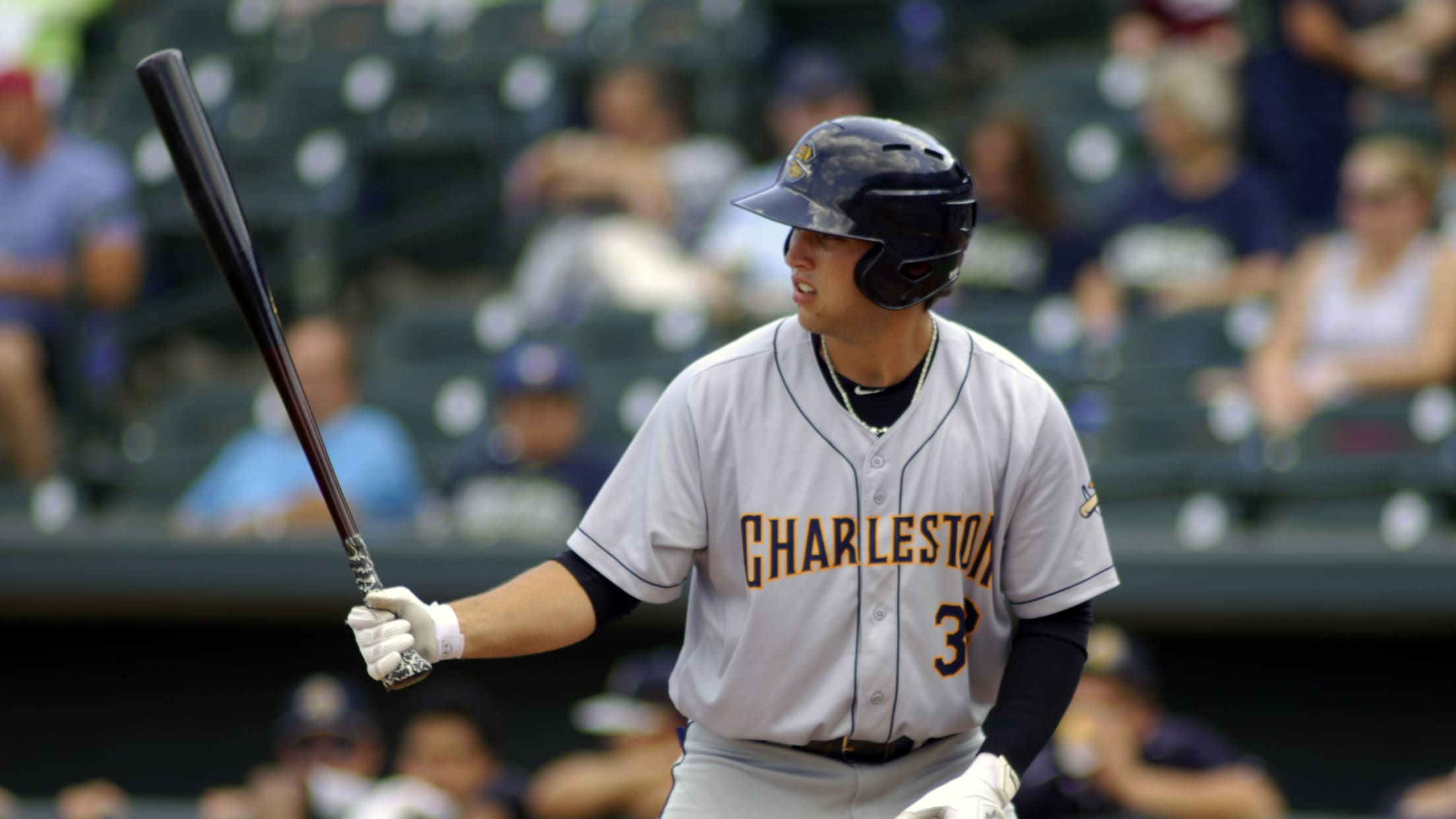 A sixth-round pick in 2015, Brandon Wagner batted .353 with five homers and 21 RBIs in July. (Lianna Holub/MiLB.com)
Brandon Wagner took the road less traveled to pro ball, even when easier and shorter routes were available.Drafted by the Phillies in the 39th round of the 2013 Draft, the New Jersey native always dreamed of playing professionally. But Wagner realized the timing was not right.He looked for an alternative
Brandon Wagner took the road less traveled to pro ball, even when easier and shorter routes were available.
Drafted by the Phillies in the 39th round of the 2013 Draft, the New Jersey native always dreamed of playing professionally. But Wagner realized the timing was not right.
He looked for an alternative instead, and found one at Howard Junior College in Big Spring, Texas.
"Howard was one of the few junior college options I had," the 21-year-old said. "There was a showcase in Florida, and they saw me play down there. [Howard] is known for taking guys from Jersey. I started talking to the coaches and went to Texas for a visit. I loved the coaches and realized that was the place for me, even though it was a little bit of culture shock, going from Jersey to the middle of nowhere in Texas."
Wagner's decision proved to be the right one. He spent two years at Howard, being named Western Junior College Athletic Conference MVP as a second baseman during his sophomore season in 2015. One of the youngest Draft-eligible college players at just 19 years old, Wagner displayed a simple and smooth swing from the left side with solid plate discipline.
His decision paid off in the end -- the Yankees, who play just a little over 60 miles from his hometown of Princeton, selected Wagner in the sixth round of the 2015 Draft.
"It was always my dream to play professional baseball," Wagner said. "Even though it was the 39th round, it's hard to turn down the chance to play pro ball coming out of high school. I made the decision to go to Howard after talking with my family. I worked really hard on every part of my game with the coaches at Howard for two years. Physically, I got a lot stronger. Now it's a dream to be playing for the Yankees."
Assigned to Class A Short Season Staten Island, Wagner hit .228/.347/.364 with four home runs and 18 RBIs in 52 games, splitting time between second and third base.
He moved to first base in the Gulf Coast League the next year, hitting .283/.367/.509 with five homers and 17 RBIs in 29 games. Wagner concluded the season with Rookie-level Pulaski in the Appalachian League and batted .247/.371/.420 with three round-trippers alongside seven RBIs in 25 outings.
Promoted to the South Atlantic League to open 2016, Wagner had a solid but unspectacular first half in Charleston, batting .270 with two home runs and 19 RBIs in 56 games.
The Yankees, meanwhile, made a coaching change during the All-Star break that would benefit Wagner -- they brought in Ty Hawkins as the RiverDogs' hitting coach.
Hawkins made some suggestions to Wagner regarding his approach, and the results were immediate. Wagner took the coach's advice to focus on mechanical adjustments during practice and simply "see the ball, hit the ball" during games, which resulted in his barreling pitches back up the middle. He proceeded to earn SAL Player of the Week honors for July 10-16 and wound up tied for second in the league with 21 RBIs in July while ranking third with a .353 batting average.
"I wasn't very consistent until I got into a routine by working with Ty," he said. "I've been taking deliberate swings in the cage and not worrying about mechanics during the game. That's something Ty has stressed a lot. Compete in the game and worry about the mechanics in the cage. It makes things a little bit easier."
Wagner also gives credit to teammates Isiah Gilliam, Donny Sands and several others for getting on base ahead of him and forcing pitchers to throw more fastballs. As a result, Charleston not only resides in first place in the Southern Division, the RiverDogs also lead the SAL with a team batting average of .266 and rank second with a 3.18 ERA.
"We're coming together as a team really well," Wagner said. "Our pitchers are dominant every game, and it's easy as an offense when the other team only scores two runs a game. Our defense is playing well; it's just a fun team to be around. This year has been a little bit of a learning experience for me, especially being part of a full-season team. But I'm excited about the progress I've made and I'm looking forward to seeing what this team can accomplish for the rest of the season."

In brief
Blazing Bosiokovic:
Asheville left fielder/first baseman
Jacob Bosiokovic
doubled his RBI output on the season during July while nearly accomplishing the same feat in home runs. The Ohio State product hit six homers and drove in 21 runs during the month to give him 13 and 40, respectively, on the campaign. Bosiokovic also raised his batting average 22 points, to .255, while producing a July slash line of .287/.337/.574.
Cody towering on the bump:
Hickory's
Kyle Cody
also was sad to see July come to a close. The 6-foot-7, 245-pound righty posted a 3-0 record with a 0.59 ERA in five starts during the month, allowing only 16 hits and two earned runs in 30 2/3 innings. He also fanned 41 batters and limited opponents to a .152 batting average. Cody's performance improved his overall record to 6-6 with a 2.83 ERA, which ranks sixth in the SAL.
Bullpen monster:
Greensboro's
Michael Mertz
has turned heads this season while dominating on the mound. The right-hander owns a 7-1 record with a 1.93 ERA in 31 outings, allowing only 35 hits in 56 innings while striking out 66 batters. He also has picked up wins in each of his last three appearances, during which he allowed three hits and two walks with 12 strikeouts over 9 1/3 shutout frames.
Bill Ballew is a contributor to MiLB.com