Yankees' Nelson allows one hit in fifth win
Tampa right-hander, 22, strikes out five over six scoreless innings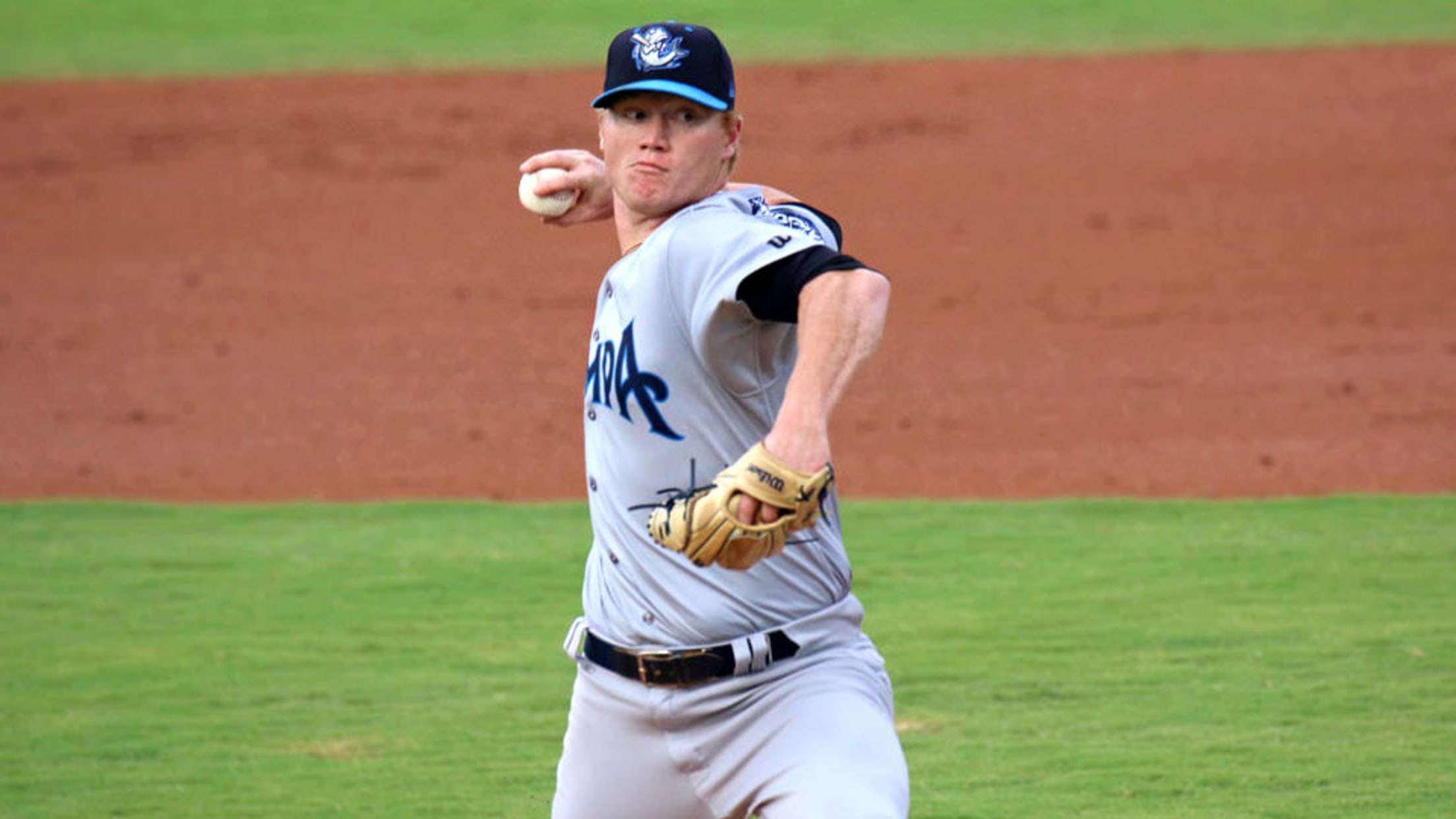 Nick Nelson has allowed one earned run in his last four starts for Class A Advanced Tampa. (Joshua Tjiong/MiLB.com)
It's been night and day for Nick Nelson this summer.The Yankees' No. 24 prospect allowed one hit over six scoreless innings for his fifth win as Tampa topped Jupiter, 5-1, on Thursday afternoon.Nelson, a 22-year-old right-hander from Florida, held the host Hammerheads to a single and four walks while striking
It's been night and day for Nick Nelson this summer.
The Yankees' No. 24 prospect allowed one hit over six scoreless innings for his fifth win as Tampa topped Jupiter, 5-1, on Thursday afternoon.
Nelson, a 22-year-old right-hander from Florida, held the host Hammerheads to a single and four walks while striking out five. He improved to 5-2 and lowered his ERA to 2.79, throwing 50 of his 89 pitches for strikes.
"I felt pretty good," he said. "Rough first inning. I think I let my adrenaline get the best of me, but once I settled down, I was back in the zone more making better pitches. Got ahead on the fastball and got quick outs."
Sunshine in the Sunshine State has been a friend to Nelson so far this summer, whether he's realized it or not: in night games, the 22-year-old is 2-2 with a 4.04 ERA in 35 innings. He entered Thursday's start with a 0.81 ERA in four day games over 22 1/3 frames and lowered that mark to 0.63 with his latest effort.
"I did not know that, I really didn't think about that," he laughed when told his numbers. "I dunno. I don't have an explanation, but it's kind of cool."
Nelson worked around three walks in the first inning before settling in and throwing a flawless second. Jupiter picked up its lone hit off Nelson in the fourth when Roy Morales lined a single to right with one out before Nelson induced an inning-ending double play from Jhonny Santos.
He said he tried to place himself into a better mindset after the rocky first.
"I just refocused in the dugout. I was trying to do too much in the first," he said. "I just thought back to previous outings, to what I thought when I was going good and tried to get into that state of mind."
It worked. The righty pitched a 1-2-3 fifth and struck out two in the sixth to wrap up his afternoon. Kaleb Ort and Greg Weissert pitched the final three frames, allowing a run and four hits combined, to finish the win for Tampa.
Nelson, who has logged a season-high seven frames on two occasions this year, said he could have kept going.
"I definitely had a lot left in the tank," he said. "I wanted to get back out there for the seventh, but the manager came out an told me I was done. I could have gone out for the seventh."
Nelson has turned in consecutive starts of six scoreless innings and has allowed just one earned run in his last four outings, collecting three wins along the way, since June 24.
Box score: Yankees 5, Hammerheads 1
Nelson signed with the Yankees in 2016 after committing to the University of Florida -- New York drafted him in the fourth round that year, two years after the Giants selected him in the 31st round. Nelson bypassed San Francisco and instead spent two seasons at Gulf Coast Community College. He was the 128th selection in 2016 and went 3-12 with a 4.56 ERA in 22 starts last year with Class A Charleston. He began this season with the RiverDogs, going 1-1 with a 3.65 ERA in five outings before New York promoted him to Tampa on May 5.
After enduring a dozen losses last season, the righty said he's soaking in the success this year.
"It feels really good," he said. "Thankfully my defense and my hitters have my back each outing. I'm getting the confidence going into my next outing. [Today] was a big confidence-boosting outing going into next one knowing how good my stuff is."
Nelson said he's focused this year on reducing walks and controlling his changeup, even on days (or nights) when he doesn't have his best.
"Limiting walks and attacking the zone," he said when asked of his goals. "Staying in the lanes with my fastball and just locating the fastball and working on my changeup, mixing that in.. I'm working on that a lot. I'm just learning how to pitch when I don't have my best stuff and it's a cool feeling."
The Tarpons (47-43) pulled ahead in the first when Diego Castillo scored on a sacrifice fly from Isiah Gilliam and Dom Thompson-Williams followed with an RBI single up the middle. Gilliam homered in the third, his 11th of the year, and Tampa tacked on two more in the fifth on a sac fly from Castillo and another run-scoring single from Thompson-Williams.
Cody Poteet, a 23-year-old righty from UCLA, allowed five runs -- three earned -- on six hits and a pair of walks over five innings to fall to 0-2 for Jupiter. The 2015 fourth-round pick, who was demoted from Double-A Jacksonville on July 4, walked two and struck out six in the loss.