Yankees Prospect Primer: Bring on the Bronx
Torres, Andujar aiming to help New York club compete in 2018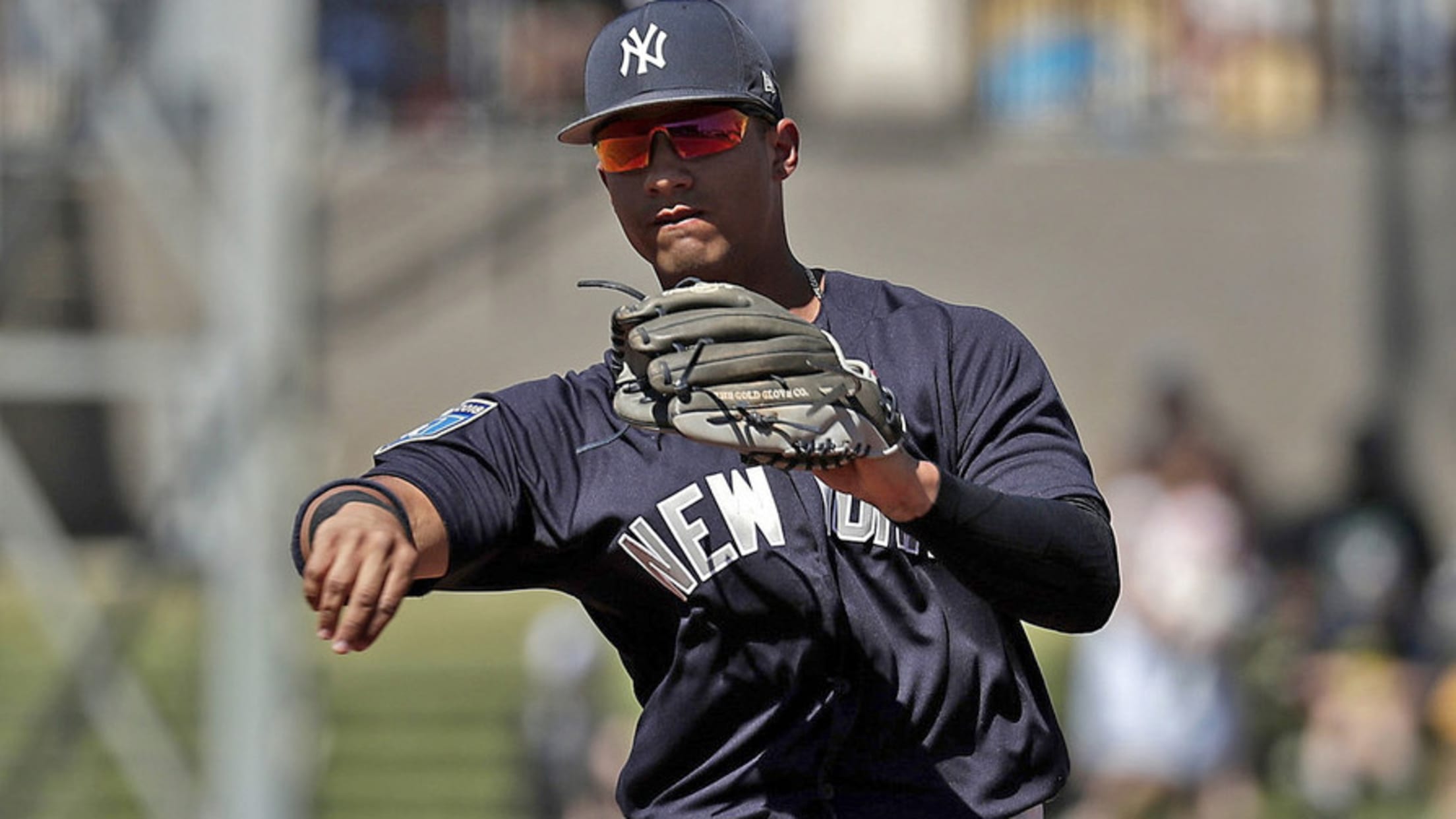 Gleyber Torres will continue to get looks at multiple infield spots upon his return to Triple-A next week. (John Raoux/AP)
Some players are on the verge of stardom, others are entering a crucial phase of their development and still others are getting their first tastes of full-season ball. With the 2018 season approaching, MiLB.com takes a look at the most intriguing prospects from each MLB organization.Back and healthy: Gleyber Torres,
Some players are on the verge of stardom, others are entering a crucial phase of their development and still others are getting their first tastes of full-season ball. With the 2018 season approaching, MiLB.com takes a look at the most intriguing prospects from each MLB organization.
Back and healthy: Gleyber Torres, INF
With the arrival of National League MVP Giancarlo Stanton bringing new life to a clubhouse that was already close to a World Series last fall, there was a push to get as much talent to the Bronx as possible, and that push included the thought that MLB.com'sNo. 5 overall prospectcould be ready for his first Major League look. It helped that the Yankees entered the spring with some holes in their infield.
But there was one issue that often got overlooked, Torres was coming off Tommy John surgery on his left elbow and hadn't played since last June.
He entered spring healthy but rusty, and it showed as he went 7-for-32 (.219) with 10 strikeouts in 13 Grapefruit League games. Torres spoke of needing time to find his rhythm, and New York manager Aaron Boone wasn't worried, saying the right-handed slugger made solid contact that didn't find holes in a small spring sample. Regardless, the Yankees acquired infielder Brandon Drury on Feb. 20 to play either third base or second and added Neil Walker a couple weeks later to man second and maybe first.
So Torres heads back to Triple-A Scranton/Wilkes-Barre, where he hit .309/.406/.457 in 23 games last season before the freak elbow injury. A more stacked depth chart will allow the 21-year-old more time at the Minors' highest level, time he likely needed to complete his development. When he's on, Torres has the chance to be a plus-plus hitter with above-average power, especially for a middle infielder.
With some of that rust shaken off, he should be able to show off those offensive skills pretty quickly back in the International League. The bigger question may be where he fits defensively. The Yankees started getting Torres -- a natural shortstop -- time at second and third last season to get him out of Didi Gregorius' shadow. While Walker and Drury don't present big roadblocks, their healthy presences don't guarantee Torres an opening at either of those spots either. The Yankees are willing to keep all avenues open with their top prospect until injury or lack of production provides an opening for his debut some point this summer.
"A lot of it depends on the dynamics of the roster," New York director of player development Kevin Reese said. "We've had situations in the past with players that are trying to split time at different positions. I think there's still the possibility that he could play multiple positions at the Major League level, so my personal feeling is that it's important for him to play a little bit here, a little bit there, whether that's short, third and second. But I'm guessing that'll be a split that leans more heavily toward second at this time."
Major League-ready: Miguel Andújar, 3B
Unlike Torres, there was a time when Andujar looked like he could win the third-base job outright on spring performance alone. MLB.com's No. 65 overall prospect, who played five games with the Yankees last season, hit four homers over his first five games of the spring, looking every bit the slugger who collected 54 extra-base hits in the Minors in 2017. But he didn't go deep again the rest of the way, finishing with a .267/.306/.622 line in 15 games before he was optioned to Scranton/Wilkes-Barre on March 18.
That said, there's little doubt Andujar's bat isn't ready for a longer look in "The Show." The 23-year-old produced a .315/.352/.498 line with a career-high 16 homers at Scranton/Wilkes-Barre and Double-A Trenton in 2017. His 132 wRC+ ranked 36th among the 283 Minor Leaguers with at least 500 plate appearances last season. (Willie Calhoun was just a touch above him at 133.) He made a good amount of contact too, striking out in just 13.6 percent of his plate appearances -- a number low for a traditional slugger.
But it wasn't the bat that kept the Yankees from just making Andujar their Opening Day third baseman. New York maintained it wanted him to improve defensively at the hot corner, particularly when it came to smoothness at the position. Andujar has a plus-plus arm, but some other issues keep him from being a true defensive asset at third. There have been reports he'll get some time at first back at Triple-A, welcome news following Greg Bird's latest ankle injury. But the organization is still high on Andujar's chances of improving enough at third to hold down the position long term.
"I think he made a lot of adjustments," Reese said. "Over the second half last year, we saw his defense get a lot better. He got a lot more confident. I don't think it's a matter of ability on any of it. He has range. He, at times, would get unsure about his throwing and footwork, so he might approach balls differently and might not end up securing the ball because he was thinking too much about making a good throw or just not making a bad one which can creep into your head. A lot of that stuff got addressed last year. I don't see it being an issue, and hopefully I'm right."
Shining star: Estevan Florial, OF
Torres might be the most solid all-around prospect in the Yankees system. Andujar might be the most powerful when it's all said and done. Right now, there's a case to be made that Florial is the toolsiest.
The outfielder saw his stock soar in 2017 as he hit .298/.372/.479 with 13 homers and 23 steals in 110 games at Class A Charleston and Class A Advanced Tampa. The Yankees liked enough of what they saw to bump him up to Trenton in time for the Eastern League playoffs and to get him time in the Arizona Fall League. MLB.com liked enough to make Florial, who began 2017 as New York's No. 17 prospect, its No. 44 overall prospect entering this season. The 20-year-old has earned a plus-plus grade for his raw speed and earns similarly high marks for his glove and arm in center field. His power should continue to be above-average.
The main issue right now is making enough contact to tap into that offensive potential. Florial fanned 148 times last season for a strikeout rate of 31.1 percent. A big part of that came from struggles with pitch recognition. The Yankees have been able to swallow big K issues before with the likes of Aaron Judge, but the reigning AL MVP runner-up makes up for it with one of the game's biggest power tools. Florial could get more offensive value out of his speed if he's able to put the ball into play more, and while the Yankees don't want to change too much about their No. 2 prospect, rounding out his toolsy profile will be a point of emphasis likely beginning back at Tampa in 2018.
"There are guys that have a crazy chase issue, and that's not him," Reese said. "He can get deep into a count, and I think there were times where he could have been more aggressive on hittable pitches earlier in counts. That could artificially cut down on strikeouts. But there were also times when he got later into a count and should have shortened up or made an adjustment to put the ball in play more. It's a delicate balance. We love his ability to impact the ball and his power potential, so we'll have to continue to monitor that process."
At the crossroads: Dillon Tate, RHP
Crossroads don't have to be a bad thing. Tate wasn't looking like the 2015 fourth overall pick when he came over to the Yankees at the deadline in 2016 because of some delivery changes he underwent in the Texas system. In his first full season in pinstripes, he showed much more promise with a plus fastball and above-average slider. He finished with a 2.81 ERA, a 1.14 WHIP, 63 strikeouts and 24 walks in 83 1/3 innings. Though the strikeout numbers weren't high, it was an impressive return to form in both stuff and stats in 2017, and Tate earned a non-roster invite to Major League camp this spring.
But here's where the crossroads come in. Tate still has yet to top 85 innings in a Minor League season. A shoulder issue kept him from making his debut until June 20 last season, and hamstring issues limited him the year before that. If the 23-year-old right-hander experiences health issues again in 2018, the Yankees could decide he's best suited for the bullpen, where he pitched each of his first two seasons at UC Santa Barbara. They may decide to do that anyway if he continues to struggle missing bats over long stretches while still showing stuff that could be better in smaller stints.
At the least, it's easier to see a Major League future for Tate than it was 12 months ago. But exactly what type of future that will be has yet to be determined. The Yankees are excited to find out.
"I think it was well documented that he was drafted as a certain type of player, and Texas tried to change some things with his delivery," Reese said. "What we saw from a scouting perspective was some of his athleticism had been taken away. When we brought him in, we said, 'Be you.' All of a sudden, the stuff ticked up again. It took him some time to get comfortable with that again, but the stuff is starting to look like the stuff that got him drafted. His changeup's really good. He's got a lot of arm strength. His fastball-change plays really well, and we've had reports with a good slider. I think that's less consistent than the changeup, but if we can get it where it can be, the sky's the limit with him."
Full-season debutant: Jonathan Loaisiga, RHP
It won't exactly be a debut with a full-season team for the Yankees No. 14 prospect. Loaisiga made one start for Charleston in 2016. It's more the expected fullness of the season to come that makes it feel like a debut for the 23-year-old right-hander.
Loaisiga, who was released by the Giants in 2015 and signed by the Yankees the following year, underwent Tommy John surgery after that lone start for the RiverDogs. He tossed 32 2/3 innings between the Gulf Coast and New York-Penn Leagues last season following his recovery and dominated, posting a 1.38 ERA and a 0.61 WHIP with 33 strikeouts and only three walks in that span. He showed a mid-90s fastball capable of even more gas and an above-average curveball to go with that special control. As such, the Yankees put him on their 40-man roster to protect him from last winter's Rule 5 Draft.
As special as he can be, Loaisiga still hasn't thrown more than 68 2/3 innings in a Minor League season, and that was in 2013 with the Giants' Dominican Summer League affiliate. Now fully healthy, he'll be given a much fuller load, likely starting in Charleston. If he can maintain his stuff from April through September, he could have as much fuel as any pitching prospect in the New York system.


More to keep an eye on: As set as the Yankees rotation may be, No. 3 prospect Justus Sheffield and sixth-ranked Chance Adams could push their way to the Bronx this summer. Sheffield showed improved stuff in the Fall League, including some added velocity that carried over to the spring. Adams posted a 2.89 ERA and a 1.08 WHIP in 115 1/3 Triple-A innings last season and won't have much else to prove from a performance standpoint back in the International League. ... No. 8 Freicer Perez could become the next big arm in the system. He's already got a plus-plus fastball that sits in the upper-90s, and at 6-foot-8, the right-hander looks the part of a dominant starter. He set a good full-season foundation at Charleston in 2017, and if he can continue to develop his curve and change in Tampa, he'll be more than a Top-100 candidate by season's end. ... The Yankees had high hopes for No. 74 overall prospect Albert Abreu coming off his own AFL campaign, but appendix surgery will likely push his 2018 debut back deeper into the summer. ... No. 19 prospect Billy McKinney hit 10 homers and produced an .877 OPS in 55 Triple-A games last season and was told to work on first-base duties in the AFL. The Yankees liked enough of what they saw to add him to the 40-man, and after a powerful spring (five homers in 22 games), he could be an outfield or first-base depth option for his third Major League organization.
Predictions:
Most home runs in the system: Mike Ford
Most stolen bases: Florial
Most strikeouts: Perez
Current prospect to get most Major League playing time: Andujar
Non-Top 100 prospect to end 2018 in the Top 100: Perez
Sam Dykstra is a reporter for MiLB.com. Follow and interact with him on Twitter, @SamDykstraMiLB.