Ramirez fans season-high 10 for Thunder
Yanks righty allows two hits in five frames in team's eighth shutout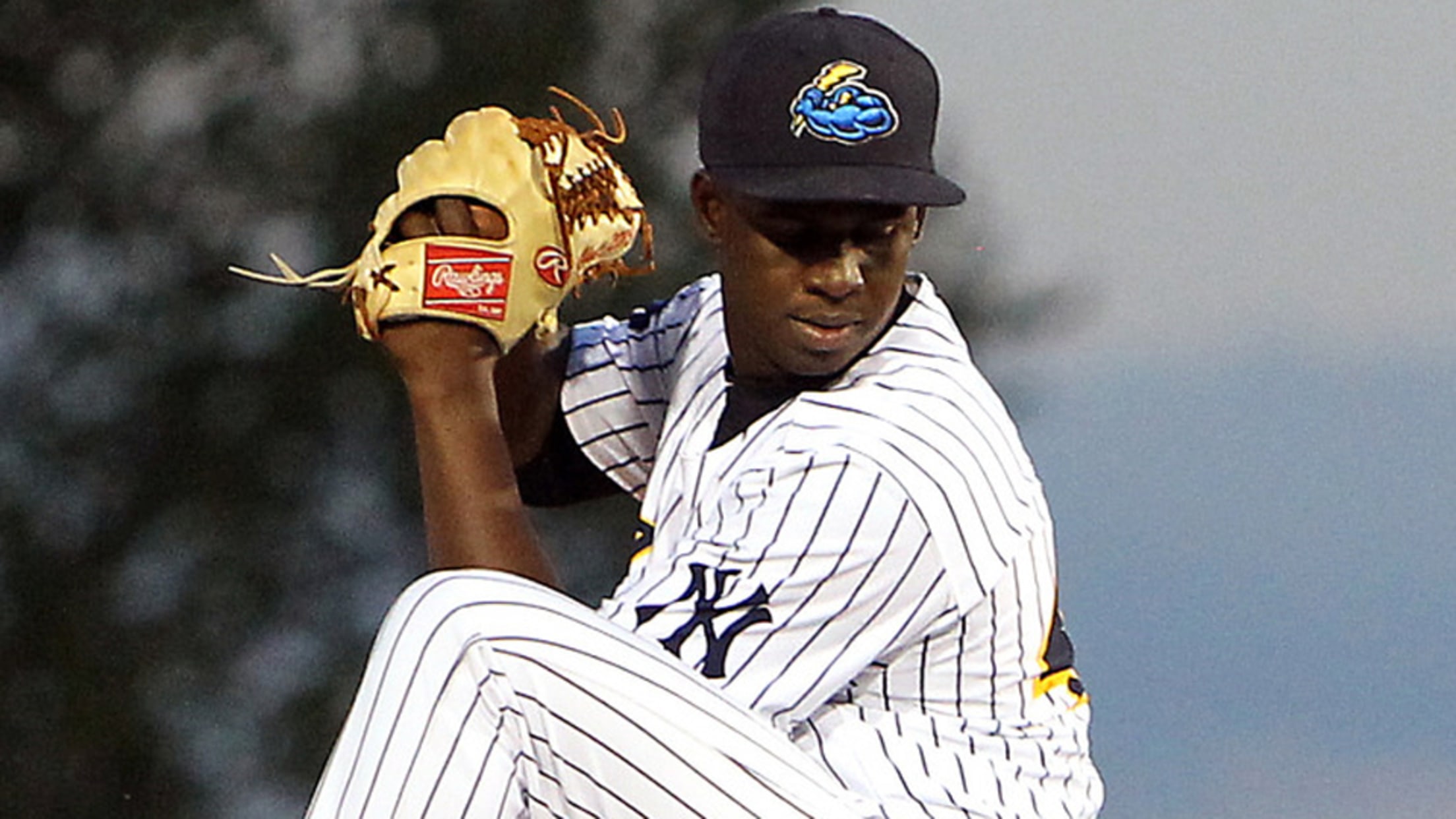 Yefry Ramirez has a 3.38 ERA with 34 punchouts in 32 innings with the Thunder this season. (Rudy C. Jones/MiLB.com)
Not even a month-and-a-half into the season, the Double-A Trenton Thunder pitching staff has racked up eight shutouts. On Tuesday, Yefry Ramírez set the pace for the latest blanking.The right-handed Yankees prospect struck out a season-high 10 while allowing two hits over five innings as Trenton blanked Akron, 8-0, on
Not even a month-and-a-half into the season, the Double-A Trenton Thunder pitching staff has racked up eight shutouts. On Tuesday, Yefry Ramírez set the pace for the latest blanking.
The right-handed Yankees prospect struck out a season-high 10 while allowing two hits over five innings as Trenton blanked Akron, 8-0, on Tuesday at Canal Park. The Thunder stand atop the Eastern League in shutouts after topping the circuit last season with 15.
Box score
"We have good talent," Trenton pitching coach Jose Rosado said. "Our system's been doing a great job keeping guys healthy and the talent is there and the catchers are [important]. It's a team effort all around."
According to Rosado, the Thunder have focused on simplifying the process for their hurlers, so they can concentrate on hitting the strike zone.
"It's gonna happen, you're going to make good pitches and you're going to give up hits, doubles, homers, but it's how you slow the game down and just focus on the next pitch, and that's exactly what he did," he said. "It was fun to see him pitch and be able to be aggressive early in the game."
Ramirez (4-0) worked in and out of trouble in the first and fourth frames. The 23-year-old allowed a leadoff double to No. 18 Indians prospectTyler Krieger and plunked Mike Papi in the first, but induced a popout from fourth-ranked Bobby Bradley and fanned Dorssys Paulino looking. In the fourth, Papi's leadoff double and walks to Paulino and Joe Sever loaded the base, but Eric Stamets went down swinging.
"He was in a tough situation, runners on base, nobody out, but he was able to focus one pitch at a time and he made good pitches after," Rosado said. "And that's part of being a pitcher, be able to make good pitches when you need to and he did. So it's a plus for him."
In the third and the fifth, Ramirez struck out the side swinging. It marked the second time the Dominican Republic native reached double-digit punchouts and the first since he fanned 11 for Class A Advanced Tampa on June 30.
"His fastball was having good action to his glove side, but his slider was working too, so it's a good mix," Rosado said. "They weren't looking for fastball all the time and they weren't looking for the slider all the time because he was able to throw that pitch for a strike, early and behind the count. So it gives him an advantage to be able to be aggressive with either pitch and to be able to collect some swings-and-misses."
Righty reliever Travis Hissong allowed one hit and two walks while fanning two in three frames, and Cale Coshow closed out the game by working around a hit in the ninth.
Trenton has backed its pitching staff with 140 runs, third-best in the league. New York's No. 9 prospectMiguel Andújar plated three runs and Thairo Estrada lofted a solo shot in the eighth Tuesday.
"As a pitcher, you have to take advantage of that and just go out there and continue to make one pitch at a time and focus like the game is tied at zero," Rosaro said. "So that's our focus, to pitch like the game is tied and be aggressive from the first pitch in each inning."
Gleyber Torres collected two singles, a walk, two runs scored and two stolen bases. The Yankees' top prospect raised his average to .293.
"Gleyber is doing a great job. It's always a plus to have young talent like him and all the guys on this team," the coach said. "So it's always good to have some offense behind you."
Kelsie Heneghan is a contributor to MiLB.com. Follow her on Twitter @Kelsie_Heneghan.