Shepherd stays hot, smacks two homers
Tigers No. 22 prospect reaches four times, drives in four runs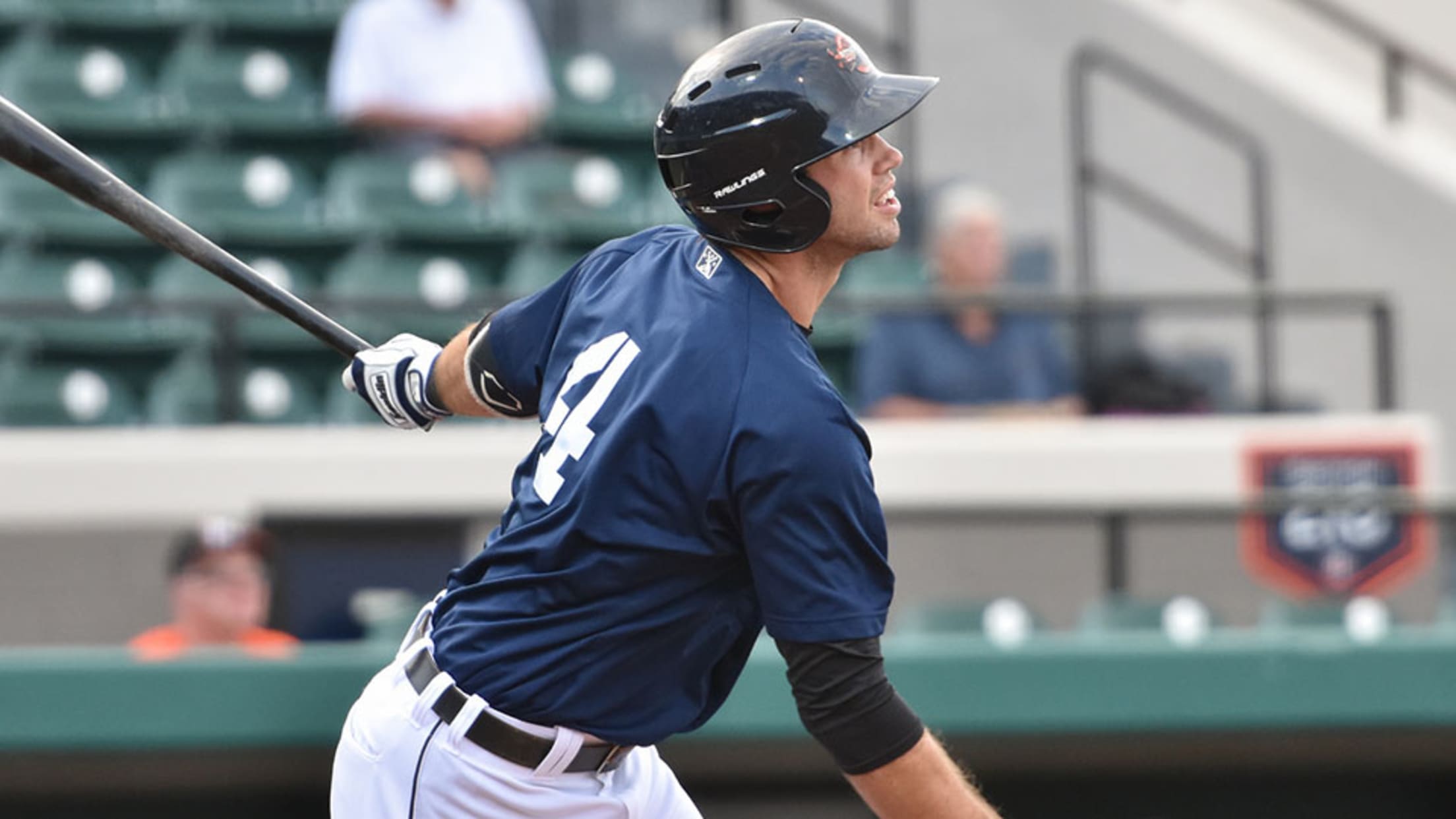 Zac Shepherd has five multi-hit performances in his past six games with the Flying Tigers. (Tom Hagerty/MiLB.com)
Zac Shepherd struggled last season for Class A Advanced Lakeland and endured a slow start to 2017, hitting .059/.273/.059 through five games. Now he's one of the hottest hitters in the Minor Leagues.The reigning Florida State League Player of the Week swatted two home runs in Thursday's 9-2 victory over
Zac Shepherd struggled last season for Class A Advanced Lakeland and endured a slow start to 2017, hitting .059/.273/.059 through five games. Now he's one of the hottest hitters in the Minor Leagues.
The reigning Florida State League Player of the Week swatted two home runs in Thursday's 9-2 victory over St. Lucie, the first multi-homer game of his professional career. Shepherd walked twice and drove in four to complete his big night.
Box score
"He's fine-tuned [his approach] and it's just making him more on time," Flying Tigers manager Andrew Graham said. "Obviously he's been on fire with five home runs in the last six games, and there's probably another two -- he flew out to the center-field wall last night, which would've been a grand slam in the ninth, but it was caught by the center fielder with his back against the wall. He's squaring up every ball he hits and is locked in right now."
Shepherd walked his first time up before coming to the plate in the third inning with one out in a 2-2 game. He fouled off a 2-2 pitch before taking the next offering from right-hander Nabil Crismatt (1-2) deep to left field for his fourth home run of the year. He came up again in the fourth with two men on and two outs and took the first pitch he saw from Crismatt over the left-field wall for a three-run shot to push Lakeland's lead to 7-2.
"Any time you hit a home run, it helps," Graham said. "He's come up big twice now, once against the [Tampa] Yankees [last series] and once against the Mets. When you get three runs off one swing, it's big, and Beau Burrows was able to get more comfortable -- it helps out the whole team."
The Tigers' No. 22 prospect walked again in the sixth against righty Cameron Griffin before striking out swinging against southpaw Kevin Canelon in the eighth. He is 11-for-23 with five home runs and 13 RBIs in his past six games to pull his batting line up to 306/.400/.556 after his tough start.
"[Credit to] hitting coach Tim Garland and hitting coordinator Bruce Fields and himself finding out what he wants to do," Graham said. "He tweaked his stance, got wider a little bit and now he gets on time earlier and is seeing the ball a lot better. He made the adjustments and is working hard at it every day, and now he's on fire. He works hard every day in the cage on his routine, and that's something for a 21-year-old that really helps -- being locked into a routine every day."
Signed as a free agent in July 2012, Shepherd played two seasons for the Sydney Blue Sox in the Australian Baseball League before joining the Rookie-level Gulf Coast League Tigers in 2014 and posting an .870 OPS in 51 games. He hit .245/.327/.339 with five homers for Class A West Michigan the following season before struggling to a .186/.301/.350 line last year at Lakeland, striking out 159 times in 121 games.
Shepherd is still whiffing with 30 in 21 games, but he hasn't had any issues squaring up pitches in his second go-around in the Florida State League -- the Australia native is tied for the FSL lead with 18 RBIs and tied for third with his five homers.
Lakeland pounded out 16 hits for the game, led by Shepherd and Wade Hinkle -- who went 3-for-5 with a double, two RBIs and two runs scored. Harold Castro had three hits and an RBI out of the leadoff spot.
Burrows (3-0), Detroit's third-ranked prospect, allowed two runs on five hits and two walks while striking out six in 5 1/3 innings to win his third straight start. The righty entered the game on a 12-inning scoreless streak, which he ran to 13 before giving up two runs in the second.
Chris Tripodi is an editor for MiLB.com. Follow him on Twitter @christripodi.