Biscuits' Lee twirls seven scoreless frames
Rays righty yields four hits, matches career high with nine K's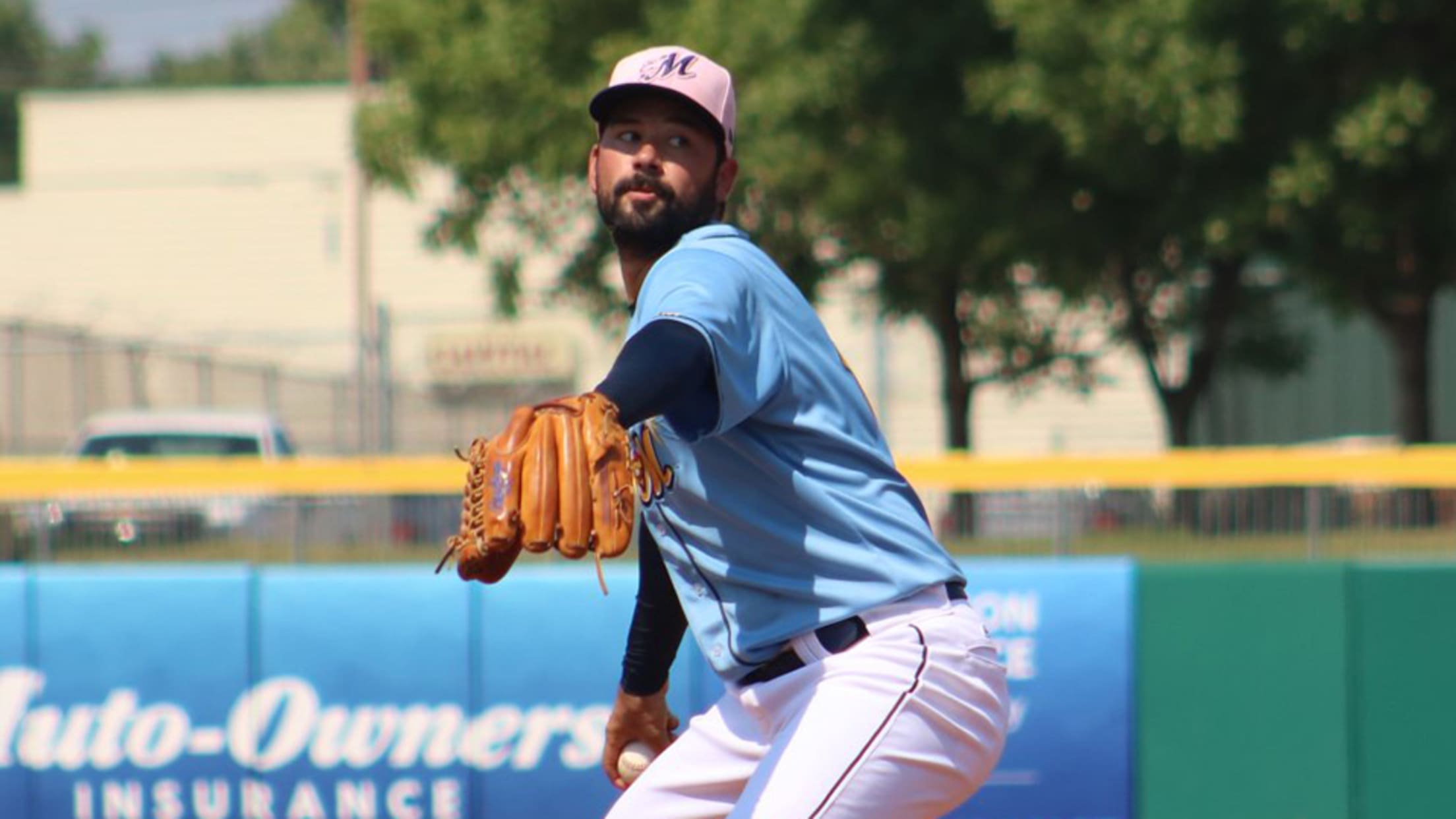 Zach Lee leads the Southern League with eight wins and a 2.22 ERA in 12 starts. (Montgomery Biscuits)
Zach Lee's career has been a winding road of leagues and organizations, both at the Minor and Major League level.After entering March without a club, the Dodgers' 2010 first-round pick joined the Rays. His start Saturday pushed his stint with Tampa Bay in the right direction.
Zach Lee's career has been a winding road of leagues and organizations, both at the Minor and Major League level.
After entering March without a club, the Dodgers' 2010 first-round pick joined the Rays. His start Saturday pushed his stint with Tampa Bay in the right direction.
Gameday box score
Lee tied his career high with nine strikeouts while giving up four hits over seven scoreless innings as Double-A Montgomery withstood a late rally to beat Tennessee, 8-4, at Smokies Stadium. He last struck out nine on April 21, 2012 with Class A Advanced Rancho Cucamonga.
In 2012, Lee was once of the most highly touted prospects in the Dodgers organization. And midway through his second season straight out of high school, he was promoted for his first stint in Double-A with Chattanooga. The past six years have changed his perspective.
"Strikeouts, they're not anything I really look at that intently," he said. "I'm not a big strikeout [pitcher] in general. It's not a stat that's good for me; I'm a contact guy. They're good to get, but I'm not necessarily trying to accomplish that during a game."
For more than six months between 2017-18, Lee wasn't sure if he'd have another shot to record another out on the mound in any manner.
After throwing a full season at Triple-A with Albuquerque in 2014, he was called up to the Dodgers for a July 25, 2015 start against the Mets. It was a rocky one, with Lee giving up seven runs and 11 hits in 4 2/3 innings. And it was his last taste of the big leagues for nearly two years. Still, he finished 2015 with a 2.63 ERA in 21 starts in the Minors.
Midway through the following season, he was traded to the Mariners for shortstop Chris Taylor. Lee compiled a 7.39 ERA in 14 starts with Triple-A Tacoma and was claimed off waivers by the Padres in December 2016. The Texas native worked his way onto the Padres roster at the start of the 2017 but gave up five runs and eight hits over eight innings in three appearances with the big club.
With his third organization in less than a year, Lee had a lot of pieces of advice bouncing around in his head as he went 2-5 with a 7.12 ERA with Triple-A El Paso.
Those 17 months were a whirlwind after his first Major League start, and he got caught up in it.
"In just my small time in Seattle, I think I put too much pressure on myself and I got out of whack and was trying to do too much," he said. "With San Diego, I felt like I did a better job controlling things mechanically early in the year, but later I wasn't in a good spot, body-wise. I was too heavy and too sluggish to repeat my delivery consistently. I had tried taking some time to do things that people had suggested to increase my velocity, but it took some time for me to really figure out where I fit best and my body is best to perform on the field."
Fast-forward to this March, and while ballplayers across the country readied for Spring Training, Lee began to face the prospect that he'd thrown his last pitch. But an old connection with Rick Knapp, the pitching coach at Triple-A Durham in the Rays system, gave him the shot he needed.
"There weren't a whole lot of offers out there. Not too many teams were knocking, and I didn't have many options," Lee said. "I knew I could get back to how I was in 2015, body-wise and throwing-wise, but the biggest thing was not knowing if I could get an organization to give me an opportunity to show that. I felt like I made changes to get to that form, but clubs weren't sure if I could sustain it throughout a season or what would prevail if I got a shot.
"But I just knew if I trusted the process to go out and compete and get back to a comfortable situation, the results would show themselves, and they have."
That was evident Saturday. The right-hander found an early groove with his fastball and set down his first eight batters, including a run of three consecutive strikeouts. He gave up a ground-ball single to right field to Will Remillard with two outs in the third but got Trey Martin to bounce into an inning-ending forceout.
Lee went off on another tear, retiring nine straight batters until he encountered trouble with two outs in the sixth. He gave up back-to-back singles to Martin and Charcer Burks before striking out Vimael Machin to escape his only jam.
The 26-year-old allowed a two-out double to Zack Short in the eighth but finished off his night by getting Eddy Martinez to fly to right.
Earlier this season, Lee was promoted to Durham, giving him a chance to work with the man who gave his career a second life. He started for the Bulls on May 26, giving up seven hits and four runs in six innings.
"The Rays made a trade to get a couple guys and needed spots, so they had guys going up and down and it was just the situation where I was the odd man out," he said. "It didn't affect me, though. I was happy for the opportunity and I know too well that there are no guarantees to stay anywhere."
Eight years after he was drafted, Lee believes that he still possesses first round-worthy talent. And he knows what it will take to get where he wants to be.
"In looking at careers of guys in the pros, they have glimpses of success and failure. That's baseball," he said. "But you have to have consistency in your peaks and valleys and make sure they aren't hills and mountains. You've got to be consistent throughout the year."
Lee picked up some early run support on Brett Sullivan's three-run homer in the first before the Biscuits added two runs on Thomas Milone's double in the fourth. Nathaniel Lowe knocked a three-run shot in the seventh to open an 8-0 cushion.
But the Smokies mustered a comeback in the ninth as Trent Giambrone hit a solo homer and Martinez added a three-run shot.
Nathan Brown is a contributor to MiLB.com. Follow him on Twitter @NathanBrownNYC.