Zach Neto Cherishes The Moments In Pro Debut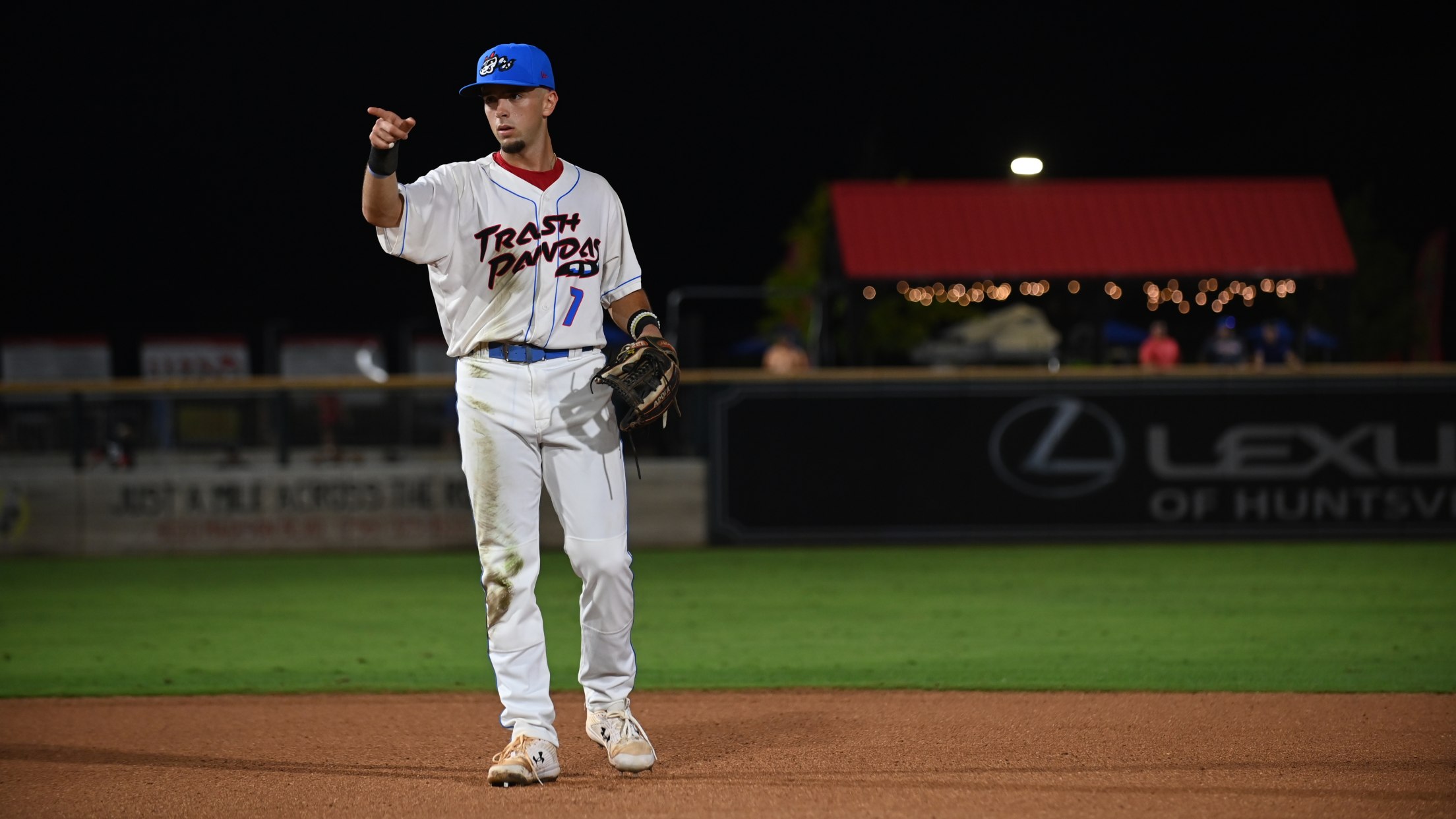 Zach Neto has ben a star at shortstop for the Trash Pandas. (Cristina Byrne-Sternberg/Rocket City Trash Pandas)
In a span of 11 weeks, Zach Neto has been a member of the Campbell Fighting Camels, the Tri-City Dust Devils, and the Rocket City Trash Pandas. Needless to say, it's been a whirlwind for the 21-year-old. Over the summer, his life changed. He left Campbell University as one of
In a span of 11 weeks, Zach Neto has been a member of the Campbell Fighting Camels, the Tri-City Dust Devils, and the Rocket City Trash Pandas. Needless to say, it's been a whirlwind for the 21-year-old.
Over the summer, his life changed. He left Campbell University as one of the most decorated players in school history, was drafted by the Los Angeles Angels with the 13th overall pick in a draft that took place in Los Angeles, began his professional career at the Angels' complex in Arizona, started his minor league journey at High-A Tri-City in Pasco, Washington, before finally joining the Trash Pandas in early August.
With all the constant movement, Neto didn't have a ton of time to immerse himself to the new atmosphere. That finally changed when he because one of a select few 2022 draftees to reach the Double-A level so quickly.
"Just stepping into the box and walking around the field my first day in Biloxi, I was just soaking it in, seeing the fans and the place where I was playing. Then looking down at my jersey and seeing Trash Pandas on it, it's something you've always grown up wanting to be," Neto said. "I felt like I was finally there. That's when it hit me."
Having finally settled down after constant moving and travel throughout June and July, Neto, is the starting shortstop on the playoff-bound Trash Pandas, displaying the skills that made him the Big South Player of the Year for Campbell and the highest draft pick in school history. The main characteristic Neto displays on the field, swag.
"I definitely call myself a swaggy player. It's something I've carried around myself since I was in high school, into college, and now into pro ball," he said. "The way I carry myself, I play with a lot of confidence and a lot of energy. I try to do things to boost me up, boost my teammates up, and get the crowd into it."
That confidence was on full display at Toyota Field on September 3, when he crushed a three-run home run, punctuating it with an emphatic bat flip to break a scoreless tie in an 8-0 win over Biloxi, providing the winning runs in the first no-hitter in Trash Pandas history. It was a much-needed boost for the shortstop.
RIP IT.
FLIP IT.@ZachNeto25 WITH A ROCKET! 🚀 pic.twitter.com/Bc50oY1ZoN

— Rocket City Trash Pandas (@trashpandas) September 4, 2022
"Before that home run, I was in a slump and getting into that one and hitting it over the fence for a three-run homer in a big situation, I needed it. I needed to get out the frustration and show why I'm here," he recalled. "The bat flip boosted me up, gave me energy, and it was awesome to see my teammates watching it. It just takes one swing to change everything."
The home run was one of the top moments for Neto in a year full of highs. Over his first 30 Double-A games, Neto is batting .320 (39-for-122) with four home runs, 23 RBI, nine doubles, and 22 runs scored. Since joining the Trash Pandas on August 9, he ranks among the Southern League leaders in runs (T-4th), total bases (8th, 60), RBI (T-7th), and batting average (4th).
"It's really underrated. People really don't have any idea how difficult what he's doing is," Trash Pandas Manager Andy Schatzley said of Neto. "What I've been most impressed with is when there has been adversity, he's handled that with the same maturity that he's handled the success with and we're really happy for him."
But even the home run wasn't the best moment for Neto. That came back on July 17 in Los Angeles when Commissioner Rob Manfred announced Neto as the Angels' first-round selection with the 13th overall pick. After the ensuing hugs and kisses from family, Neto took the stage donning an Angels jersey for the first time and shook the commissioner's hand, officially starting his life as a professional baseball player.
"It's definitely the coolest moment of my life," Neto said of being drafted. "Being able to have that experience having my family living that dream that I'm in right now. It was a surreal moment. My body was so numb. It didn't feel true and it took me a few days to realize what happened."
Advice from Manfred helped calm Neto's nerves.
"You're here for a reason. Just enjoy the moment," Manfred said, according to Neto. "You're going to play for a really good organization. You're a special player and just keep going."
Since joining the Trash Pandas, Neto has enjoyed every moment, from the big hits to the walk-off home runs and even his days off.
"We're not the underdogs but we play like a bunch of underdogs. We play with a lot of grit, trying to come out with the win no matter what," he said. "This team surprises me every day, but it's not surprising because of the work we put in. We're building a culture and we have a good bond together."
That bond has the Trash Pandas heading toward the Southern League playoffs on a high note, having already clinched the best overall full season record in the league and putting a second half title within reach.
A spectacular diving double play started by @ZachNeto25 on Wednesday night earned us a spot on @SportsCenter Top 10! 💫 pic.twitter.com/zXeGQhtxUx

— Rocket City Trash Pandas (@trashpandas) September 15, 2022