Pulaski Yankees add live cow raffle to Agriculture Night promotion
Ag Night also features specialty jersey auction, petting zoo, and giveaway for children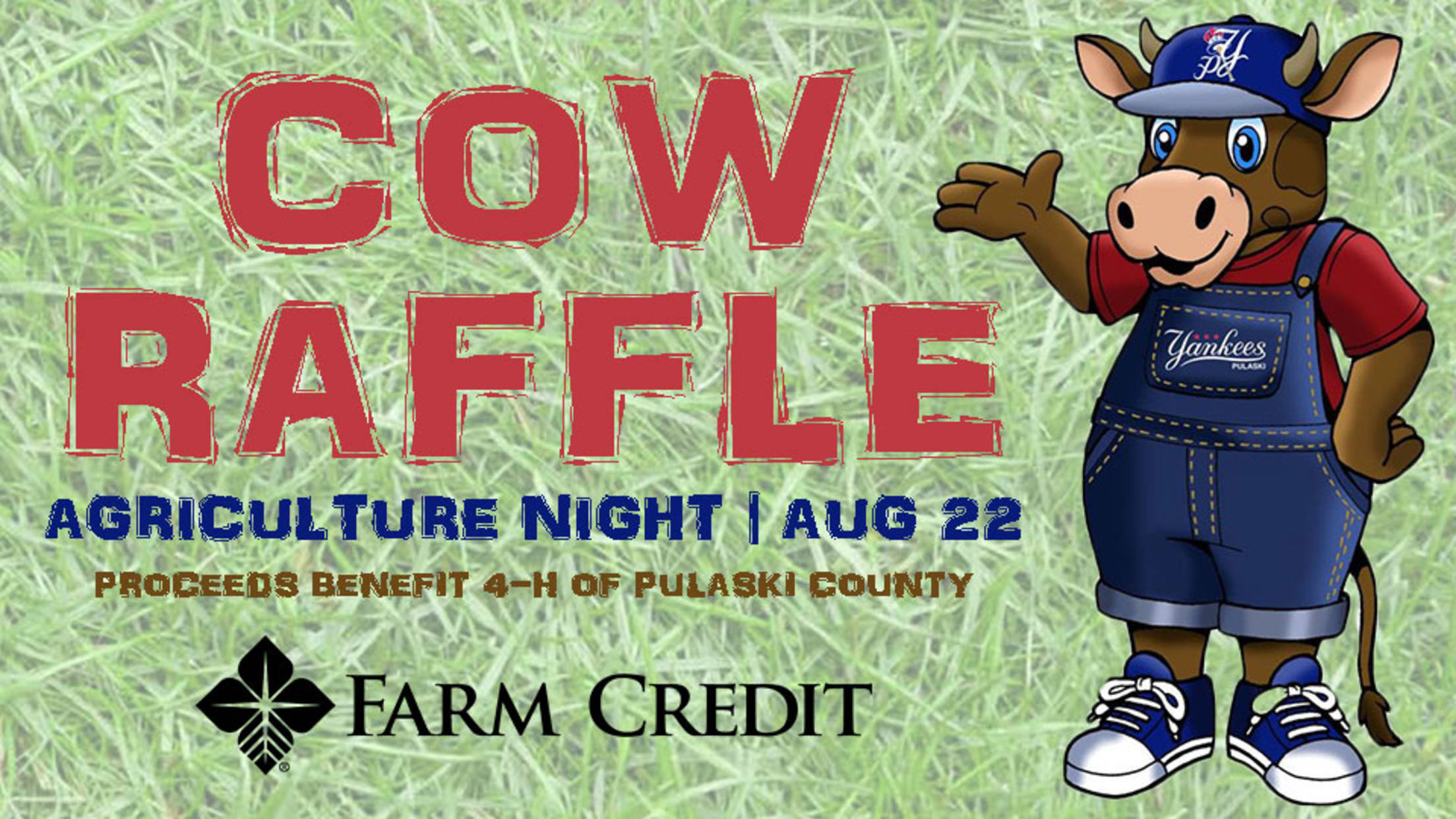 PULASKI, Va. - The Pulaski Yankees are excited to announce the addition of a live cow raffle to the team's Agriculture Night presented by Farm Credit of the Virginias on August 22. The team will be selling raffle tickets, with one lucky winner receiving a live cow that will be present
PULASKI, Va. - The Pulaski Yankees are excited to announce the addition of a live cow raffle to the team's Agriculture Night presented by Farm Credit of the Virginias on August 22. The team will be selling raffle tickets, with one lucky winner receiving a live cow that will be present at Motor Mile Field at Calfee Park during the Wednesday night game against the Princeton Rays.
The cow raffle adds to a lineup of activities that includes a petting zoo featuring Homestead Creamery's Calf Tour and cow jerseys to be worn by the Yankees players. The specialty jerseys will be auctioned off during the game, with proceeds benefiting 4-H of Pulaski County. Additionally, the first 250 children 10 and under will receive a plush doll of the Yankees mascot, Calf-E.
"Minor League Baseball is known for fun, creative promotions, and we think what we have planned for our Agriculture Night fits this mold perfectly," said Pulaski Yankees Assistant General Manager Betsy Haugh. "We're excited to showcase the relationship between Pulaski baseball and the agricultural background of the area in a fun, memorable way for our fans."
Raffle tickets are $10 and will be sold at all Pulaski Yankees' games leading up to the drawing on August 22, at the Calfee Park offices, and by the 4-H. As with the specialty jerseys, proceeds from the cow raffle will also benefit the 4-H of Pulaski County. The winner of the raffle can choose to receive the cow living or after processing provided by Thompson's Meats. Please call (540) 980-1070 or visit pulaskiyankees.net for more information.
The Pulaski Yankees are the Rookie level affiliate of the New York Yankees playing in the Appalachian League. Pulaski is celebrating its 53rd season in the Appalachian League in 2018. Calfee Park has won league championships in 1948, 1969, 1986, 1991 and 2013. Calfee Park opened in 1935 and was renovated for the team's first season as a Yankees affiliate in 2015. For more information, please visit www.pulaskiyankees.net.