Pulaski Yankees set single-season attendance record
Yankees welcomed 95,897 fans to Calfee Park during 2019 regular season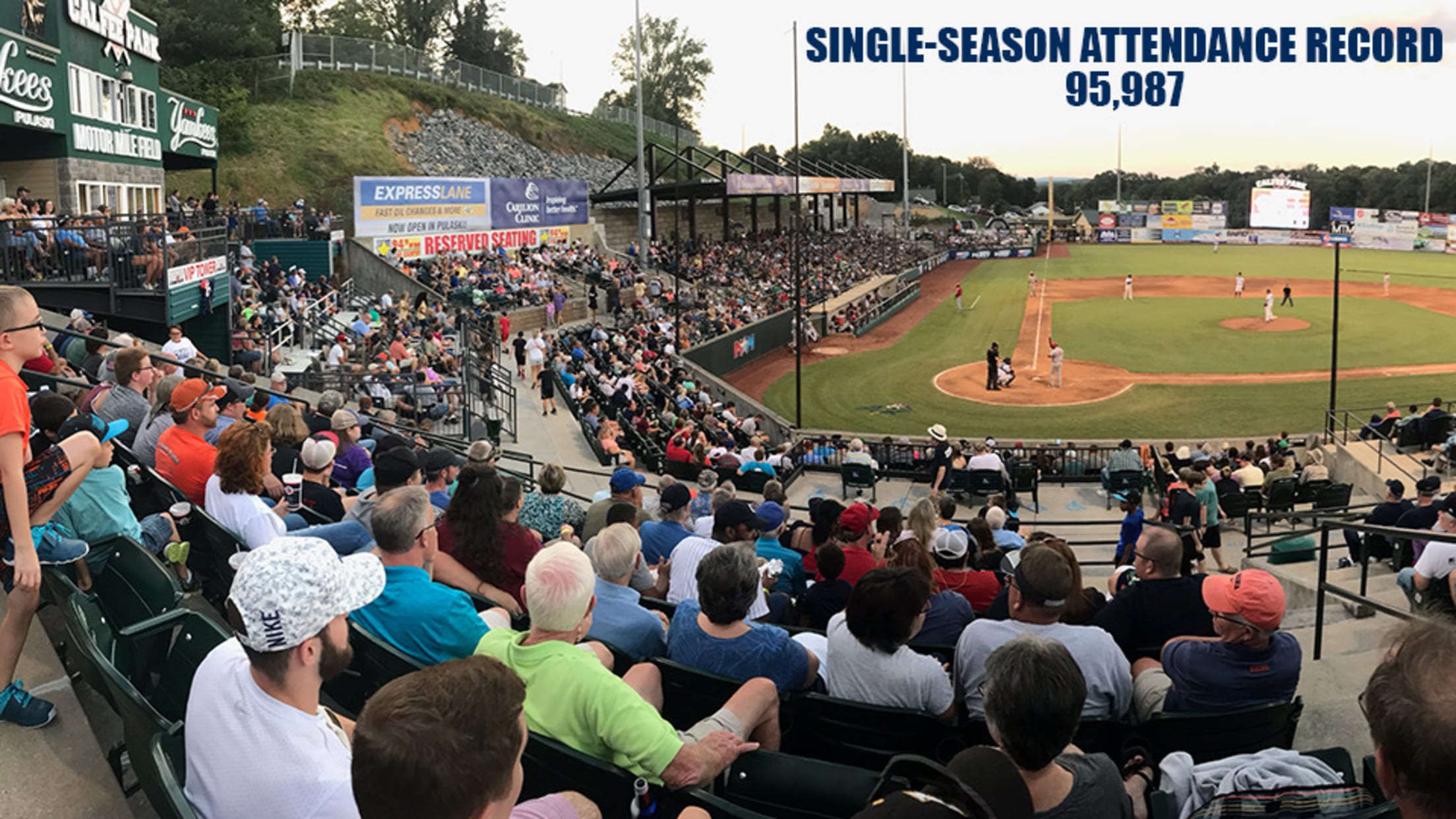 PULASKI, Va. - For the fifth consecutive season, the Pulaski Yankees have set a single-season franchise attendance record. It is also the second straight season in which Pulaski has set the Appalachian League single-season attendance record. The Yankees welcomed 95,897 fans to Motor Mile Field at Calfee Park during the
PULASKI, Va. - For the fifth consecutive season, the Pulaski Yankees have set a single-season franchise attendance record. It is also the second straight season in which Pulaski has set the Appalachian League single-season attendance record. The Yankees welcomed 95,897 fans to Motor Mile Field at Calfee Park during the 2019 regular season, surpassing last year's total attendance of 91,226.
"We cannot thank our fans enough for their continued support of the Pulaski Yankees and Calfee Park Baseball," said Pulaski General Manager Betsy Haugh. "Our fan base continues to grow year after year, and we are so thankful for the way people from across Pulaski and the New River Valley continue to embrace our ballpark and all it has to offer. We look forward to welcoming our fans to the ballpark for playoff baseball this weekend and celebrating this attendance record with the biggest fireworks show in Calfee Park history Saturday night."
The Yankees will wrap up the 2019 regular season at Hunnicutt Field in Princeton tonight before beginning the 2019 Playoffs in Burlington Friday evening. With home-field advantage clinched throughout the 2019 postseason, the Yankees will host game two of the playoffs at Calfee Park Saturday night and game three, if necessary, on Sunday night. Tickets for the playoffs are on sale now at pulaskiyankees.net and by phone at (540) 980-1070.
The Pulaski Yankees are the Advanced Rookie level affiliate of the New York Yankees playing in the Appalachian League. Pulaski is celebrating its 54th season in the Appalachian League in 2019. Calfee Park has won league championships in 1948, 1969, 1986, 1991 and 2013. Motor Mile Field at Calfee Park opened in 1935 and was renovated for the team's first season as a Yankees affiliate in 2015. For more information, please visit www.pulaskiyankees.net or follow the Pulaski Yankees on social media, @PulaskiYanks (Twitter, Facebook, and Instagram).