2021 Ticket Updates
What is the status of my ticket package?
2020 ticket packages for STCU Gold Glove Members (Season and Mini Season ticket holders) were automatically rolled over to the 2021 season. Once our re-opening plans are in place and we have a more accurate picture of seat locations, we will be in touch with the next steps and our plan to best serve our STCU Gold Glove Members. It is possible that you will be seated in a location different than your original seats due to social distancing guidelines in 2021; however, you will retain your plan and seat location for future seasons.
How many fans will be welcome during games?
Under the Washington State Phase 3 guidelines, the Spokane Indians can host 25% of Avista Stadium's capacity. That means the majority of fans in attendance each game will be STCU Gold Glove members!
How many games will be included in my ticket package this year?
Our plan is to fulfill the same number of games and seats you had committed to for the 2020 season. For Full Season ticket holders this would be 38 games and for Mini Season ticket holders this will be the 8-game and/or 7-game plan(s) included in your package.
Will I be able to choose my games in 2021?
The Spokane Indians will assign the games included in 2021 ticket packages. As we face 25% stadium capacity, we unfortunately will not be able to customize ticket packages this year. We will make every effort to accommodate exchange requests, but given very limited stadium capacity, seating for these requests may be in other sections or may not be available.
Will I be in my regular seat location?
Due to capacity restrictions and social distancing measures, we are not able to guarantee any seat locations for this year. However, we will make every effort to seat you as close as possible to your original location. Seat locations for all STCU Gold Glove Members who have rolled their tickets over are secure beyond the 2021 season.
How will my Lower Box seats be assigned with social distancing?
Sets of four seats in the Lower Box will look a little different this year to ensure proper social distancing. Instead of the usual configuration of seats aligned two by two, pods of four seats will be arranged in one row using every other row. Here's an example of how seating for sets of four in the Lower Box will look under the current guidelines: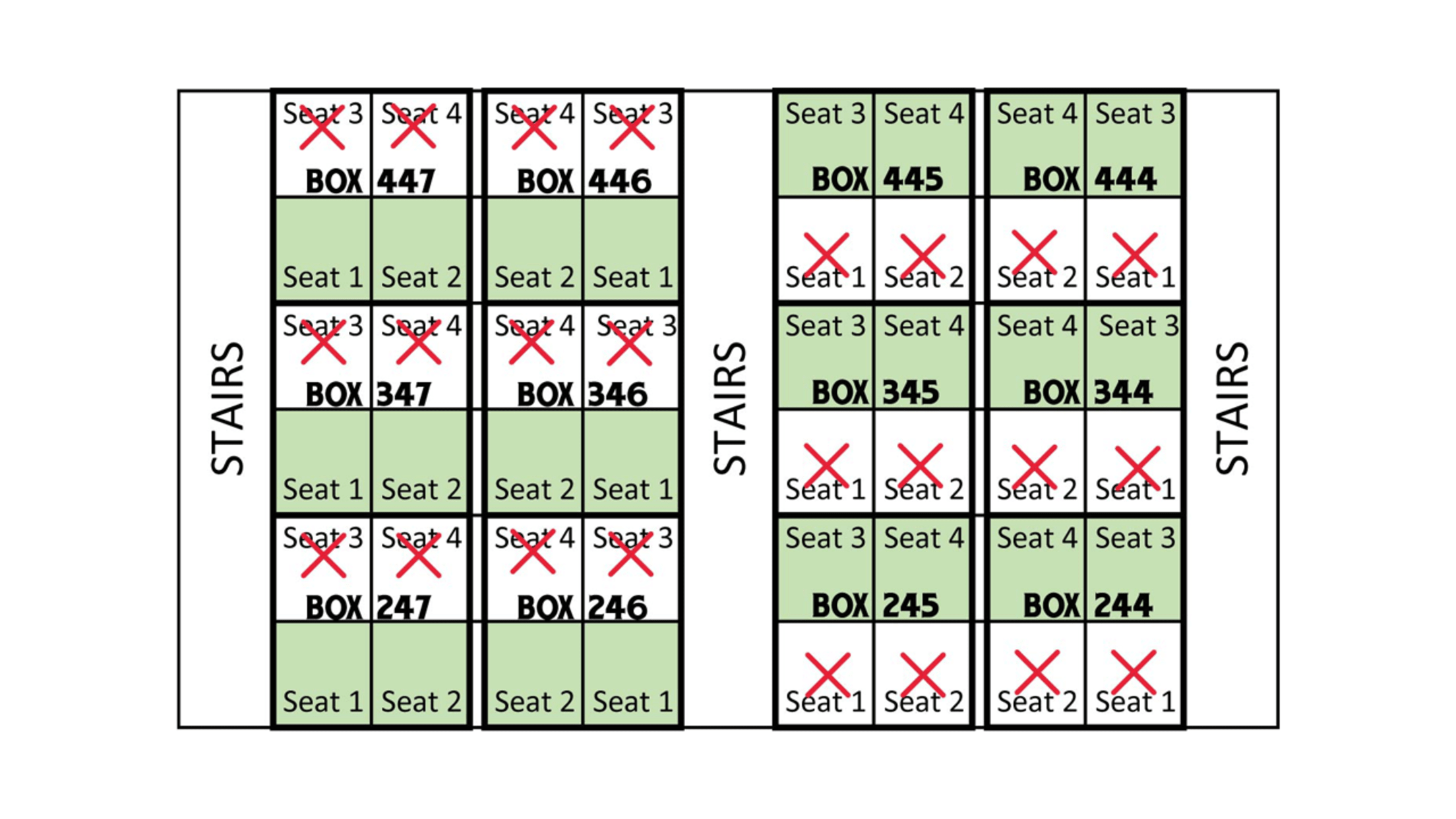 How will I receive my tickets?
To streamline our ticketing efforts and adhere to safety guidelines, the Spokane Indians will be offering digital ticket distribution which will provide you with additional account advantages and efficiency. Digital tickets will allow us to provide STCU Gold Glove Members the best possible seats if capacity guidelines change during the season. Information on how to access your tickets will be made available in April when seats are placed.
Will I be able to upgrade my ticket package with the longer season?
With limited seating available at Avista Stadium, it's not likely that the Spokane Indians will be able to offer upgrades to ticket packages in 2021. All STCU Gold Glove Members will have the opportunity to upgrade to larger ticket packages for the 2022 season.
STCU Gold Glove Members will have the first opportunity to purchase single game tickets when they are available.
When will single game tickets go on sale?
Single game ticket availability is still TBD. Our ticket staff is currently working on fulfilling rollover ticket packages for all STCU Gold Glove Members before single game tickets will be available. A priority window will be offered exclusively to STCU Gold Glove Members to purchase additional single game tickets before sales are made available to the general public.
When will the Spokane Indians Ticket Office open?
As of now, there is not a scheduled date for the reopening of the ticket office. We encourage fans with ticketing questions to contact us at (509) 343-OTTO (6886) or by email at

[email protected]

. Our staff is available Monday – Friday from 9am – 5pm.
Will group and hospitality area options be offered for the 2021 season?
It's unclear if group events will be permitted for the season. Options for groups will be dictated by state, local and MLB guidelines as well as seat availability. Please contact our ticket staff at (509) 343-OTTO (6886) with any group inquiries.
How will the Spokane Indians safely welcome fans back to Avista Stadium?
Upon receiving necessary health and safety protocols, we will make our Readiness Plan & Safety Guide available on our website.
What are my options if I'm not comfortable attending games this season?
If you are a STCU Gold Glove Member, you can defer your tickets for another year. Your original ticket package and seat locations will be reserved for the 2022 season if you defer. If you would like to defer, please contact the Spokane Indians ticket office at (509) 343-OTTO (6886).