Mitch Haniger drills 2nd HR with Tacoma during rehab assignment
3-run shot helps Rainiers to 8-3 victory, series win vs. El Paso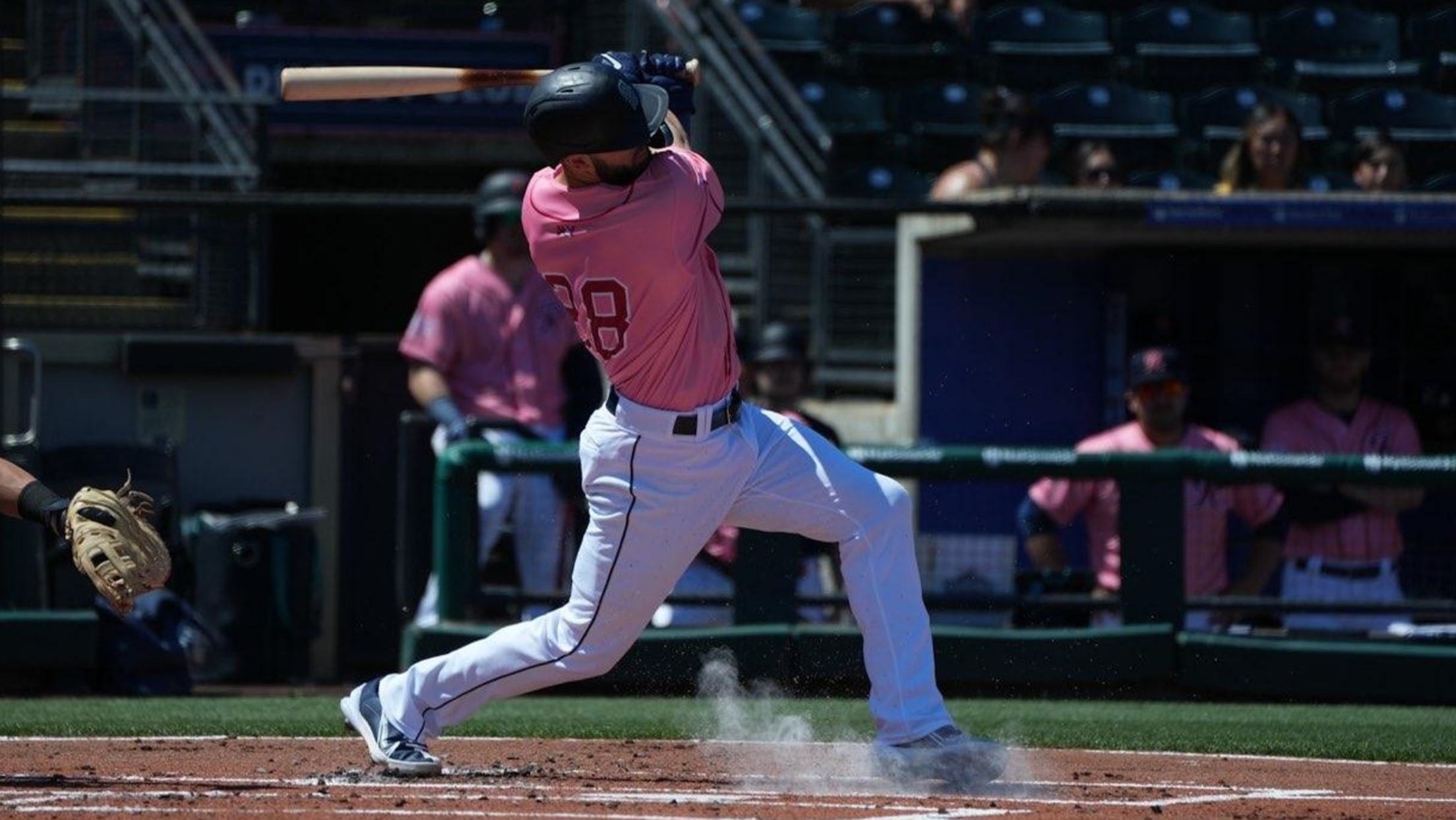 Tacoma, WA (7/31/22) – On Pink at The Park day at Cheney Stadium, replete with a pink game-worn jersey auction to raise money for the Carol Milgard Breast Center in Tacoma, the Rainiers (43-55) secured a series win over the El Paso Chihuahas (54-45) before 6,334 fans on Sunday. Tacoma
Tacoma, WA (7/31/22) – On Pink at The Park day at Cheney Stadium, replete with a pink game-worn jersey auction to raise money for the Carol Milgard Breast Center in Tacoma, the Rainiers (43-55) secured a series win over the El Paso Chihuahas (54-45) before 6,334 fans on Sunday. Tacoma took four of six games in the clubs' only meeting of 2022. The weeklong set marked the first time the Chihuahuas lost a six-game series this season.
El Paso jumped to a 2-0 lead with a run in each of the first two innings; Eguy Rosario rapped a two-out RBI single in the opening frame, followed by a C.J. Hinojosa solo home run (11) to left field in the second.
The Rainiers responded in the home second with their first five-run inning since July 7 at Reno (3rd, 16-9 win). Zach Green (single), Forrest Wall (walk) and Scott Heineman (HBP) all reached base before an out was recorded, and consecutive sac flies by Mason McCoy and Drew Ellis tied it 2-2. After Taylor Trammell (DH, MLB rehab) singled, Mitch Haniger (RF) hit his second home run with Tacoma during his rehab assignment, bumping the lead to 5-2. Haniger yanked a floating knuckleball to left for the three-run shot.
In the third, Green's one-out walk scored from first base when Heineman dropped a double into the left field gap with two down. It was 7-2 in the fifth when Wall singled with two out and hustled to second thanks to an error in left field. Heineman made it hurt with a knock to left that drove in the run, his second hit and RBI of what turned into a 3-for-3 afternoon.
El Paso knuckleballer Matt Waldron struggled in his three innings. Tacoma tagged him for four hits and three walks (2 K), and the six runs against him were all earned.
Green scored his team-high third run of the game in the seventh, when he led off with a solo shot to left, his Rainiers-leading 14th home run of the season but his first since a three-homer performance on July 4 at Reno. Green and Trammell joined Heineman with multi-hit games.
On a bullpen day for Tacoma, scoreless performances included Kyle Bird (2 K), Taylor Williams (1 K), Patrick Weigel (3 K), Phillips Valdez and Fernando Abad (1 K), each working an inning apiece. Left-hander Austin Warner was the opener, and he struck out five in 3.0 IP of work (2 ER). The Rainiers improved to 3-1 in Warner's spot starts this season, while surrendering only three total hits on Sunday.
Following Monday's off/travel day, Tacoma will return to action in Sacramento on Tuesday for a 6:45 PT first pitch. Lefty Justus Sheffield is the scheduled starting pitcher, against Sacramento River Cats RHP Tristan Beck.
Rainiers broadcaster Mike Curto will have full coverage on TacomaRainiers.com. All 2022 Rainiers games, home and away, can also be heard for free on the MiLB First Pitch app. HD video broadcasts of every game can be viewed with a MiLB.TV subscription.
About the Tacoma Rainiers
The Tacoma Rainiers are the Triple-A affiliate of the Seattle Mariners. The Rainiers are a member of the Pacific Coast League and have been a Mariners affiliate since establishing the Rainiers moniker in 1995.
The most up-to-date news and notes about the Tacoma Rainiers and Cheney Stadium can be found at WeRTacoma.com, or by following the Rainiers on Twitter (@RainiersLand), Instagram (@tacomarainiers) and liking the team on Facebook.