Rainiers Top Chihuahuas, 8-3, Win Road Series
Ian Miller goes 3-for-4 with a walk, reaching base four times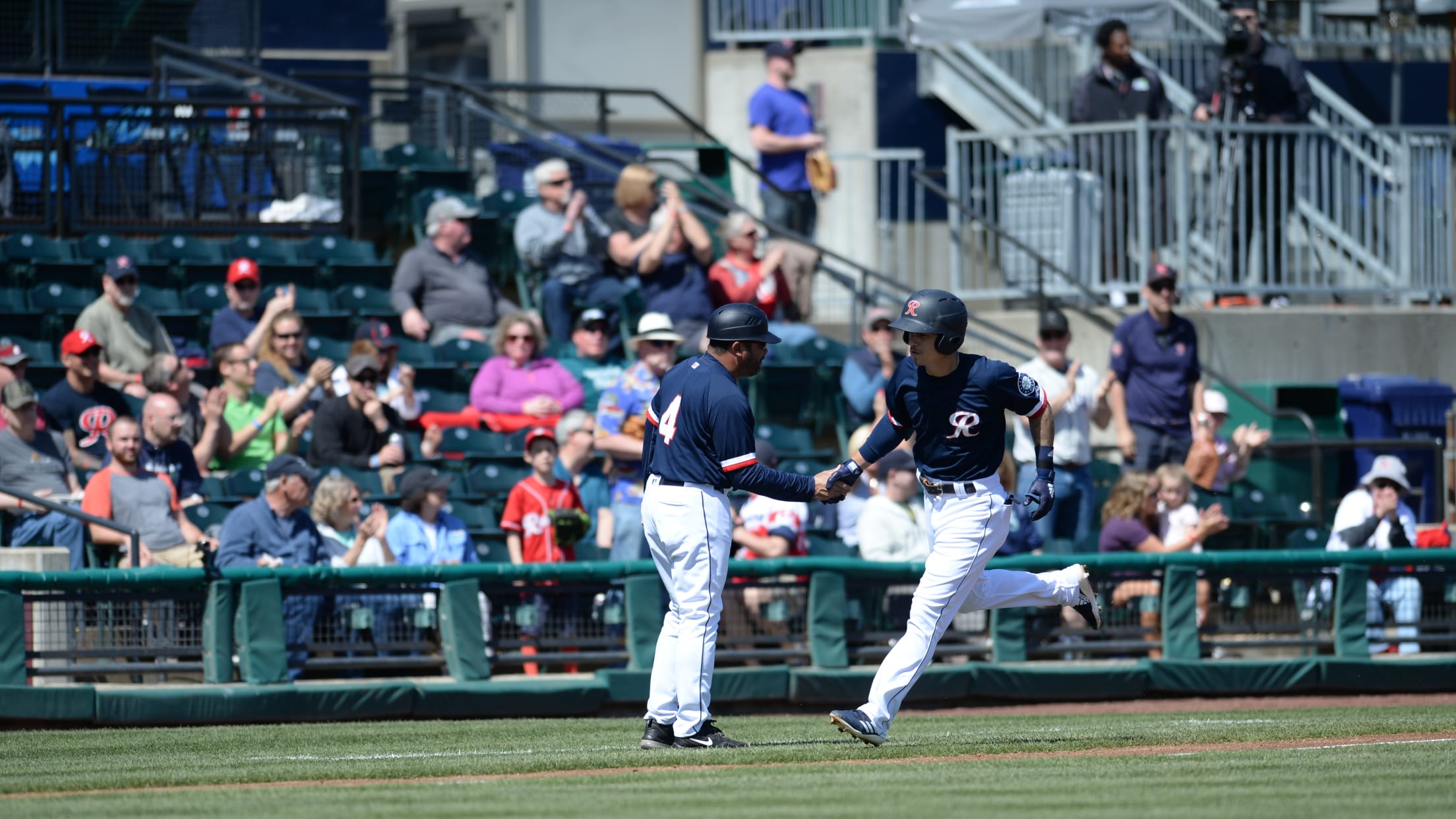 Rainiers infielder Ian Miller [right] and manager Pat Listach [left]. (Jeff Halstead)
EL PASO, Texas - The Tacoma Rainiers (17-18) collected a road series win with an 8-3 victory over the El Paso Chihuahuas (19-17) on Friday night at Southwest University Park.Center fielder Ian Miller reached base four times for Tacoma, going 3-for-4 with one run, three RBI, and a walk. Third
EL PASO, Texas - The Tacoma Rainiers (17-18) collected a road series win with an 8-3 victory over the El Paso Chihuahuas (19-17) on Friday night at Southwest University Park.
Center fielder Ian Miller reached base four times for Tacoma, going 3-for-4 with one run, three RBI, and a walk. Third baseman Taylor Motter (2x4, R, HR, 2 RBI, BB) and designated hitter Kirk Nieuwenhuis (2x5, 2 R, 2B, 3B, RBI) also collected multiple hits. Motter's solo home run was his third during the four-game series in El Paso.
Rainiers starting pitcher Christian Bergman (3-3) issued a quality start, allowing just two runs (one earned) on five hits over six innings of work. He posted two walks and five strikeouts on 99 pitches (65 strikes).
Tacoma jumped on the scoreboard first with a pair of runs in the top of the second inning and never surrendered their lead. They added on to their run total with three runs in the fourth and sixth innings - home runs from Motter and second baseman Gordon Beckham in the sixth highlighted the evening.
El Paso scattered three runs throughout the game - scoring once in the second, fourth, and seventh innings - but could not keep up with the Tacoma offense.
Rainiers relievers Shawn Armstrong (1.0 IP) and Ryan Cook (1.0 IP) both tossed scoreless frames and struck out five. Dario Álvarez (1.0 IP) relieved Bergman and allowed one run on two hits while striking out one.
Tacoma's road trip now moves on to Sacramento where they will take on the River Cats on Saturday night at 7:05 p.m. PT. Rainiers left-hander Roenis Elías (1-1, 3.27) will take on River Cats righty Dereck Rodríguez (2-0, 3.45).
All tickets, group outings, and suites packages for the 2018 season are available for purchase in person at the Cheney Stadium Box Office, online at TacomaRainiers.com, or over the phone at (253) 752-7707. The most up-to-date news and notes about the Rainiers throughout the season can be found by following the Rainiers on Twitter (@RainiersLand) or liking the team on Facebook.